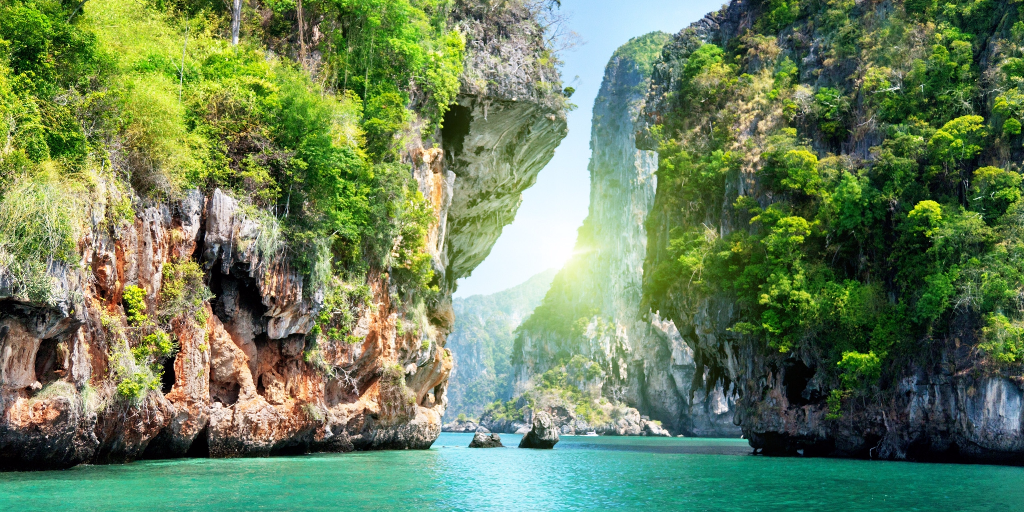 Thailand is the travel hub of Southeast Asia. Most people coming into the region fly into Bangkok and make that their base for doing the circuit around Southeast Asia. With its lush jungles, famed beaches, world-class diving, amazing food, friendly and cheap prices, Thailand is one of the most amazing countries in the world!
In Thailand, most of the beaches have exactly what people are looking for which is why it's a top destination for beachgoers and travellers. Given the amount of Islands, choosing which ones to visit is difficult so we've narrowed it down for you, compiling a list of the best beaches in Thailand. Although some of the beaches can get pretty crowded and touristy, catch it at the right time and you will think you've died and gone to paradise.
Ao Yai, Koh Phayam
Koh Phayam's Ao Yai Beach is 2.8 kilometres of tropical perfection – surely one of the most beautiful beaches on Thailand's Andaman coast. You can reach it by flying or taking a bus to Ranong where you can then get on a boat to reach this stunning island. Unlike the places in Koh Samui or Phuket, a trip to Koh Phayam is like going back in time.
Here you can enjoy the island without the looming amounts of tourists or vendors. No big parties, no big resorts. Just a beautiful beach and laid back island living. The sunsets in this place are also incredible. Sit back, relax, and watch the sky turn into different shades of purple and pink.
How to Get Here: Koh Phayam is a 2-hour slow boat or a 30-40 minute speedboat ride from the pier of Ranong. From Bangkok, you can either take an overnight bus/train towards Ranong or fly there from Don Mueang Airport using Nok Air.
Koh Tarutao
Ko Tarutao island is the largest island of Tarutao National Marine Park in Satun Province of Thailand, close to Malaysia border. With gnarly cliffs, former prison sites, immense beaches and old-growth jungle thriving on mountains that reach up to 700 meters, Ko Tarutao does indeed stir up a primaeval sense of awe. It's a great place for those that are looking for both adventure and deserted beaches. The island is full of fun things to do and is perfect for those active beach enthusiasts. You can also bike, kayak through mangroves, and hike here.
How to Get Here: As Koh Tarutao is located in the Satun Islands near Malaysia, getting here can be quite a mission. Despite the tedious journey, it is highly worth it as Koh Tarutao is one of the most peaceful islands in Thailand. To get here, you can take a bus to either Trang or Hat Yai. From either point, it's a minivan and boat ride to reach Koh Tarutao.
Railay Beach, Krabi
Railay, also known as Rai Leh, is a small peninsula between the city of Krabi and Ao Nang. It can only be reached by boat, which makes the beach even more spectacular with its high limestone cliffs in the background. West Railay Beach is the most popular side for people searching for the best beach area. Visitors can spend the day at the beach filling their bellies with some street food and local fruit shakes.
In just one small peninsula you'll find gorgeous white sand beaches, soaring limestone cliffs, viewpoints, caves and a lagoon hidden inside the cliffs, shaped and fed by the changing tides. All within walking distance! At Railay, there are no roads; only footpaths. No buses, no cars, just longtail boats. The very picture of tropical paradise, with no roads and no hassle, Railay offers lazy days, adventure forays and chilled-out evenings.
How to Get Here: If you're coming from Bangkok, you can take a flight to Krabi and from there, Railay is a short longtail boat away. If you're taking a bus or train, head towards Surathani.
Koh Tachai, Similan Islands
Koh Tachai Island is located at the northernmost tip of the Similan National Park. It is one of the latest additions to the National park area together with the island of Koh Bon. Its 800km pristine sandy beach faces the east while behind it is a sprawling rainforest. The waters here are the world renowned for snorkelling and scuba diving. The mighty Whale sharks, Leopard sharks, and Manta rays are often spotted here feeding in the rich waters. If you stay for the night, there are guided tours around the island where you can explore more of the animals and wildlife such as land crabs, hermits, Nicobar Pigeons and some reptiles.
How to Get Here: While there are direct tours running from Phuket, a cheaper alternative is getting a transfer directly from Khao Lak. Direct tours from Phuket take you around 3-4 hours depending on the boat you take. If you are coming from Bangkok, most buses heading north make a stop in Khao Lak and from there, you can catch a 2-hour boat ride to the Similan Islands from Thap Lamu port.
Ton Sai Beach, Krabi
Situated right next to Railay Beach is the unassuming Ton Sai Beach. Although the beach front is a bit rocky and isn't ideal for swimming, the entire vibe of the island makes up for it. During low tide, people are able to walk from Tonsai Beach to West Railay Beach by walking over the rocks. A lot of rock climbers opt to stay here as the value for accommodation is a lot better compared to neighboring Railay and Ao Nang.
How to Get Here: If you're coming from Bangkok, you can take a flight to Krabi and from there, Ton Sai is a short longtail boat away. If you're taking a bus or train, head towards Surathani.
Koh Kradan Beach, Trang
A slender slip of an island off the coast of Trang province, Ko Kradan boasts a magnificent coral-sand beach stretching between fluffy green hills and the aquamarine Andaman Sea. The water is so clear that often, you can just sit by the shore and watch fish swim about. Also home to some good snorkeling and low tide sandbars that make for the beach walk of a lifetime, Kradan places among Thailand's more visually spectacular islands. Compared to the other well-known beaches, this one is just slowly kicking off which means the beach isn't as crowded as most places.
How to Get Here: To get to Koh Kradan from Bangkok, you need to fly into Trang and get a minibus to Pak Meng Pier or Hat Yao pier. Alternatively, you can also get a train or a bus to Trang where you can catch a minivan and boat connection to Koh Kradan. Boat rides are also available from Koh Lanta or Koh Phi Phi.
Ao Leuk, Koh Tao
Ao Leuk is lovely, a great spot for snorkeling, swimming or sunning yourself on the beach and makes a great day out while you are on Koh Tao. The beach is wide and sandy and the bay is perfect for swimming although there are a few rocks at the shoreline. The crystal blue waters stretch as far as your eyes can go! If you want something a little bit more remote, you can also go to Haad Sai Daeng where you have the possibility of seeing sharks when you snorkel.
How to Get Here: If you are coming from Bangkok, you have three options. You can either fly, take a bus, or take the train. If you are planning to fly, you can book a flight from Suvarnabhumi Airport which runs 5x a week or you can also book one from Don Mueang International Airport to Chumphon. For those thinking of taking a bus or a train, regular boat combos run almost daily and are available for purchase either directly in the train station or through any travel agent.
Haad Saikantang, Koh Pha Ngan
Haad Saikantang is described as a perfect beach because of its white sand, great swimming, and beautiful location. For a postcard-perfect looking beach, head over to Haad Saikantang otherwise known as Leela Beach. The clear waters are perfect for swimming, although the water is a bit on the shallow side. Diving in Koh Pha Ngan is also pretty remarkable so make sure you don't miss it!
How to Get Here: To get to Koh Pha Ngan, you can either fly to Koh Samui from Bangkok or take an overnight bus or train to Surathani. Most travel agents sell bus and boat combos which would bring you straight to the islands after an overnight trip.
Where To Stay In Thailand?