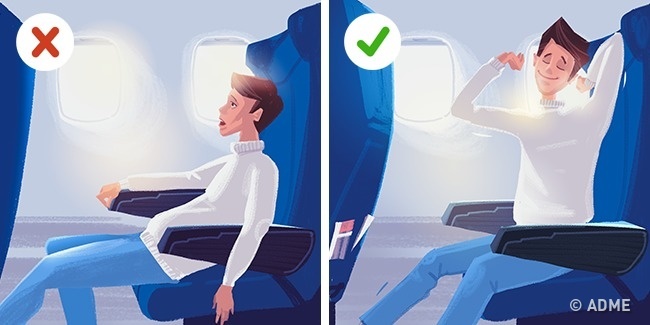 Long haul flights suck. No one would fly long-haul unless there were some magical ending. There are some simple ways, however, to make the trip more comfortable. Here are our best tips that will help you stay comfortable on those long international flights you've got coming up.
1. The best place to sit on an airplane is window seat
You can kill several birds with one stone by booking the window seat. Firstly, there's a wall that you can sometimes lean on to take a nap. Secondly, nearest neighbors in a plane will not bother. And of course, you will have an excellent view during the takeoff and landing.
2. Wear comfortable clothes
Knowing what to wear and what not to wear — on a plane is crucial. Tight clothes can restrict blood flow in the already-confining space of an airplane seat. Ditch the skinny jeans and don loose-fitting natural fiber garments to give your skin some breathing room. Give preference to a comfortable outfit which will not hamper movements during flight.
3. Drink lots of water and avoid coffee or alcohol
During the flight, drink lots of water, and avoid drinking alcohol, as alcohol dehydrates your body. The body has to use water resources to process the other beverages you consume. There may be conflicting evidence whether or not caffeine-containing beverages have a diuretic effect, but excessive intake can cause dehydration.
4. Take care of your face skin
Airplane travel is different than any other travel because of the recycled air surrounding you on the trip and because of the high altitude. It's vital to remember to protect your skin when it comes to air travel. Here are a few of the potential effects on your skin:
– Use less makeup
– Put only clean hands and fingers on your face
– Wipe your face with cleansing wipes and apply moisturizer
– Do not spray water on your face
5. Sit comfortable
Put a pillow, folded scarf or sweater under your back and cover by a blanket. Try to put your legs right on your luggage under the forward seat and don't be shy to put your shoes off.
6. Take everything you need for a comfortable sleep
Instead of massive gadgets like a large notebook and several thick books better to take with you a bag with useful things, such as:
– Earplugs or noise canceling headphones
– Sleep mask
– Travel pillow

7. Try to move in your seat
You should move in your seat at least every 20-30 minutes. You can sometimes go to the toilet to fresh yourself up a bit.
8. Plan your trip
Don't let yourself feel bored, better watch films, read books, write a blog post or listen to music.
9. Take with you healthy snacks
There are many reasons to consider packing at least a few healthy travel snacks for your trip. Put in your handbag some snacks such as fresh or fruit, nuts, fresh cut veggies, yogurt, and others. Packing your healthy snacks will also help you resist the temptation to buy something unhealthy at the airport.
10. Use your personal headphones
Typically airlines headphones are not new, though they are packed so carefully. Used accessories are cleaned after the flight, and then re-packed. That is why better use your personal headphones.