Dubai is a stirring alchemy of profound traditions and ambitious futuristic vision. It's hard not to admire Dubai for its indefatigable verve, gutsy ambition, and ability to dream up and realize projects that elsewhere would never get off the drawing board.
Here're some phenomena that are trivial for Dubai natives, but to us, they seem like photoshop.
10.The views are incredible both from below…
…and above!
Dubai is known for its luxury shopping, ultramodern architecture, and a lively nightlife scene. Here're a lot of magnificent tall buildings. Burj Khalifa, an 830m-tall tower, dominates the skyscraper-filled skyline. At its foot lies Dubai Fountain, with jets and lights choreographed to music.
Dubai Marina is one of the newer and more popular areas of Modern Dubai, both with residents and tourists. It offers numerous features such as a phenomenal skyline, world-class hotels, a fabulous beach, a mall, and 2 different walkways with coffee shops, restaurants, and shops.
9. Jeeps in Dubai can also be "King Size"
Here's how to get across the city if you don't like traffic
8. The police patrol the streets in Bentleys, Ferraris, and Lamborghinis
7. Dubai residents get cheetahs instead of cats…
…or tigers
6. For those who run out of money, there are shelves with free food in local supermarkets…
…and for those who have enough money, there are lots of ways to spend it. For example, order a dessert with edible gold for $1,000
5. Instead of chocolates, you can buy gold bars in vending machines
Gold is respected here…
… and faithful horses too
4. The entertainment here is also exotic. For example, robot jockeys racing camels
A robot jockey is commonly used on camels in camel racing as a replacement for human jockeys. Developed since 2004, the robotic jockeys are slowly phasing out the use of human jockeys, which in the case of camel racing in UAE, Qatar, and Saudi Arabia often employ small children who reportedly suffer repeated systemic human rights abuses.  In response to international condemnation of such abuses, the nations of Qatar and the UAE have banned the use of human jockeys in favor of robots.
3. Dubai has the highest tennis court in the World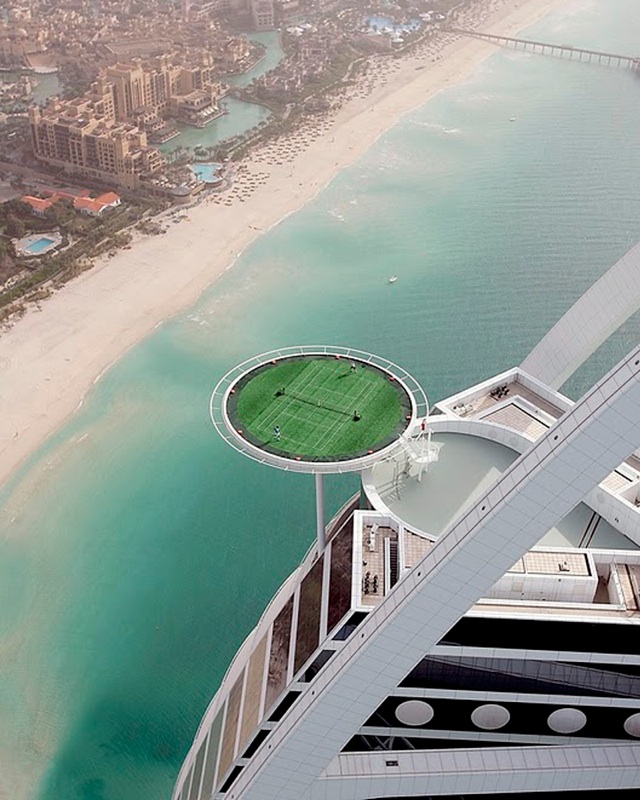 In 2005 a helipad 650 ft above the ground on top of the Burj Al Arab hotel in Dubai was temporarily converted into the world's highest tennis court. We've heard about tennis matches that put the audience on the edge of their seats but how about ones where the players could fall off the edge of a 1,000-foot building? So interesting and unique idea…
2. Only in Dubai you go skiing in the world's biggest mall when it's over 50°C outside
Ski Dubai is an indoor ski resort with 22,500 square meters of an indoor ski area. It is a part of the Mall of the Emirates,  one of the largest shopping malls in the world. Opened in November 2005, the indoor resort features an 85-meter-high indoor mountain with 5 slopes of varying steepness and difficulty, including a 400-meter-long run, the world's first indoor black diamond run, and various features (boxes, rails, kickers) that are changed on a regular basis. A quad lift and a tow lift carry skiers and snowboarders up the mountain. Adjoining the slopes is a 3,000-square-meter Snow Park play area comprising sled and toboggan runs, an icy body slide, climbing towers, giant snowballs and an ice cave. Ski Dubai also houses a number of penguins who are let out of their enclosures several times a day.
Penguin encounters can be booked, allowing the public to interact directly with the penguins. Winter clothing, ski, and snowboard equipment are included in the price of admission.
1. Dubai has a stunning hotel with an aquarium wall