Let's face it, we know that attractions like the Colosseum and Big Ben attract swarms of tourists. On top of that, there's the obstacle course mission of dodging souvenir vendors and queuing for tickets.
The world does have its share of overhyped tourist attractions. Over the years, these destinations have risen to international fame and become hyper-popular icons of their home country, despite a tendency to underwhelm.
Here are 10 alternative places that are just as good as their overhyped twins in terms of appearance, historical value, and atmosphere.
10. Colosseum / Pula Arena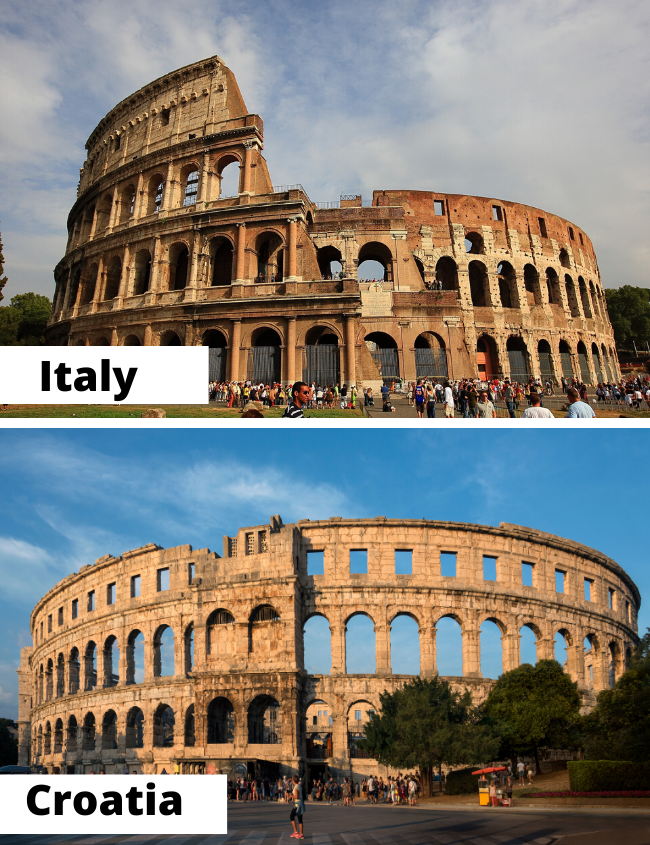 The Colosseum is one of the most recognizable and popular sights in the world, but very few people know that its twin brother is in Croatia. The ancient Roman amphitheater in Pula is the only arena with 4 remaining towers and 3 architectural orders. Today, it's the best-preserved ancient monument in Croatia and is still used as a performance venue that accommodates up to 20,000 spectators. Every week during the summer months, Pula Arena hosts gladiator fights as part of the historical and entertainment spectacle "Spectacvla Antiqva."
9. Notre-Dame de Paris / Amiens Cathedral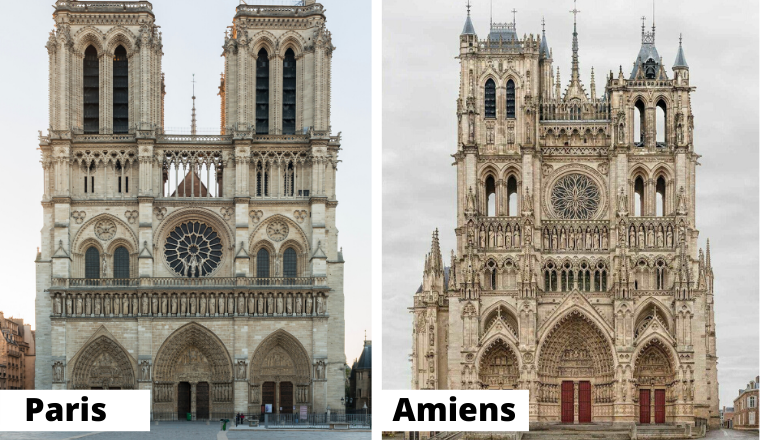 When you look at these 2 pictures, you want to start playing "find 10 differences." Both gothic cathedrals are in France. Notre-Dame is in the capital, and Amiens Cathedral is in the north of the country. The first cathedral had a great PR specialist, Victor Hugo, who wrote a novel about a gypsy named Esmeralda. That's why there are always many tourists around Notre-Dame. The cathedral in Amiens wasn't as lucky. But, on the other hand, you can go there any time of the year and enjoy gothic architecture almost entirely on your own.
8. Machu Picchu / Isla del Sol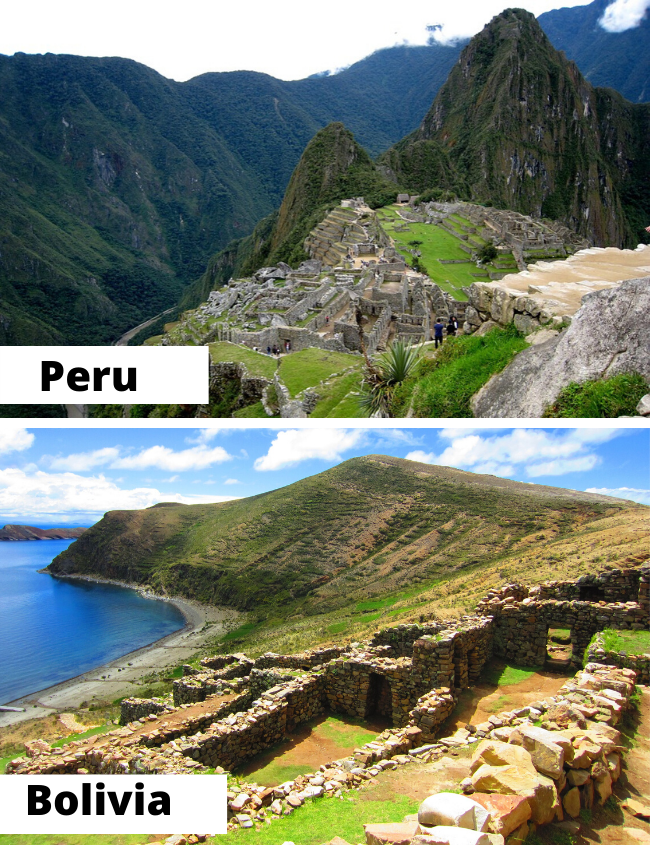 Machu Picchu is an Incan citadel set high in the Andes Mountains in Peru, above the Urubamba River valley. In a spectacular location, it's the most famous archaeological site on the continent. But there is no food or water and only a limited number of tourists. A Machu Picchu visit is tiring and expensive. Alternatively, you can go to Bolivia and visit another Inca city: Isla del Sol (Island of the Sun). It is a rocky, hilly island with many eucalyptus trees. There are over 80 ruins on the island — most of these date to the Inca period circa the 15th century AD.
The only way to get to this island is by boat. The most common and easiest way to get to Isla del Sol is by ferry between Copacabana and Isla del Sol, twice each day. The island has several trails for trekking from north to south and basic services of accommodation and food.
7. Stonehenge / Avebury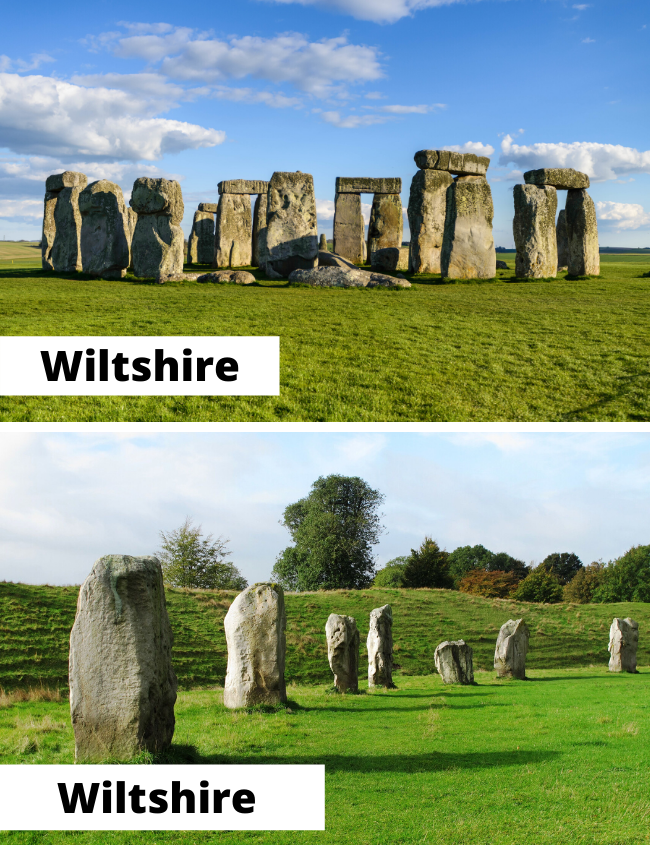 Stonehenge is probably one of the most overrated sights. The stones cannot be touched, you can't go inside, and there is nowhere to hide from the rain. And all this costs a lot of money. 30 kilometers away, you can find other stones with a very impressive history.
Besides, Avebury can be visited for free. It is a Neolithic henge monument containing three stone circles, around the village of Avebury in Wiltshire, southwest England. And unlike Stonehenge, the stones in Avebury have completely free access, and you can walk among and touch the stones free of charge. Avebury is far, far larger than Stonehenge. It is about a mile to walk around the perimeter on the bank alone. There is an outer ring of stones within the ditch and bank.
6. Petra / Lalibela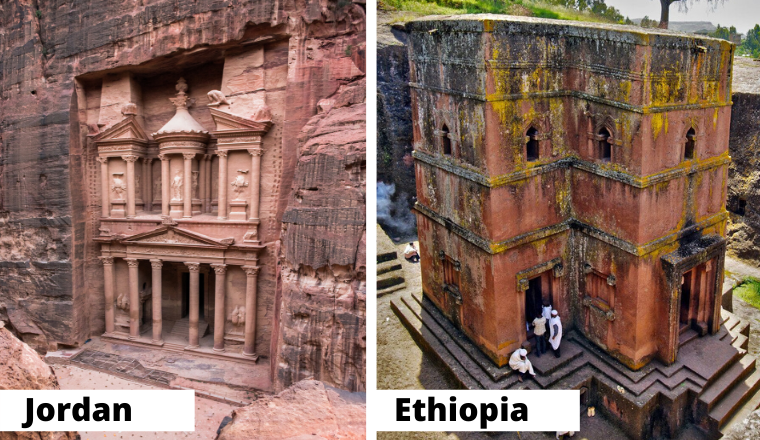 Petra plunges you into an ancient fairy tale. But the developed infrastructure and crowds of tourists slightly spoil the impression, and there is no time to enjoy the beauty. However, you can get even more pleasure in Lalibela, Ethiopia. You can see churches and cathedrals carved in stone, the most unusual of which is the Church of Saint George.
5. Angkor Wat / Borobudur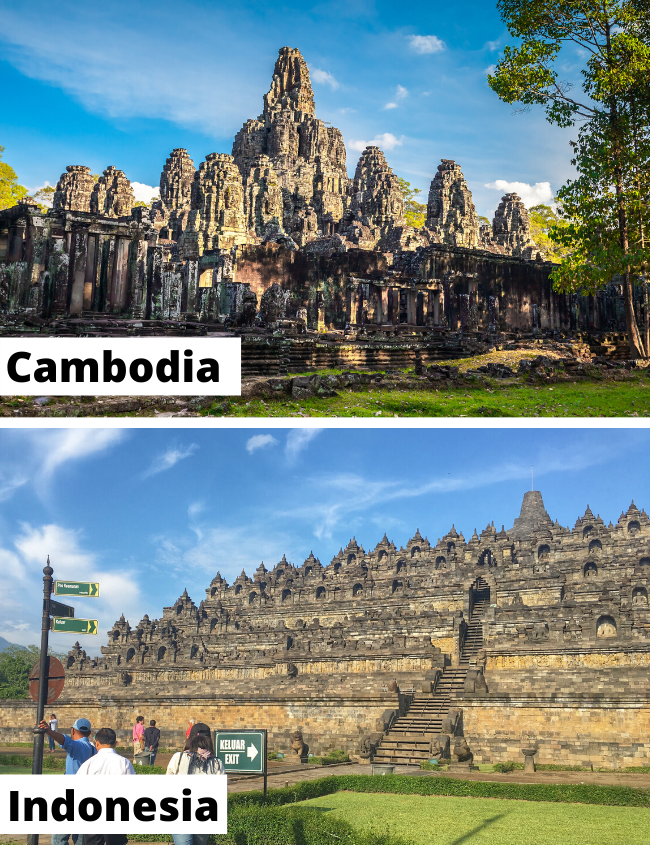 Until recently, Angkor Wat had been an abandoned Buddhist temple. Now it is a very popular sight. Tourists from all over the world enjoy the architecture of the temple every day and explore its territories in search of enlightenment. You won't meet so many people in the ancient Borobudur Temple in Indonesia.
This famous Buddhist temple, dating from the 8th and 9th centuries, is located in central Java. It was built in three tiers: a pyramidal base with five concentric square terraces, the trunk of a cone with three circular platforms, and, at the top, a monumental stupa.
4. Hogwarts / Chernivtsi National University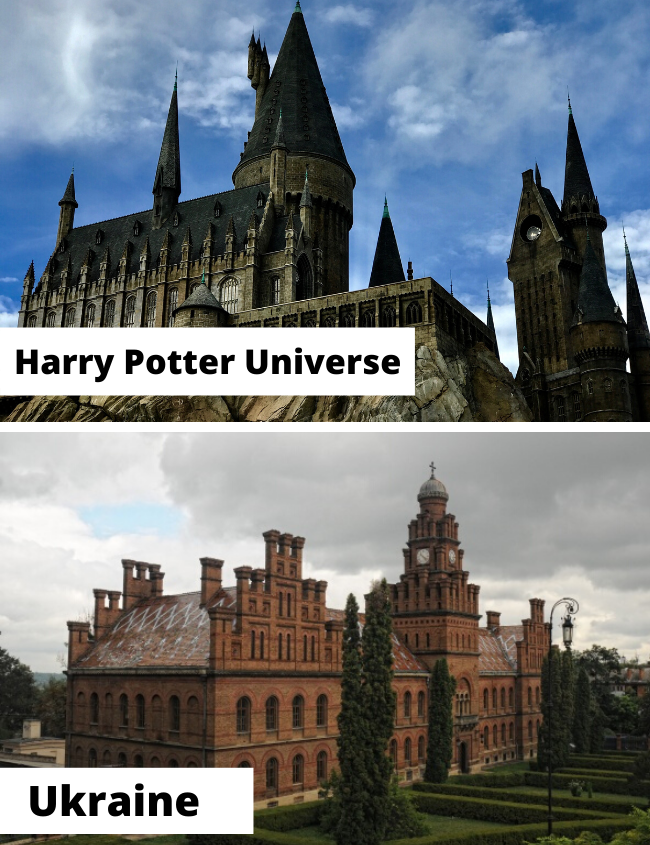 Hogwarts School of Witchcraft and Wizardry changed its appearance throughout 8 Harry Potter movies, but some fans didn't even notice. If the directors had known about Chernivtsi National University, they wouldn't have been forced to go to many different castles. This building looks majestic both from the inside and the outside. The atmosphere looks exactly right for the Harry Potter Universe.
3. Saint Basil's Cathedral / Church of the Savior on Blood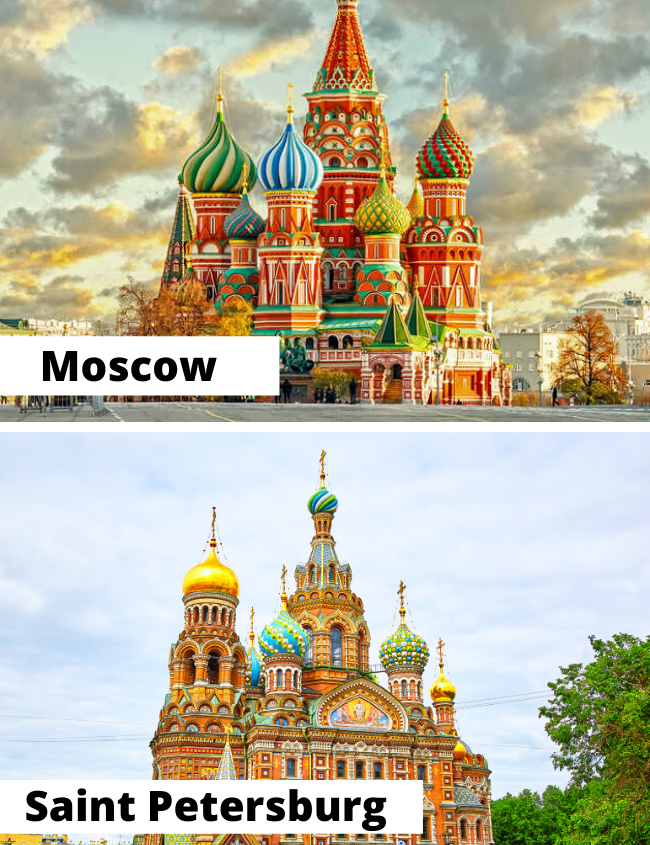 The domes of Saint Basil's Cathedral are one of the most recognizable symbols of Russia. However, very few people know that there is another church in Saint Petersburg that was built in the image and likeness of the Moscow cathedral.
2. Acropolis / Ephesus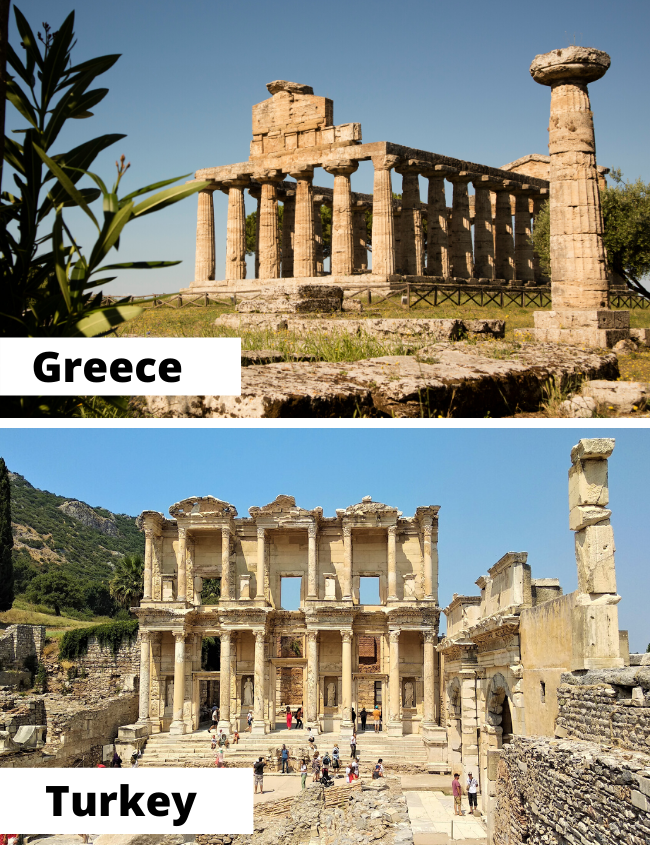 The ruins of the old city, the remains of ancient theatres, and temples with columns are all associated with Greece. But neighboring Turkey also has something to show. Ancient Ephesus is not as popular as the Acropolis, but this fact doesn't make it less historically significant. It is both fascinating and amazing and also quite beautiful. The site is very large and takes at least several hours to get around.
1. The Golden Gate Bridge / 25 de Abril Bridge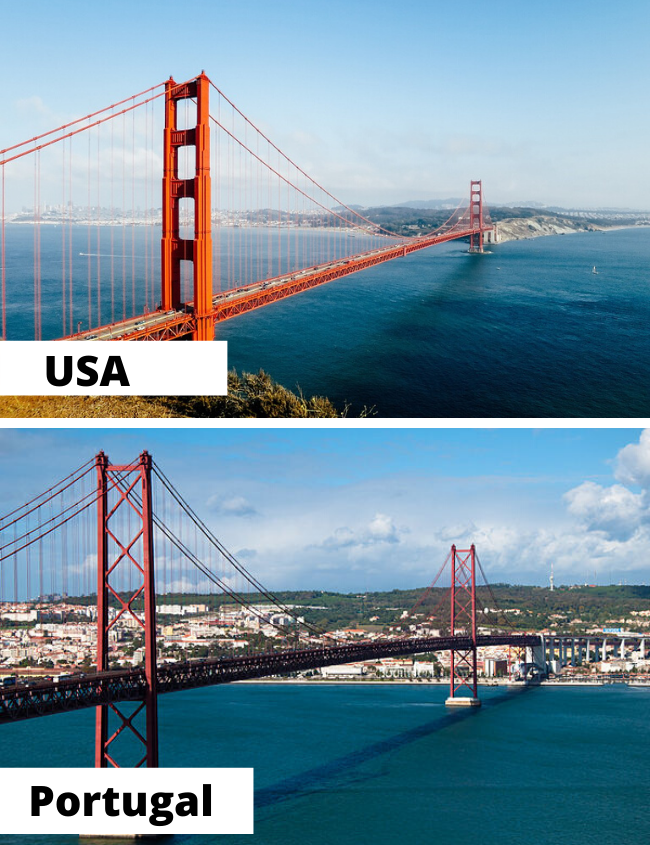 There are many red bridges in the world, but only the Golden Gate Bridge is so popular. It has many "twins," so there is no need to go across the ocean to see this architectural marvel. You can go to Portugal and see a suspension bridge with the funny name "25 de Abril Bridge."
Lisbon's Ponte 25 de Abril suspension bridge closely resembles the Golden Gate Bridge in San Francesco. The comparison is correct as of the consortium that constructed the American bridge also constructed Ponte 25 de Abril. Along with similar appearances, both bridges are located in regions of high possible seismic activity, and their designs are almost identical.
Bonus:
 Big Ben / Parliament Hill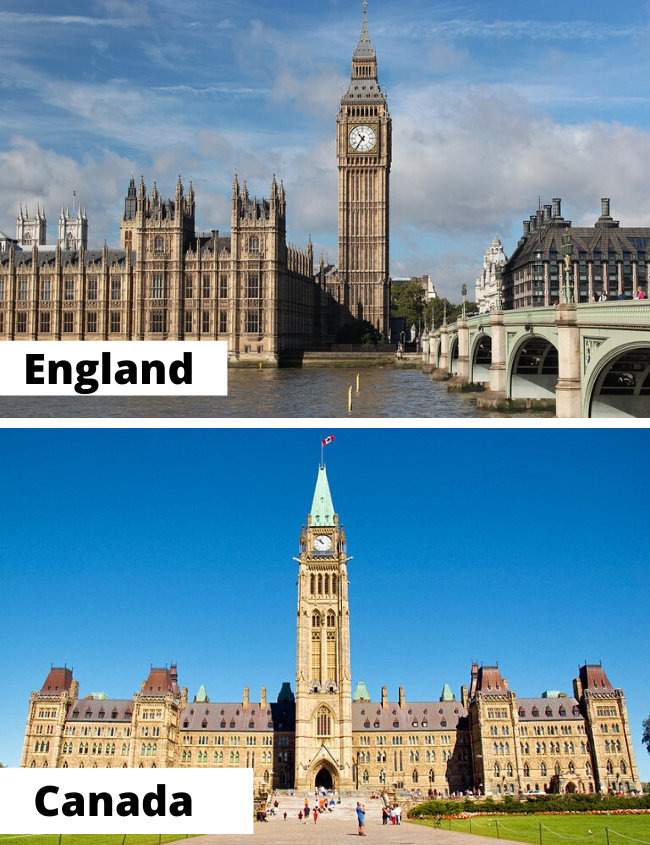 This is another example that shows you don't have to go overseas to see a sight. The Canadians have their own Big Ben, which is very similar to the one in London. The Parliament Hill building is in the neo-gothic style with the Peace Tower and a huge clock face.