No visit to Bali would be complete without a trip to see at least some of Bali's temples. With an estimate of more than 10.000 amazing temples in Bali (Pura in Balinese), you will not have to walk far to find a temple no matter where in Bali you are staying. Several of them have become the island's most iconic landmarks, featuring magnificent centuries-old architecture and set against the exotic backdrops.
The temples listed below are among Bali's most famous and interesting temples and all worth a visit. Do not forget to wear decent clothes (or a Sarong) and behave accordingly, otherwise, the entry will be denied.
Visiting a temple in Bali is cheap (cost is between $1-3), but there are different prices for foreigners and locals. You can find the prices below.
Pura Tanah Lot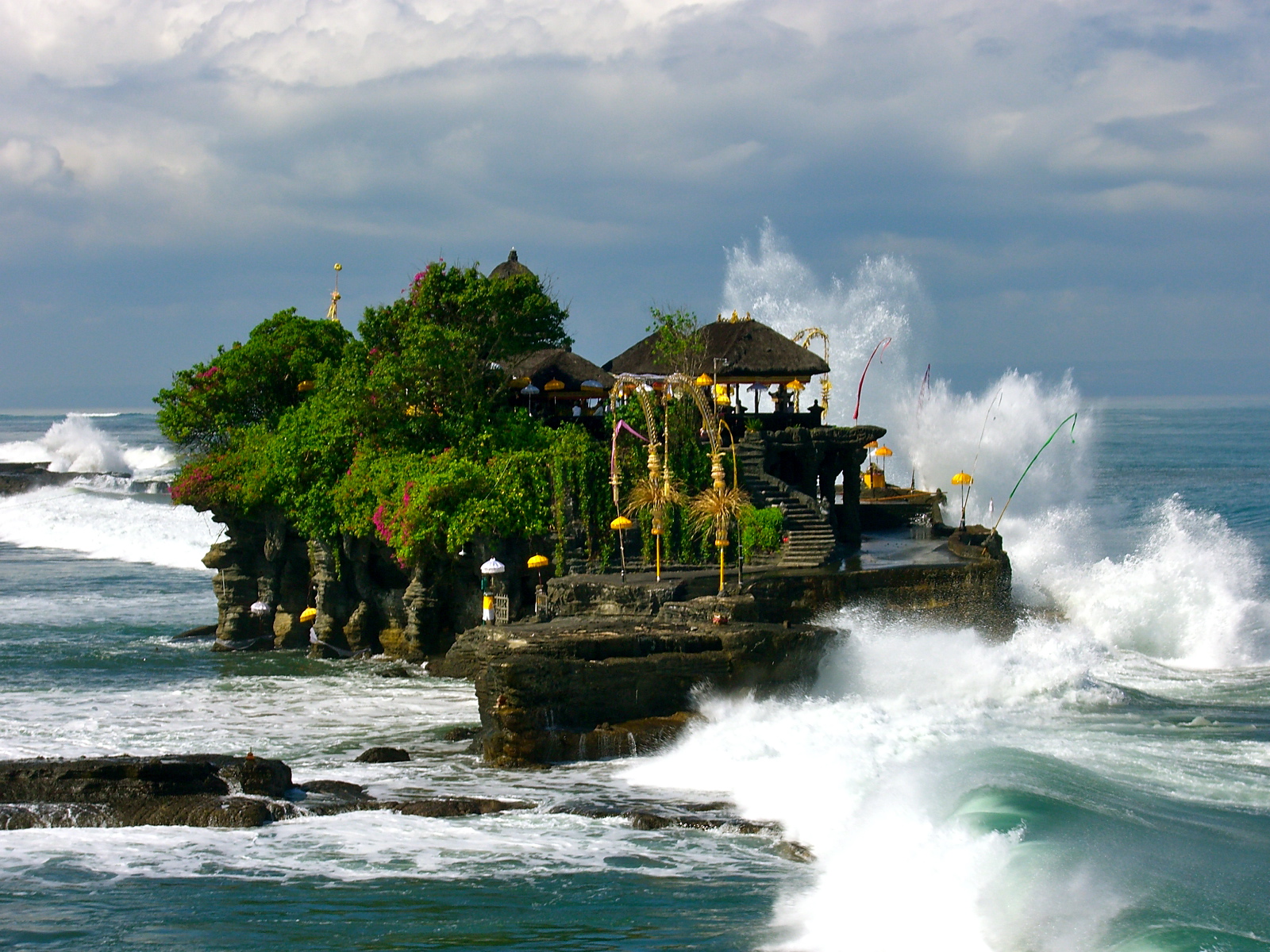 Tanah Lot (which in Balinese means Land in the Sea) is certainly one of the more well-known seaside temples in Bali. The temple is located just offshore in the southwest of Bali on a rock that gets surrounded by the sea during high tide.
Featuring heavily on postcards as well as in Balinese mythology, Tanah Lot Temple is famous for its magnificent sunsets, photographic potential, as well as for that large population of poisonous sea snakes, believed to guard the area against evil spirits.
Especially at around sunset, the temple is the perfect motive for that postcard-like photo.
Tanah Lot gets crowded at around sunset, especially in high season, so you should be prepared to share the views with another sunset enthusiast.
If you prefer to watch Tanah Lot without the crowds, try to get there before noon.
Just beside the temple area, you can find the 5 stars Nirwana Golf Resort and Golf Course. If you want to enter the temple area a bit more in style then go to the hotel, have a cool drink at the bar or at the restaurant. And whenever you are in the mood, head towards the temple via the golf course. It's just a five-minute stroll, but really nice (works only during low tide).
Entrance fee: 30,000 Rupiah ($2,5)
Ulun Danu Beratan Temple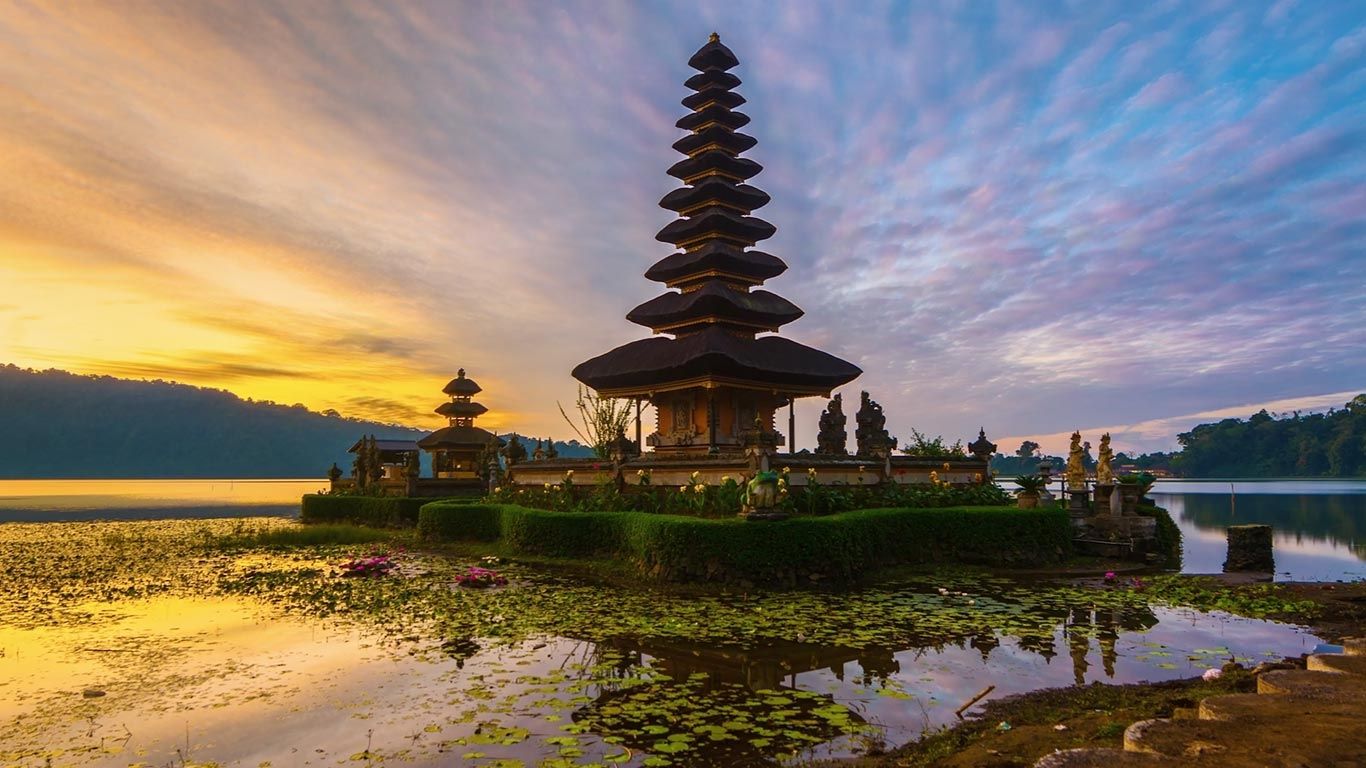 Pura Ulun Danu Bratan, or Pura Beratan, is a major Shivaite and important water temple. The temple is located on the western shore of Lake Bratan. It was built around 1663 and is used to worship the lake and river goddess Dewi Danu.
Ulun Danu temple is surrounded and reflected by the lake, and its misty mountain backdrop highlights its serene beauty.
This picturesque site is featured on an Indonesian banknote and is definitely one of the important and also well-known landmarks of Bali.
Besides visiting the temple complex you can hire small traditional boats (jukung) and explore the lake and coastal area. It's a nice way to explore this unique area and to enjoy the lake and views on the surrounding mountains.
You can even hire fishing equipment. If you are interested in visiting a Botanic Garden is quite nearby.
Entrance fee: 30,000 Rupiah ($2,5)
Pura Besakih
Of all the temples in Bali, Pura Besakih temple, Bali's Mother Temple, is the largest. It consists of more than 86 temples and is perched 1,000 meters high on the slopes of Sacred Mount Ahung. It's not only the largest but also the most important temple for the Balinese and it's said to be the only temple where a Hindu of any caste can worship. You will even find a temple of all religions.
Hindus come here to pray and to worship their gods. As a visitor, you will see not only a very impressive religious site which is an important part of the Balinese cultural heritage but witnesses authentic Balinese Hindu practices.
The compound is really big so you can easily spend 3 hours here. You will need to walk quite a bit and climb stairs.
The best time to visit the temple is the early morning, so you avoid the many groups that come here on tour buses.
Be aware of the temple scams. Don't let anyone pressure you to give a donation at the ticket counter and don't pay for a sarong before you enter – it is included in your entrance fee.
Entrance fee: 15,000 Rupiah ($1,28)
Pura Luhur Uluwatu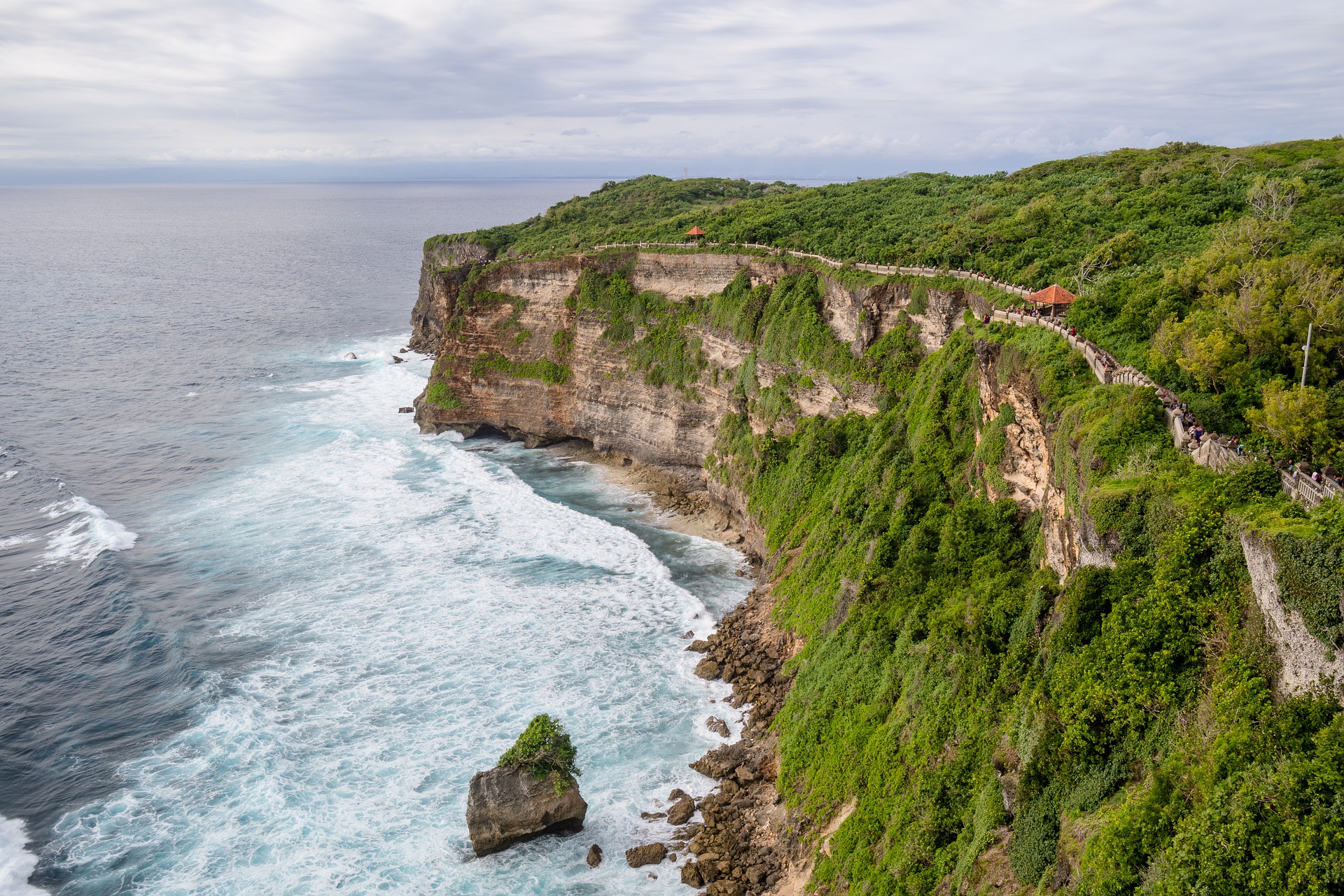 The Luhur Uluwatu Temple, often known simply as Uluwatu Temple, is another Balinese coastal temple famous among both visitors and locals.
Perched on the edge of a high ocean cliff, this temple offers visitors an unforgettable stunning view of the horizon that you won't want to miss. During sunset hours the atmosphere gets really mystical.
You can enter the temple area through two entrances that are split gates. They are surrounded by a couple of Ganesha sculptures (shaped like a human body with an elephant head). Behind the main shrine lies a Brahmin statue facing the Indian Ocean. Until the early 80ies, it was rather difficult to get here.
Like in any other temple, you need to be properly dressed to enter. Sarongs and sashes are available for free at the entrance. Note that while you are free to walk around the temple grounds, the central courtyards are usually closed and can only be entered during special rituals.
Take your time, roam around, sit down at times, and enjoy the spectacular views.
You can watch a Balinese Dance Performance in the evenings and although it can be a bit crowded at times or feel a bit touristy, it's still a nice and special experience to come here.
Entrance fee: 40,000 Rupiah ($3)
Pura Lempuyang
Pura Lempuyang is one of the six sad kahyangan (temples of the world) which is dedicated to the supreme God – Sang Hyang Widi Wasa and also one of Bali's nine directional temples to protect from evil spirits. It's a very scenic and very holy place to visit.
Located in East Bali within the highlands of Mount Lempuyang this temple is one of the most difficult to get to. Visiting this temple requires a bit of an effort as you need a serious 1.5 hours hike to the top of 1,700 steps, which cuts into the mountainside jungle. At the peak, you also get a grand view of Gunung Agung with the temple gate framing it.
The locals take this walk up to the temple very seriously. With pride and dedication, they take step by step. For them, it's a spiritual journey that one should not complain about. And they certainly do not appreciate hearing others complain.
One of the best times visit here is the day after Galungan to see the Lempuyang during its odalan. The temple is never really crowded. So if you are fit and ready for a challenge that gives you a very special reward in return, this temple should be high up on your list of things to do in Bali.