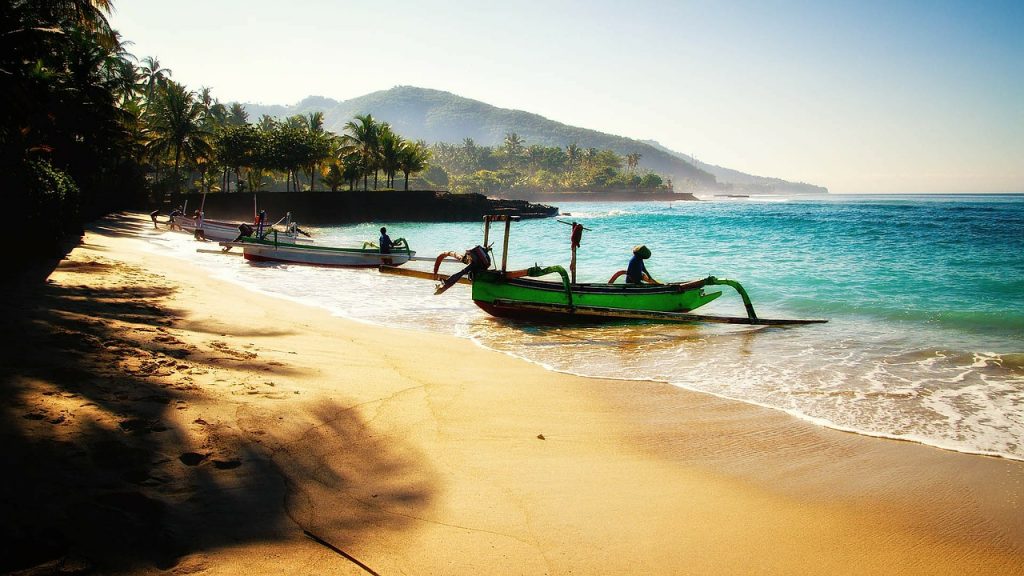 This is the second part of the article Most Beautiful Beaches in Bali You Didn't Know You Should Visit Part 1. In the first part, we wrote a detailed review of 10 Most Beautiful Beaches in Bali. But this tropical island boasts of many other beaches. Well, are you ready to discover Bali's Beautiful beaches again?
Suluban Beach- Blue Point Beach
Suluban Beach or Blue Point Beach is one of the most exotic beaches in Bali located in Uluwatu. This small beach is hidden between the rock formations and it's completely flooded with water at high tide.
Entrance to the beach through a large cave. Suluban beach is becoming popular among surfers because of its big waves. There even a lot of shops where people can buy or rent everything they need for surfing.
Those who don't want to surf can sit in cafes on the cliff and watch the surfers. We enjoyed spectacular views of the turquoise ocean, cliffs, and waves crashing on rocks.
Are you an advanced surfer? Are you crazy about the ocean and ready to spend hours admiring the waves? Do you want to get new friends from Australia? In this case, Suluban Beach is for you!
Nyang Nyang Beach
Nyang Nyang Beach is long, deserted and perfect for long walks or meditation. In some places, the beach is composed of sand with an admixture of coral and shells so that you can gather them as a souvenir.
There are some cafes, hotels and great pools above the beach.
We enjoyed Nyang Nyang Beach so much, and it's perfect for those who love solitude. Everything there was unforgettable – sunbathing and walking along the empty sea and listening sounds of waves. But we weren't able to swim there comfortable, because Nyang Nyang beach is more suitable for surfing, in spite of the transparency of the water.     But, there were not so many surfers on the beach.
Nyang Nyang beach is great for surfers and lovers of peace, tranquility, and solitude with nature.
Pandawa Beach
Pandawa is one of our favorite beaches in Bali. For me, it is the best beach on the Bukit Peninsula. We fell in love with it at first sight!
Entrance to Pandawa beach is through a limestone canyon. This white sandy beach is very long and has a clean sea. Here you can rent chairs and umbrellas as well as kayaks. There are a lot of caves on the outskirts of the beach and a beautiful gazebo for photo shoots.
The color of the sea is stunning! Waves also exist so that it is possible to surf, but far from the shore.
There are no hotels near the Pandawa beach and it is good and bad at the same time. On the one hand the beach is not crowded, but on the other hand, you have to pay for entrance and parking.
Geger Beach
Geger Beach is one of the Bali's best beaches on the Bukit with white sand and clear sea. It is not crowded and magnificent for swimming. Formally it is a continuation of Nusa Dua beach.
There is rental of deck chairs, umbrellas, a couple of cafes and famous water sports like windsurfing, boards, canoes, and snorkeling.
You can't see in beach any shore waves because of a rocky breakwater and underwater coral reef. The sea is calm throughout the coast.
We liked Geger beach so much and what about you?
Nusa Dua Beach
Nusa Dua is an area in South Bali, well known as an enclave of large 5-star resorts. It has a lot of luxury hotels around.
We loved spending our time in this beautiful white sandy beach. Nusa Dua with a huge selection of hotels suitable for relaxing vacations and romantic breaks. It is just ideal for honeymooners and for those who travel with family.
Nusa Dua is slightly separated from the rest of Bali. That is why tourists who stop only here and don't visit other places in Bali can feel a little bored. But there are many impressive temples, Museum Pacifica and lots of other attractions.
We used public beach of Nusa Dua, but there are also some private beaches which can be reached only through the hotels.
Tanjung Benoa Beach
Tanjung Benoa used to be a fishing village, but now this area is filled with many hotels. As hotels are mostly 4 and 5 stars, the nearby beaches are kept clean. Hotels in Tanjung Benoa are not as luxury as in Nusa Dua. It is a good place if you want to find (like us) more budget hotels than in Nusa Dua.
The northern part of the Tanjung Benoa is well known as a center of water sports. You can try here enjoyable watersports activities such as Parasailing, Jet Ski, Seawalker and many others.
The waves in the beach are calm and safe for water sports activities. Beach in Tanjung Benoa is less suitable for swimming than the beach in Nusa Dua. Also, there are many fishing boats on shore and in the sea that will make your swimming not comfortable.
Sanur Beach
This resort is more respectable and quiet than Kuta and less luxury than Nusa Dua. Most of the visitors in Sanur are middle-aged tourists from the USA and Europe.
Sanur beach is long and wide, and the sea is very calm. Many tourists come to Sanur from other beaches to have lunch/dinner on the shore, visit the nearby waterfall and safari park.
There were a lot of cafes, restaurants, and expensive hotels, but we found more budget housing in the village. Early in the morning from the Sanur beach, we could see Mount Agung.
A lot of boats depart from Sanur to the Gili islands.
Sanur is geographically optimal location, and from it, you can easily get to Bukit, Ubud, volcanoes and other attractions.
Padang Bai Beach
Padang Bai is a small town in eastern Bali, and also the port for the public ferry connecting Bali with Lombok, Gili, Nusa Penida, Nusa Lembongan. As a big lover of natural recreation, we enjoyed Padang Bai so much.
But not everyone knows that near this town there is wonderful hidden Bias Tugal Beach, well known as the Secret beach. To get to the Bias Tugal Beach you need to reach the port and turn to the right, and just drive till the end of the road. The road ends at the top of the hill. Then park your bike/car and walk down the path to the white sandy beach with pure water.
Sure, you will like it!
Blue Lagoon Beach
Blue Lagoon is another stunning beach for those who love marine life. It is a real paradise for snorkeling and diving. We saw an awesome variety of coral fish. It was wonderful!
It took us 1.4 hours from Kuta to drive there.
The sea was clean and without waves, so we could see what is underneath.
People here snorkel directly from the shore. But there are also many boats that can take you to special places with amazing underwater wildlife and then bring you back.
From Blue Lagoon beach we went to Kusamba beach. It was a very interesting experience. You should visit Kusamba beach too if haven't seen volcanic black sand before.
White Sand Beach
White Sand is our another favorite beach in Bali. This beach is also called Virgin Beach.
White Sand beach used to be snow white, but now it's slightly covered with volcanic inclusions. This beach is great for sunbathing and swimming. It is very wide and not crowded as located far from the airport. The sea is often calm, clear without waves, and full of rare tropical fish.
There are some picturesque rocks at the end of the beach and cafes, where you can enjoy tasty food or drink fresh juice, coconut, or beer…