All of us love good food and excellent drinks. That is why we explored dozens of restaurants and cafes in Ubud, many of which we loved so much and highly recommend you to visit when you are in Bali. In addition to the traditional cuisine, there are also a lot of European, Mexican, Indian restaurants and cafes.
Italian cuisine in Ubud
Mamma Mia
The Italian empire expands to Ubud offering Ubud residents and tourists the doorway to great Italian cuisine!
Mamma Mia is the most famous and oldest pizzeria in Ubud. We often came here for a quick lunch.
The interior is very simple, and from the street, you can even see a real wood-burning stove. The owner of the restaurant named Tony is a very friendly guy, and he doesn't mind to sit with visitors and talk to them.  You also will enjoy the warm greeting and friendly customer service.
All pizzas in Mamma Mia are excellent! They are firm, crispy and evenly spread with toppings. Well worth a change if you've had your fill of Nasi Goreng or a vegan detox! They also give you a container to take your uneaten food with you.
Prices for pizza 5-6$
Fruit juices and cappuccino 2-3$
Trattoria
Expect your favorites including thin-crusted pizzas baked in wood-ovens, yummy pasta on the menu, an array of antipasti and starters, and of course not to mention the delightful desserts you would expect at Trattoria!
This restaurant is great for vegetarian diners, with loads of options – and after a day of sightseeing at Ubud, this is definitely a top choice to unwind for a quiet dinner.
The most delicious pizzas in Bali you can find at Trattoria! They have a lot of kinds of delicious pizza. The interior is charming with candles and glasses on tables. The restaurant located a bit far from the center, and that is why this place is quiet and cozy.
Prices for pizza 8-9$
Drinks 3-5$ (including taxes )
Marzano 
Mmm… Marzano is one of the most popular Italian restaurants in Ubud. Here you can find the largest selection of pizzas (over 30!). As it may appear at first that they only serve Italian food, but it's not true. They also have some delicious local food.The front of the cafe faces a busy street and the back surprisingly a calm serene paddy filed.
When you order a pizza they serve a bruschetta as a welcome gift. Both of them are very delicious! The staff is also very friendly and they have always a smile that makes you feel good. Amazing view over rice paddies is also a bonus!
Prices for pizza 6-8 $
Drinks 3-4$ ( including taxes)
Umah Pizza
It is another great restaurant where you can try real Italian pizza. They even have various pizzas with salmon and sweet dessert pizzas. Awww….a paradise for those who love sweet things 🙂
The place might be quite crowded, but the food is served pretty fast. The oil in baby bottles simply has to be seen.
There's something for every member of the family, and it's got a great family-friendly vibe. The open kitchen is a huge plus, where you can see the process involved in making an oven-baked pizza.
Bagus Pizza
Bagus is a good Italian food restaurant in Ubud. "Bagus" in English means "good."
It is a great place with many tables and sofas inside and outside of the restaurant. Bagus offers visitors an ample space to come with big company or children. Here you can find a lot of delicious Italian pizzas, pasta, and drinks. Everything is so yummy and compared to other places in Ubud it is really not expensive.
They now make the base wholemeal if you prefer. Such a range of toppings making it hard to choose..but every choice is a good choice.
Organic and Vegetarian cuisine
Alchemy
Alchemy is located in Penestanan and well known for its salad bar. Here you who choose the ingredients and sauce for your salad.
This amazing cafe has a great menu with lots of choices including a huge salad bar and delicious raw desserts. Seating is varied with lots of comfortable areas to settle in with family and friends. Alchemy offers visitors tasty juices and smoothies in original jars, as well as organic cakes and candies. They also serve, for free, spring water infused with orange, mint, and other great flavors!
Most delicious healthy breakfast: coffee with coconut milk, "smoothie bowl" (fresh fruit, granola, cashew milk, other toppings), gorgeous juices, raw chocolate. Yes, it's a great idea to eat raw chocolate for breakfast!
Bali Buda
The Bali Buda Cafe, located in the grand artistic cultural hub of upcountry Bali, located across from the local Postoffice offers extremely fresh, tasty organic meals in its restaurant, health food store, and bakery. This phenomenon is predicated on the mission of the owner whose mission is to in his words to provide "real food for real people."
Everything which is provided is from local farms which are monitored for content purity via the Bali Organic Association. Speaking of culinary excellence, the Buda remarkably produces over 500 delicious loaves of bread each day before sunrise!
The second-floor dining experience is enhanced by the semi-outdoor tropical environs which share the surrounding beauty of Mother Nature. There is an emphasis on Indonesian cuisine which can be quite spicy. The large selection of organic and vegan items in Bali Buda is very tempting. The menu is made up of mostly healthy options if you care about what you eat it's a solid choice, a good place to go to if you want some real food and juices/smoothies.
They even have a shop with a lot of different organic products, good cosmetics, fresh pastries, bread, cakes and the most delicious brownies.
 Yellow Flower Cafe
Yellow Flower Cafe is located in one of the Ubud hills with an amazing view of nature, rice field, and trees. This restaurant with a unique atmosphere and excellent food offers local ingredients, bio food, and vegan. The output is great, with good food and quiet environment.
Here you can watch the breathtaking sunrise from the table in the street. It is a great place for breakfast, which cost 4$ ( big bowl). The menu is simple but delicious, the staff don't push you out once you've eaten, they let you sit there and take in the surroundings. This does mean it can be hard to get a spot, however, if you are visiting yellow flower you don't want to be in a rush … it's all about relaxing and taking it all in.
Clear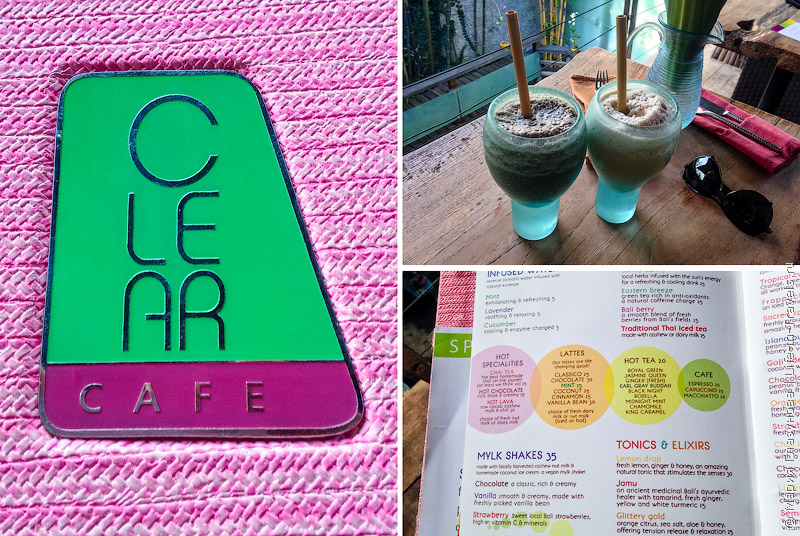 Clear is a big and stylish organic cafe. It's a great spot to escape the hustle and bustle of Ubud's market end of town. The atmosphere is amazing and the staff is so sweet, smiling, and welcoming. Escape behind the large wooden door to the tranquil setting, running water, trees, and flowers. An assortment of drinks and food available, vegetarian-friendly. At the entrance to the cafe, you have to take off your shoes and take a number to ensure you get them back.
The menu is so massive with so many options: organic, healthy, vegetarian,  vegan,  options of Indonesian and international food. And that is just the food!
The ambiance is outta this world! Seating options for everyone- table and chairs or cushions on the floor; gorgeous wooden spiral staircase- like a treehouse!
Down to Earth Cafe and Market
Down to Earth is a lovely cafe + market with healthy organic vegetarian food, good menu options and reasonable prices located in the center of Ubud. Its upstairs dining area is very cozy and you can sit on the balcony and look out over the street. The menu is Vegan and based on Macrobiotic principles, and the food is organic wherever possible, grown with integrity and prepared with traditional methods. They also have beautiful desserts, pancakes, a lot of seitan and tofu dishes.
In the market, they sell popular Balinese chocolate from Charlie Chocolate Factory.
Warung Sopa Cafe
Great cafe with an interesting menu, great snacks, soups, and drinks. The food here is outstanding! The restaurant is immaculate and big. You can try here a lot of yummy cakes and shuffles. Don't skip over the soups they are delicious as is the taco rice and the pasta. They also serve hot drinks and freshly squeezed juices. Nice plan to sit and have a healthy meal and to relax.
The best thing to order is the Nasi Campur.. choose your own vegetables from the front counter – about 6 or 7 dishes makes for a yummy feast. The taste profiles tend to vary from day to day – they have good days and bad days, but the energy of the food is always good.
Sari Organic
Sari is a popular organic cafe in the middle of rice fields. This quiet and pleasant place with a gorgeous view is one of our best organic cafes in Ubud.
There are 2 Sari Organic cafes; the original one located in the middle of spectacular rice fields and another one is in Penestanan.
Drink fresh coconut/smoothie/juice/coffee or cappuccino with coconut milk…..just wow….and eat healthy green pancakes enjoying fantastic view!
Other cuisines
Warung Sharaswhaty
This Indian restaurant is for those who love spicy Indian food, such as Chicken Curry (Murgh Kari), Beef Curry, Samosa, Masala Chai ( spiced milk tea). Everything is freshly prepared and full of flavor.
There's an upstairs area with low tables and bean bag chairs. The downstairs is also lovely to see people walking by.
Taco Casa
Mexican food in Bali?? You bet. Taco Casa is an excellent Mexican tavern with tasty fajitas, tacos, nachos, wet burrito, enchiladas, salads, homemade lemonade and lots of other Mexican food. Salads are served in edible dishes made of corn flour.