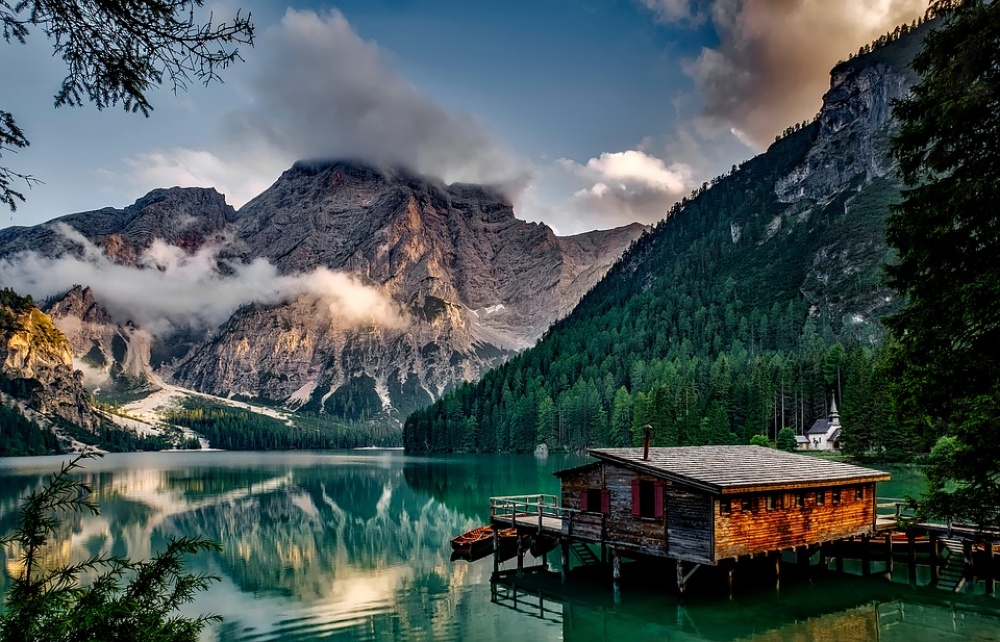 We live in such a breathtaking world that is full of peace, magic, wonder, and beauty.  But hustle and noise of big cities captured us and we forget to live and enjoy moments.
Here're some great pictures on which you will not see crowded streets. They will inspire you to switch off your time-sucking devices, get away from everything, and spend some time in solitude and self-discovery.
And remember that when the cost is a consideration, timing is everything: off-season travel is less expensive and less crowded. Which is fine with us.
"In the mountains, we forget to count the days because it's not the mountain we conquer but ourselves." Jasper National Park in Alberta, Canada
This Alberta park—the largest in the Canadian Rockies—is wild in every sense of the word. Its local residents include grizzly bears, moose, and elk. You can hike and bike along several trails in the park. Many of the backcountry trails were established first by wildlife, then by early travelers including First Nations people, fur traders, explorers, and adventurers. Plan to spend at least a half-day in the town of Jasper and several days exploring the park.
"Smell the air, and feel the wind!" Lake Superior in the USA
The largest of the Great Lakes, Lake Superior spans both the United States and Canada — touching the shores of Ontario, Minnesota, Wisconsin, and Michigan. Superior is the largest freshwater lake in the world by surface area. With the cleanest and clearest water of all the Great Lakes, Lake Superior is an ideal vacation destination. Why not see it all?
 Whether camping or renting a room, stopping off to kayak or enjoying the scenery from behind the dashboard, juggling a big family's needs, or focusing on just your own, there's a trip for everyone here. Best of all, you don't really need to consult a map — just follow the water.
«Enjoy the Silence». Fisherman's hut in Obersee Lake, Germany
Obersee and Koenigssee are the most beautiful lakes in Germany.  Obersee lake can be reached only by foot and is nestled between the slopes of the famous Mt. Watzmann massif. Before starting the hike at the Saletalm, you should cross the spectacular fjord-like Lake Koenigssee by boat. The journey takes about an hour and is absolutely breathtaking.
Misty dawn in Silesia Lake, Poland
Silesia is a historical region in southwestern Poland. One great thing about Silesia's recent period of cultural redevelopment is that the region isn't on everyone's bucket list just yet (even if it should be). Take full advantage of that fact. Lower Silesia is one of the few areas in Central Europe where you can still travel off the beaten track. You could hop from one city to another, but going on a road trip might be an even better idea for adventurous types. Drive around, navigate to the many hilltop castles and neighboring villages.
Majestic Blue Mountains of Australia for those who want to look at the world from above
The Blue Mountains is a rugged region west of Sydney in Australia's New South Wales. Known for dramatic scenery, it encompasses steep cliffs, eucalyptus forests, waterfalls, and villages dotted with guesthouses, galleries, and gardens.
See the Three Sisters rock formation from Echo Point Lookout at Katoomba; it's also the gateway to many walking trails. Board the world's steepest passenger railway and descend into an ancient rainforest with Scenic World Blue Mountains. Or get a panoramic view of the mountains from a glass-floored cable car suspended above a steep gorge.
Lake Bled in Slovenia is one of the most beautiful lakes in Europe
Bled is a town on Lake Bled in the Upper Carniolan region of northwestern Slovenia. Bled is known for the glacial Lake Bled, which makes it a major tourist attraction. Perched on a rock overlooking the lake is the iconic Bled Castle. The town is also known in Slovenia for its vanilla and cream pastry.
A small island in the middle of the lake is home to Assumption of Mary Pilgrimage Church; visitors frequently ring its bell for good luck. Traditional wooden boats – pletnas – have been taking visitors to the island in the middle of the lake for centuries. These boats are operated by standing rowers known as pletnars. After landing, guests climb 99 stone steps to reach the Assumption of Mary Church. On this island, which is the subject of legendary tales, listen to the church bell and ring it yourself. Legend has it that this will make your wishes come true.
Black Spur Drive in Australia
Famous for its towering trees and spectacular valley views, the Black Spur connects Healesville with Narbethong on the Maroondah Highway as it winds its way up the Great Dividing Range.
Lower the windows and savor the fragrance of the Australian bush as you pass through the forest. Gaze up at the immense mountain ash trees, which scatter the sunlight on the cool understorey of green ferns below. At the base of the Black Spur, you will find the Fernshaw picnic area with rest facilities.
Glacial Moraine Lake in Banff National Park, Canada
Banff is a picturesque town within Banff National Park in Alberta, Canada. The town sits at an elevation of 1,400 meters above sea level, boasting fantastic views of its surroundings. Banff is a resort town and one of Canada's most popular tourist destinations, known for its mountainous surroundings and hot springs. It is a destination for outdoor sports and features extensive hiking, biking, scrambling, and skiing areas within the area.
Cute bear runs across the desert road in Jasper National Park, Canada
Jasper National Park, established in 1907, is the largest national park in the Canadian Rockies. Jasper is the wildest of the mountain parks and contains a superb backcountry trail system as well as the world-famous Columbia Icefields, one of the only Icefields in the world accessible by road.
It is internationally-renowned for hiking in the park, skiing at Marmot Basin, and wildlife viewing, and is home to some of North America's rarest animals.
"King of the Hill" The picturesque Glencoe valley in Scotland
Glencoe is perhaps Scotland's most famous and most scenic glen. Glencoe is also arguably Scotland's most historic glen, and it was recently voted as Scotland's most romantic glen. Glencoe is not only a holiday center for hillwalking and mountaineering, it is also an ideal base from which to explore the Highlands of Scotland.
Hang En Cave is the world's 3rd largest cave and is quickly becoming one of the must-see natural wonders in Vietnam
Hang En is the third largest cave in the world. Camp in the enormous cave entrance and explore the length of the cave including the cinematic exit that has featured in Hollywood films. This tour is for travelers who want to experience an enormous cave – but may not have time for Son Doong. The experience is particularly rewarding for photographers. It's one of the must-see natural wonders in Vietnam.
Stunning house in the winter forest, Massachusetts, USA
The state of Massachusetts offers visitors an extraordinarily rich array of choices. Its six major regions provide a virtual checklist of options to appeal to any traveler: adventure, relaxation and rejuvenation, romance, and arts and culture. As one of the original 13 colonies, Massachusetts has preserved more than its share of historic landmarks from as far back as pilgrim days.
Landscapes are just as varied, you'll find rolling mountains, waves crashing on rocky shores, green pastures and farmlands, deep forests, and beautiful little postcard-perfect villages that Norman Rockwell immortalized in his paintings.
Breathtaking lake in Alberta, Canada
Alberta is one of Canada's most gorgeous provinces that's perfect for a winter or summer jaunt.  And with so many beautiful things to do in Alberta, it's an area you should definitely think of visiting as soon as possible. From the tiny little villages, stunning lakes, gorgeous cities to huge swathes of powdery snow – it's the perfect place that you'll love.
Endless lupine fields – place where you can see a tender smile of severe nature in Iceland
We easily think of Iceland like a bit of the moon on the planet Earth, with its deserts of lifeless volcanic rock. Iceland is also characterized by its glaciers and miles of ice, as well as the image of fire, for who has not heard of the volcanoes of Iceland? But Iceland has always more, much more to offer, and there are also immense fields of a beautiful plant that extends on the horizon for miles, named Lupine Flowers, just beside the church at Vík í Mýrdal.
Amazing waterfall in Oregon
The Willamette National Forest stretches for 110 miles along the western slopes of the Cascade Range in western Oregon. It offers a stunning choice of year-round recreation for day-trippers and vacationers alike from scenic drives, hiking, camping, fishing, or skiing to picnicking or rafting along with one of the most scenic rivers.
A fascinating mix of the sad nature of and abandoned houses in Sweden
Sweden is famous around the world for lots of things: Saab and Volvo automobiles, the music group ABBA, pickled herring, and the DIY megastore IKEA. It is equally as famous for its stunning scenery, picturesque fishing villages, being the land of reindeer, and endless summer sun.
Sweden is filled with colorful wooden buildings, traditional huts, stone fortresses and cathedrals, and some pretty innovative contemporary architecture. Whether it's hiking trails or art museums you're looking for, Sweden has it.
Alpine Mountain Lake
High, rough mountains dotted with clear blue lakes – that's what paradise must look like. A few of these oases are hidden in the Alps. Some of them are hidden, barely touched, some wait for you with a boat tied to a wooden landing, or an Alpine hut next to a dam. All of them are magical and ideally suited to hiking, biking, or a quick splash.
Fabulous Alberta. The famous movie of Leonardo DiCaprio "The Revenant" was only to be filmed in an extensive area near Calgary in Alberta
Calgary is a city in the western Canadian province of Alberta. Calgary's got more to offer than cold winters and cowboys. In fact, the largest city in Alberta boasts some of Canada's top draws for foodies, shopaholic, and culture vultures alike.
Skyscrapers of Greenland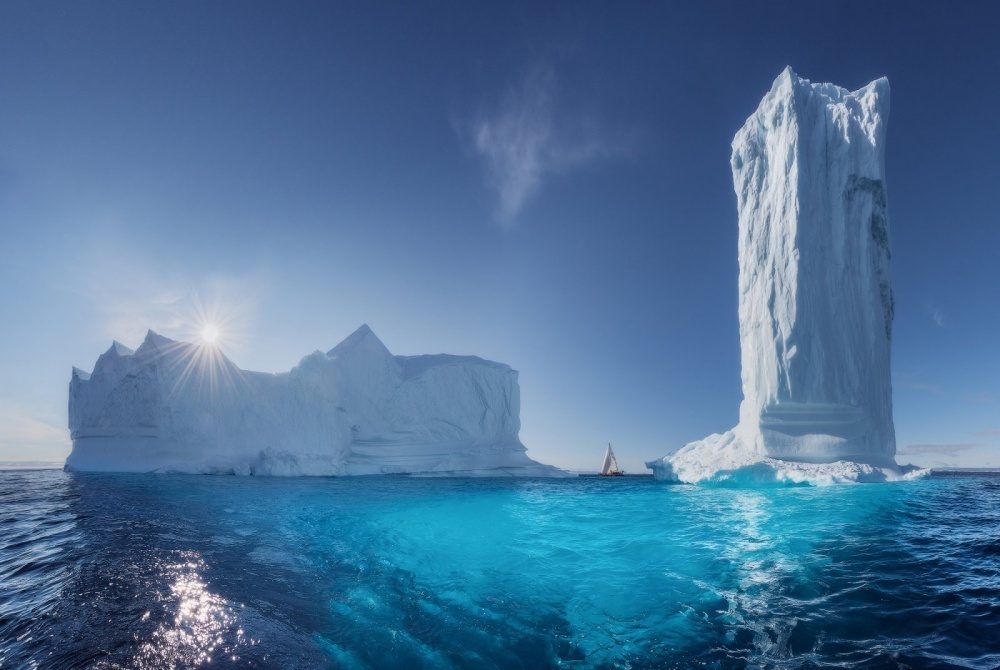 Greenland – remote, cold, and mysterious. And also a country that has preserved its incredible nature, wildlife, and Inuit culture. A place where ice and snow create a breathtaking landscape and shape the traditions.
Don't postpone your trip to gorgeous Kamchatka, because one sad bear waiting for you
There are few places in the world that can enthrall quite like Kamchatka, easily Russia's most scenically dramatic region. A vast volcanic peninsula that is almost entirely wilderness, Kamchatka is a place of extraordinary primal beauty, rushing rivers, hot springs, and snow-capped peaks. Getting here takes time and effort, and exploring the region even more so, but few visitors leave anything other than awestruck.
The moon rises over the Norwegian fjords. In this magic place, it looks extraordinarily huge
Impossibly steep-sided Norwegian fjords of extraordinary beauty cut gashes from a jagged coastline deep into the interior. Glaciers, grand and glorious, snake down from ice fields that rank among Europe's largest. Elsewhere, the mountainous terrain of Norway's interior resembles the ramparts of so many natural fortresses and yields to rocky coastal islands that rise improbably from the waters like apparitions.
And wherever you find yourself in this most extraordinary country, these landscapes serve as a backdrop for some of Europe's prettiest villages.
Lake Braies located in the heart of the Braies Dolomites in Italy is characterized by its unique emerald color
Lake Braies is one of the most beautiful lakes in Italy. Located at an altitude of about 1,500 m above sea level, the mountain lake captivates with its turquoise-green color and the imposing Seekofel massif that surrounds it.
Lake Braies is an attraction for recreation seekers, nature lovers, and hikers, in both summer and winter. The lake, with an average depth of 17 m, measures 36 m at its lowest point. Even though Braies lake is listed amongst the bathing lakes of South Tyrol, only a few hardy people dare to jump into the cool waters.
This Misty Point Reyes is a prominent cape and popular Northern California tourist destination
It seems appropriate that the world's tallest species of trees would largely find its home in California, one of the largest of the United States of America.
Redwood trees are some of the tallest and largest trees in the world. While there are three types of trees in the world, sequoia and sequoiadendron are the types found in the U.S. Pacific Northwest. California is home to 31 redwood state and national parks. In California, there are even three live redwood trees that you can drive through: the Shrine Tree in Myers Flat on the Avenue of the Giants, the Chandelier Tree in Leggett, and the Klamath Tree in Redwood National and State Parks.