One of the most popular things to do in Bangkok is visiting a floating market, and there are quite a few markets to choose from.
Traditionally these markets thrived with local customs when Thailand was the Venice of Asia. Today many of the waterways have been filled in, and the markets are often tourist-focused, but even so, a visit is still a great way of purchasing fresh food in a slightly quirky environment.
There are many floating markets in Bangkok, each with a distinctly different flavor. While some are more of a weekend market beside a canal, they all have their own charm. Here are eight of our favorites close to Bangkok.
Check out the list of best-floating markets in and around Bangkok, and don't forget to visit them while you are exploring Thailand.
Damnoen Saduak Floating Market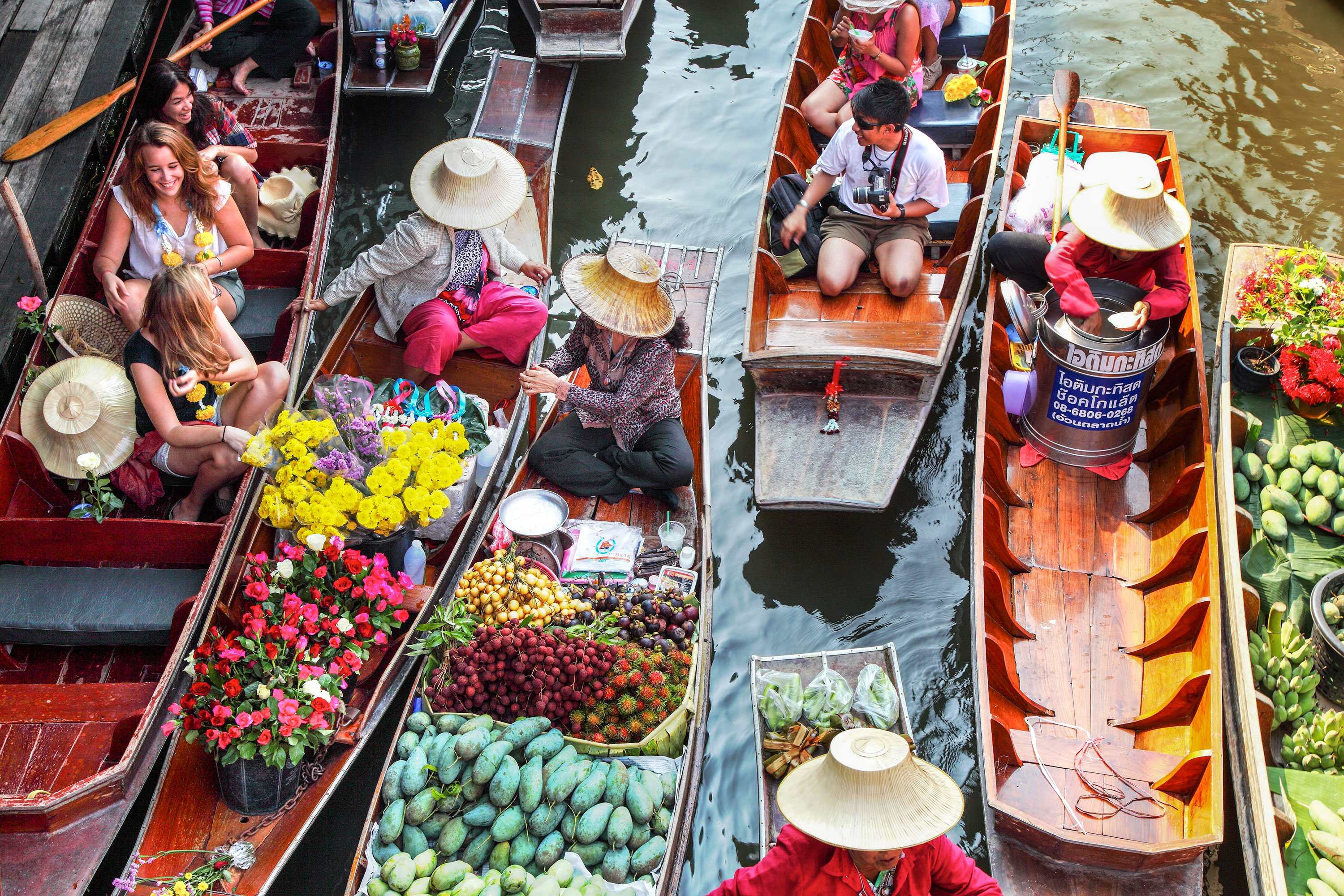 Damnoen Saduak is the most popular floating market in Thailand, great for photo opportunities, food, and for giving you an insight into a bygone way of life.
It's huge, lively, full of boats selling food and fruits, and it's colorful – exactly how people imagine a floating market will look like – with the opportunity to capture the perfect photo to show off once back home.
If you arrive early enough, you can enjoy the perfect light of the sunrise as it illuminates waterways full of narrow wooden boats packed with fresh fruit and snacks. But if you leave it too late, you'll be joined by hordes of tourists, all vying for the best angle for their happy snaps and jostling for the price of produce. If you've never experienced a floating market before, there's still a lot to be in awe of, but be prepared to share the experience.
Watch as smiling ladies in large straw hats arrange fruit on their boats, or prepare traditional dishes. Kanom Krok, (Grilled Coconut-Rice Hot Cakes), and sticky mango rice are the must-tries.
Opening Hours: Every day from 7 am to 4 pm
Location: Damnoen Saduak, Ratchaburi 70130, Thailand
Amphawa Floating Market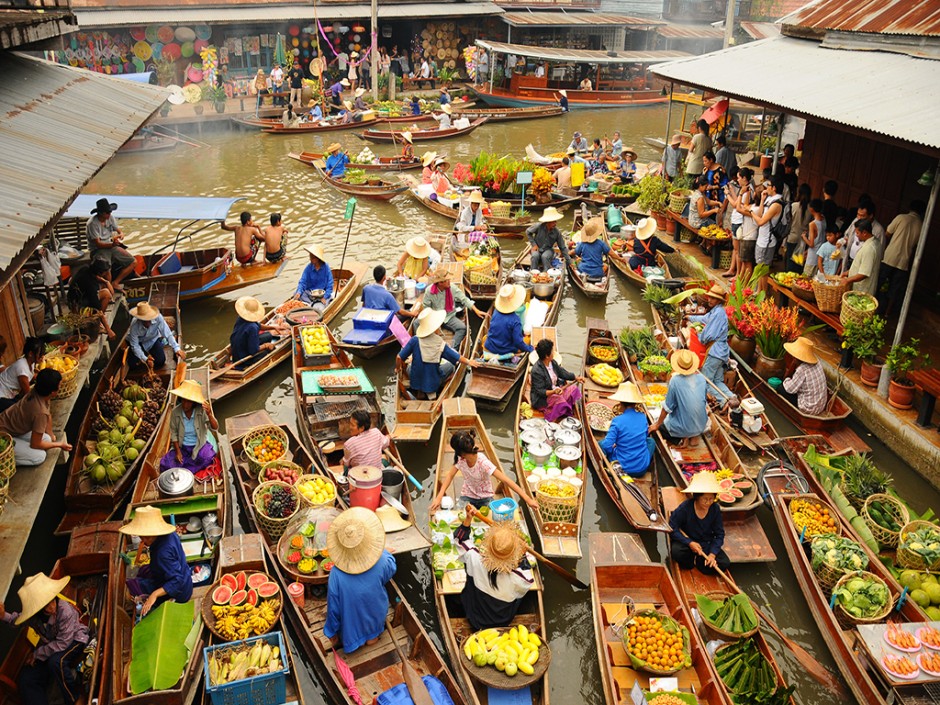 Not far down the road from Damnoen Saduak but with an entirely different feel, Amphawa floating market is located in neighboring Samut Songkhram province and has much of a vintage, almost retro vibe about it. Although Amphawa is the second most popular floating market near Bangkok, it feels like less of a tourist trap than Damnoen Saduak.
Once you reach the market, which lies on the Amphawa canal, you'll find it's catered a lot more for Thai natives than foreign nationals, with the emphasis on Thai favorites, such as arts and crafts postcards and quirky, cute clothing. This is part of the attraction of Amphawa; you're not greeted by a wall of tacky tourist souvenirs. There's no doubt that there is a tourist element to this market, but a lot of the tourists are from within Thailand.
Amphawa is definitely the most attractive of all floating markets near Bangkok. It has retained its authenticity and barely on every tourist map. But Bangkokians love this place so much that past noon, it becomes almost impossible to walk through. The best way to enjoy Amphawa is to come before 10 am and leave soon after lunch.
Tip: don't miss the amazing little temple swallowed by a giant tree located across the river.
Opening Hours: Friday–Sunday from 11 am to 9.30 pm (closed Monday–Thursday)
Location: Amphawa, Samut Songkhram 75110, Thailand
Taling Chan Floating Market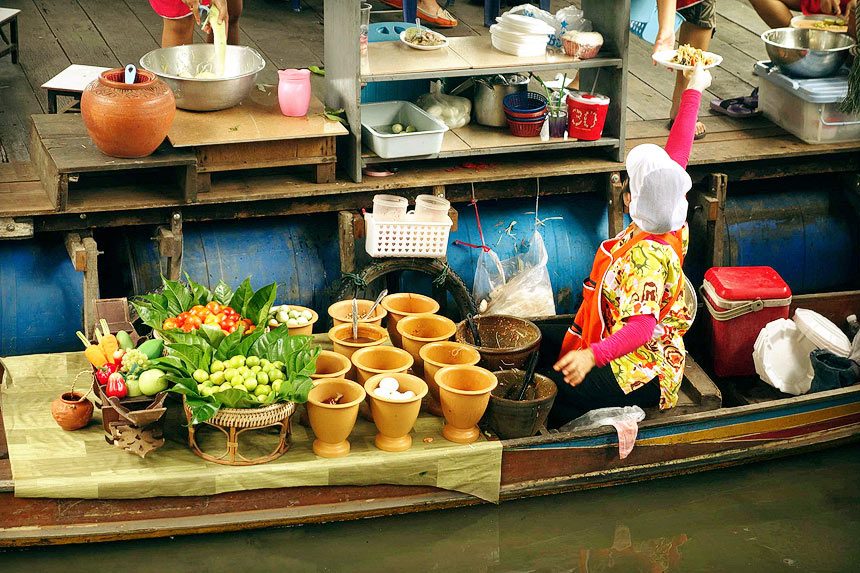 Taling Chan Floating Market is a weekend market about 14 km west of central Bangkok. This one of the closest floating markets to Bangkok city itself, although it's still a few kilometers away.
Taling Chan is small and still fairly traditional. It isn't a sprawling network of canals with boats moored along them. The boats at this floating market in Bangkok are positioned along the edge of the pier, and it is perhaps more like a riverside market. That being said, you do have the opportunity to take a short boat trip while you are there, after which you can sit and relax with one of the seafood snacks that the market is famous for. After your food, you can take to the shade of the trees and enjoy a foot massage. One thing to be aware of at Taling Chan is that there may be mosquitos about, so dress appropriately and be prepared.
Opening Hours: Saturday–Sunday from 8 am to 5 pm
Location: Village No 15 30/1 Bang Ramat Rd, Bang Ramat, Taling Chan, Bangkok 10170, Thailand
Khlong Lat Mayom Floating Market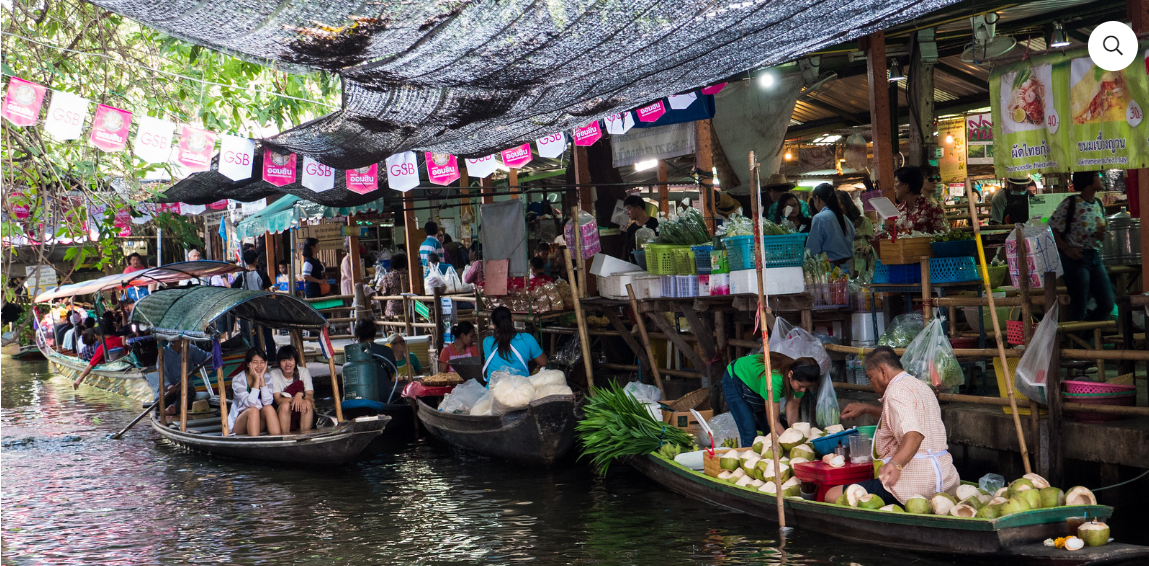 Situated in the same district as Taling Chan, Khlong Lat Mayom is one of the more recent additions to the list of floating markets in Bangkok. Take a trip back in time, and whizz through the canals that overlook homes, businesses, and gardens, just like locals traveled a long time ago. Feed your eyes with the lush greenery overflowing into the water. Get off the boat and wander through the many tiny villages along the canals.
Khlong Lat Mayom Floating Market is a sprawling mass of souvenirs, homewares, clothing, and food split into two sections and dissected by the main road. But it's the food that deserves the real mention – you'll find great-tasting and well-priced examples of dishes from Thailand's four regional cuisines.
Ironically it has more of a traditional feel than some of the larger, long-established floating markets. This is mostly due to the fact that it isn't a major tourist spot just yet and is more favored by the local people. That isn't to say it doesn't get busy from when it opens at 9 am on weekends and public holidays, so it's best to get there early.
To make the best of your day in the area, it's a good idea to visit both Taling Chan and Khlong Lat Mayom as they are about 4 km away from each other. Start with Khlong Lat Mayom – the smallest of both – before moving on to Taling Chan, where you can board a long tail boat for a small fee. Both markets should give you a view of the local life and a relaxing morning away from Bangkok.
Opening Hours: Saturday and Sunday from 9 am to 4 pm (closed on weekdays)
Location: 15 30/1 Bang Ramat Rd, Bang Ramat, Taling Chan, Bangkok 10170, Thailand
Wat Sai Floating Market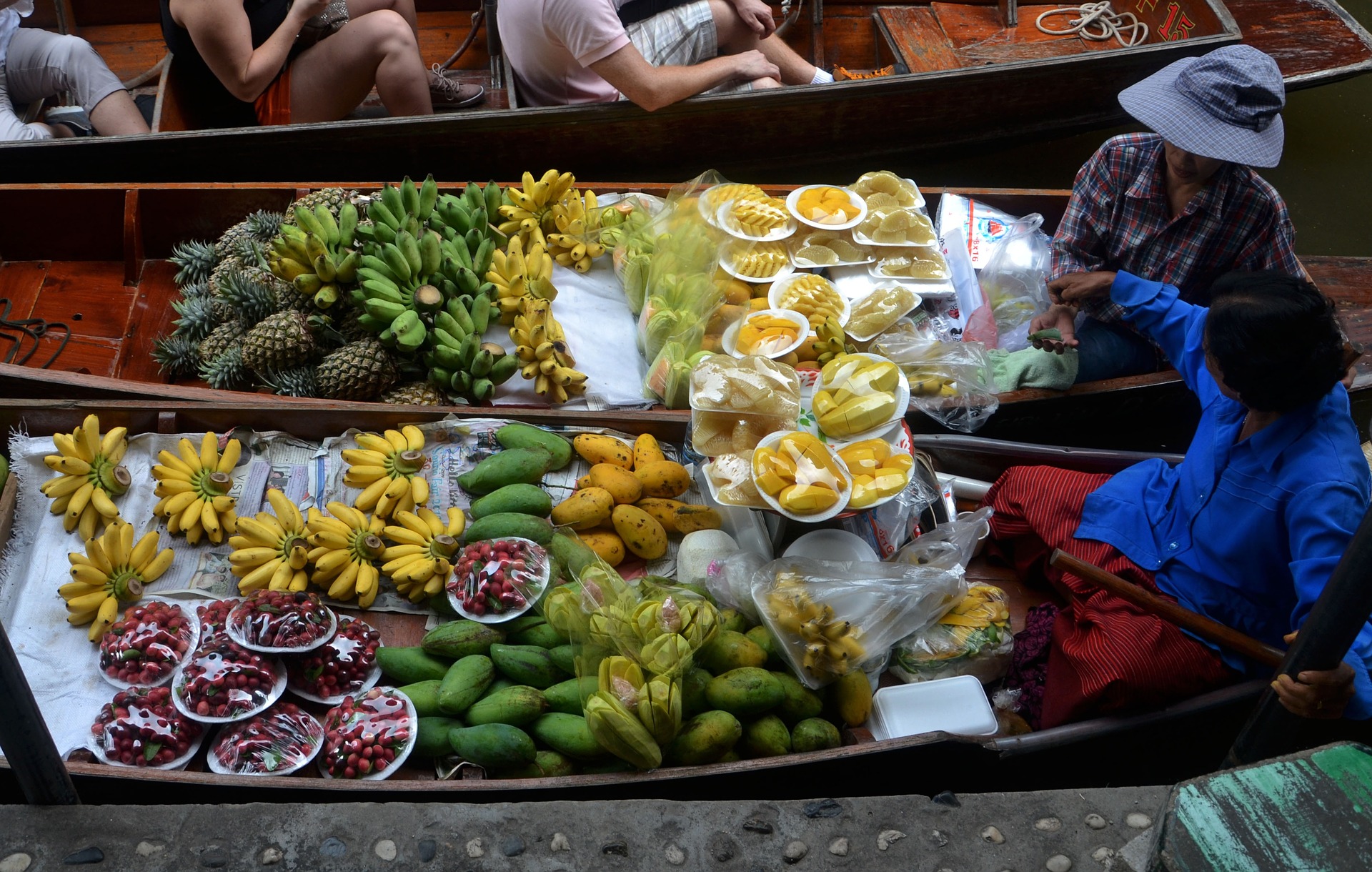 Located in Chom Thong district of Bangkok, shopping at Wat Sai Floating Market is an enriching experience. Find yourself surrounded by the overwhelming cultural vibes of Thailand. Get introduced to the lifestyle that prevailed one the canal-side. Find a variety of vegetables, fruits, and food at low prices. This place has some fascinating places that you must visit that reflect a great influence of Chinese culture.
Opening Hours: Every day from 6 am to 9 pm
Location: 58/229 Ekachai 24 Khwaeng Bang Khun Thian, Khet Chom Thong, Krung Thep Maha Nakhon 10150, Thailand
Bonus Floating Market – the one to go to if you also fancy a bike ride: Bang Nampheung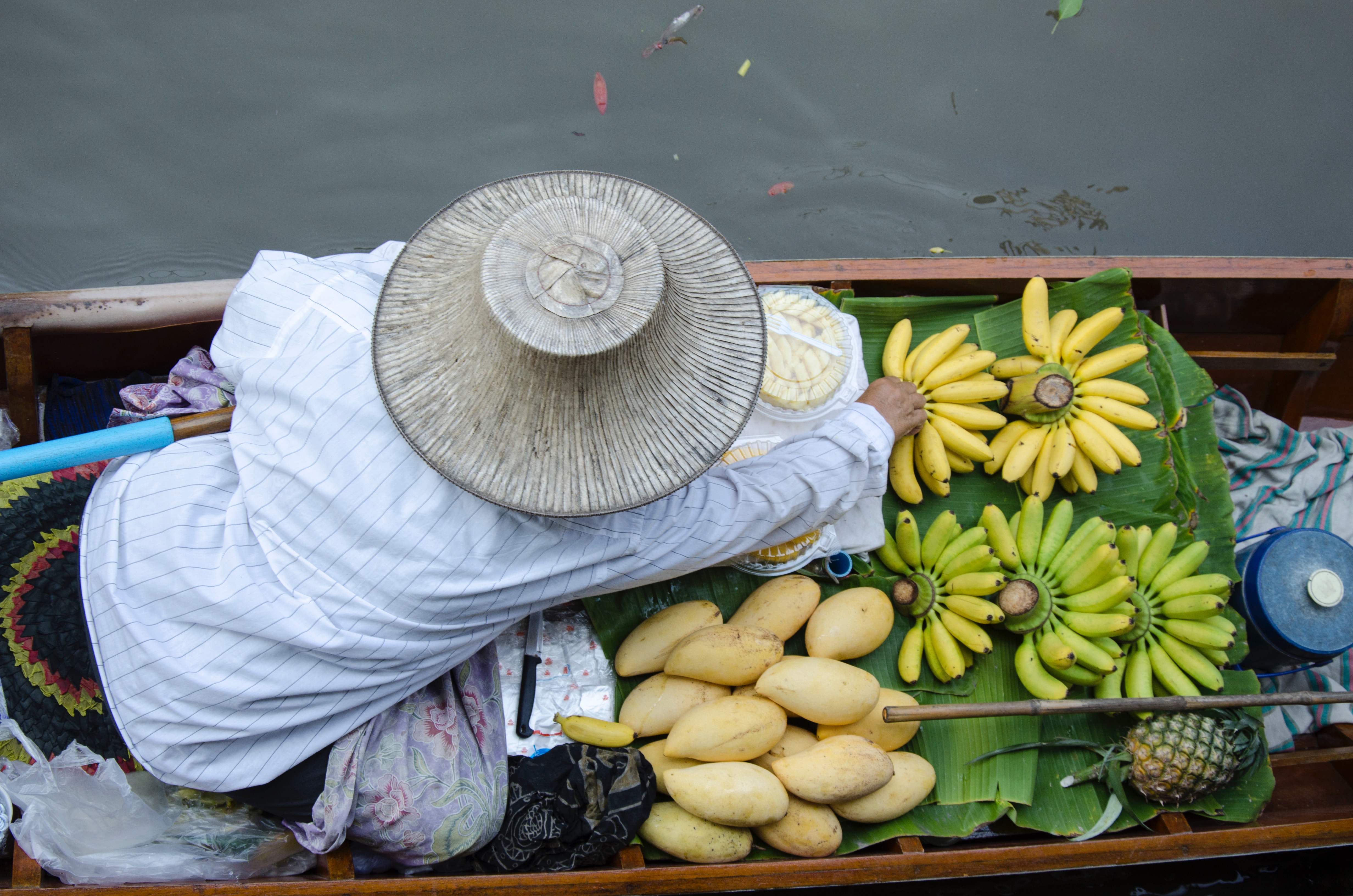 Bang Nampheung floating market is the smallest of all active markets but also one of the closest if you are staying in the eastern part of Bangkok. But the closest doesn't mean most accessible, and a taxi might be the only way to get there.
One of the best things about this floating market is its location: inside Bangkok's 'green lung.' This pocket of nature is found on the other side of the Chao Phraya River, and you can take a long tail boat there from Wat Klong Toey Nok, and then hire a bike to go exploring. Bang Nampheung is not very big, but the market is a good excuse to venture to a more peaceful area of Bangkok away from the skyscrapers and concrete jungle. And it's a good excuse to tuck into a serving of spicy mango salad with steaming sticky rice. The market only runs at weekends, but the island, including the popular and expansive Sri Nakhon Kuenkhan Park, is good for cycling every day.
Opening Hours: Saturday- Sunday from 8:30 am to – 5 pm
Location: Bua Bueng Phatthana, Bang Kobua, Phra Pradaeng District, Samut Prakan 10130, Thailand