Check out this list that showcases the top 18 luxury vacation rentals in the USA. These spectacular homes not only have the space to house everyone but are in locales that will amaze the most jaded among us — from mountain retreats to oceanfront homes.
From family reunions to bachelor parties and girls' weekends, these top vacation rentals in the US are practically begging you to book them out and spend an amazing time with those you love.
You can check out our other round-ups of The Coolest Vacation Rentals in California, Texas, and the rest of The United States, too!
This article may contain affiliate links. I earn a small commission when you book through these links at no additional cost to you.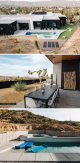 Wander Joshua Tree is a modern architectural home nestled in the Southern California desert on a hilltop acre three miles from Joshua Tree National Park with bright, open living space, breathtaking views, a private pool, a hot tub and so much more.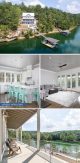 Beautiful Craftsman Lakefront home located in a quiet cove in Hampton's Subdivision. With six bedrooms and four bathrooms, this place certainly has a lot of value, especially since it's practically on the water and perfect for a summer (or end-of-summer) getaway. Enjoy your own private boathouse with a swim platform, paddleboard, tubes, floats, and a Lilly pad.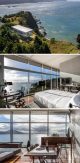 Enjoy floor-to-ceiling views of the Oregon coast in this super modern, Oceanfront glass house set atop cantilevered I-beams and perched on top of a 200-foot cliff. This modern, luxury vacation rental on the Oregon Coast is close to plenty of hiking trails, beaches, and Bandon Dunes golf resort. It has a private hot tub, fitness equipment, and a kitchen stocked with all the appliances you need to feel right at home.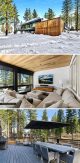 This Lake Tahoe luxury vacation rental has everything you need for work and play year-round. Tucked in the mountains of the world-class Northstar Resort, Wander Tahoe Slopes is a true ski-in/ski-out during the winter with direct access to the Timberline Triple Lift. During the warmer months, enjoy more than 40 miles of hiking trails. The private hot tub is open 12 months a year so you can après year-round. Whether you're craving adventure, or just looking for rest and relaxation, this property has it all – from a Tesla in the garage to Eight Sleep Pod Pros to sleep on.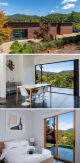 Stunning architecture meets nature in this modern, glass bungalow surrounded by serene pasturelands. Set in North Carolina's tranquil Riceville Valley, Wander Asheville Meadows is a peaceful and secluded home – that's centrally located just 12 minutes from downtown Asheville, a trendy city known for its vibrant art scene and breweries. Take an incredible ride in the property's Tesla along "America's Favorite Drive," the Blue Ridge Parkway – just 5 minutes away. If you desire, they even can arrange for a private chef to come to the home!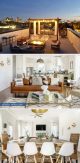 Inspire House Music City's heartbeat dances through this meticulously curated three-story contemporary Nashville home with stunning downtown views, high ceilings, luxury modern furnishings, an espresso bar, three balconies, an expansive rooftop terrace with pergola, wet bar, fireplaces, bbq, games, and plenty of seating.
The place borders the trendy Germantown neighborhood and is perfect for bachelor(ette)s, family reunions, or large-group sports/music weekends.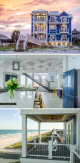 Spacious oceanfront home in Surfside, South Carolina, with private beach access and breathtaking views of the Atlantic Ocean from nearly every angle. If you're looking to host a corporate retreat, family reunion, or other large celebration – this vacation home is perfect and comes complete with modern amenities like a private pool and hot tub. It comfortably accommodates up to 22 guests with 8 bedrooms, 3 floors, and an elevator.
Plenty of restaurants and bars neighbor the home, along with renowned golf courses, family-friendly activities, shopping centers, and more.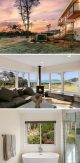 The magic of this California luxury vacation rental awaits with everything you need for the perfect vacation or workcation. Relax in Wander Anchor Bay's private hot tub, barrel sauna, oceanfront daybeds, and hammock. Wood-chip lined trails take you to oceanfront workstations, serene daybeds, and outdoor picnic areas. Hit peak productivity with your pick of the property's indoor and outdoor workstations and full fitness center. The home is also a short drive to Cooks Beach, Gualala Point Regional Park, Sea Ranch Golf Links, and other attractions.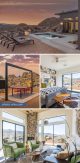 Designed as a sacred space to connect with the desert's beauty, Skyfall is a soulful yet elegant home that merges an organic modern aesthetic with the elemental rawness of the desert. Soak up the healing medicine of the saltwater pool, relax in the hot tub or stargaze at the firepit under the night sky.
This picturesque pool house brings the best of Californian mid-century modern architectural design to the gorgeous Hudson Valley region. Surrounded by floor-to-ceiling glass with mountain views and your own secluded valley, Wander Hudson Woods is the epitome of a New York luxury vacation rental. Two separate bedrooms open right up to the private pool and hot tub. The town is a mere 5 minutes away in the property's Tesla, while Windham, Hunter, Belleayre, and Catamount mountains are all within 30-40 minutes.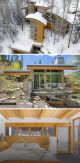 This architectural masterpiece is the perfect choice for ski season. Wander Vail Valley is a three-story tower built around a boulder with a barrel-vaulted roof and adjoining bridge. Enjoy a bright, open living space surrounded by pine, spruce, and aspen trees with beautiful interior finishes. This Colorado luxury vacation rental also has you covered with a hot tub, fireplace, and ample outdoor space with breathtaking views.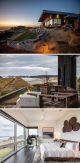 If you want a beach getaway with stunning views of Haystack Rock and near the world-famous Bandon Dunes Golf Resort, this luxury vacation rental on the Oregon Coast is for you.
It has a private path to the Bandon beaches and access to nearby world-renowned golf courses. Located on a quiet beachfront parcel, this smart home comes with all your vacation rental mandatories: a private hot tub, gym, sauna, fire pits, and even two electric bikes for the beach.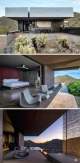 If you're looking for a serene getaway, Wander Cave Creek is for you. It's located in a small desert town just outside of Phoenix and offers majestic mountain views. This luxury vacation rental neighbors Scottsdale, making it the ideal spot for a wellness retreat. Book yourself in for a spa day just 15 minutes away at The Boulders, or find peace in the home's private meditation room. Don't feel like cooking during your stay? The property's Concierge team can arrange a private chef to do that for you!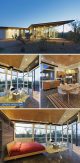 Wake up in the morning to the sun rising over the Catalina Mountains and watch the sunset behind the Tucson Mountains in the evening. The panoramic floor-to-ceiling glass walls will put you in touch with the surrounding desert landscape, providing a relaxing getaway. The home offers privacy and seclusion while still being a short drive to downtown Tucson and Saguaro National Park.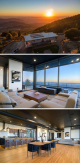 Immerse yourself in the wonders of Palomar Mountain with the most incredible views perched 5,000 feet above sea level. Located in San Diego's breathtaking backcountry, this home is a modern masterpiece forged of steel and glass spanning 21 acres with floor-to-ceiling windows and a near-zero carbon footprint. Enjoy the panoramic views that sprawl to the Pacific Ocean and let your troubles melt away.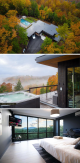 Escape New York City and be transported to a secluded Hudson Valley retreat perched on a beautiful hilltop overlooking the Catskills and Esopus Creek. Whether you're planning a workcation or want to unplug entirely, this brand-new modern house has it all and blends seamlessly into the natural landscape.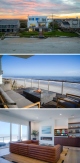 An oceanfront oasis in Ponte Vedra Beach with direct access to a pristine stretch of white sand beaches on Florida's northeast coast. This modern 4-bedroom home has ocean views from every room and sits atop an elevated, quiet sand dune 1 mile away from the nearest public access point for maximum privacy and a short 15-minute drive from the historic city of St. Augustine. There are several patio areas, a private hot tub, an outdoor fire pit, and even surfboards and boogie boards provided for your enjoyment!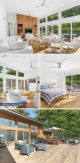 This well-designed contemporary beach house with three bedrooms and two baths sits on an acre of blissful privacy. This vacation rental is located in East Hampton NW woods, 4 miles from East Hampton Village and 1.5 miles from Sammy's Beach. Close enough to it all, yet removed enough to feel like you're on a real vacation.
PIN THIS POST TO SAVE IT FOR LATER!