Let's not sugar coat it: packing is the worst. Whether it's for business travel, family travel, day trips or week-long stays, it's not something most of us look forward to. It can also be a little stressful. Ensuring all of your clothes, shoes and everyday necessities are placed inside your suitcase may be the difference between a good trip and a great one.
We're here to help you pack like a pro. There are smart ways to simplify the task of making sure you have everything, without bringing along too much, and fitting it all into your carry-on.
Roll Your Clothes
One of the most popular reasons people give for rolling clothes over flat packing is that it saves space in carry on backpack.
Tightly roll softer, wrinkle-resistant garments, like T-shirts and cotton pants, and place them along the base of the bag. Jeans should be rolled, too. It can be a simple way of keeping your clothes neat.
Use Vacuum Packed Bags
Another good packing solution idea is vacuum bags. In fact, a vacuum sealed bag can actually reduce the amount of storage space needed by 50%. To use these bags, put your suitable items in, seal the bag, and then squeeze the air out. This will leave you with lots more space in your suitcase.
Use the Principle of the "Pyramid"
Along the walls of the suitcase lay your shoes, then put on the bottom the long kinds of cşothes such as trousers or long sundresses so that their edges could cover the entire packed clothes. Then roll non-wrinkle things and put them, and above it roll and put items that wrinkle easily.
Complete the "pyramid" with easily crumpling things such as cosmetic bag, documents, and fragile trifles.
Say "No" to Umbrella
Don't take with you an umbrella. It's heavy- even the smaller travel type. Instead of it, take with you rain ponchos. They are large enough to cover you and a backpack type day bag or even a backpack style carry-on.
Rain poncho also will occupy a minimum of space in the suitcase. You can buy even a few disposable rain ponchos for travel and just throw them out after using.
Use Travel-Sized Bottles for Your Toiletries
If you're packing it all toiletries into your suitcase, the more liquids you have, the more chance of things going very, very wrong.
The best solution is using mini travel bottles for your toiletries. Repackaging your liquids, gels, and creams has two main benefits: it puts them into leak-proof containers and it cuts back on space and weight usage.
Properly Pack the Little Things
To save more space and avoid having your smaller items shuffle around in your suitcase on a flight you can put your small things such as flash drives, notebooks, barrettes, tights, socks, sunglasses separated inside the shoes, cosmetic bag, suitcase pockets and even pill case.
Pack Your Clothes on Hanger
Roll clothes for packing is not suitable for classic shirts, jackets and cocktail dresses if you want to bring them in a decent form. For that items, you should take a hanger, which can easily be hung on any hook in an airplane or train. Clothes arrive in a perfectly preserved state. Really!
The first step in packing clothes on hangers is selecting the right hangers to use. Use a hanger with a slim design to maximize packing space.
"Minimize" Pharmacy Products
Don't try to squeeze your huge first aid kit into a suitcase. Only take as much as you will need. It's good to take one blister of each necessary medicine. This will be enough in case if something unexpected happens.
Here are some medical kit packing tips:
Go for tablets over liquids, gels, and creams. Pain tablets instead of pain cream. Antihistamine tablets over a cream.
 Choose sachets and flat-packed tablets instead of tubes and bottles. Bottles are the ultimate space-suck.
Look for travel size packaging. Ask your doctor for sample size products that you can take with you on your trip.
Don't Leave Empty Spaces
Even if you want to have some space for souvenirs, you do not need to leave any voids between things; otherwise, they will strongly crumble and crumble.
It is most convenient to fill the voids with light clothing or wrapping paper.
Refuse Some Things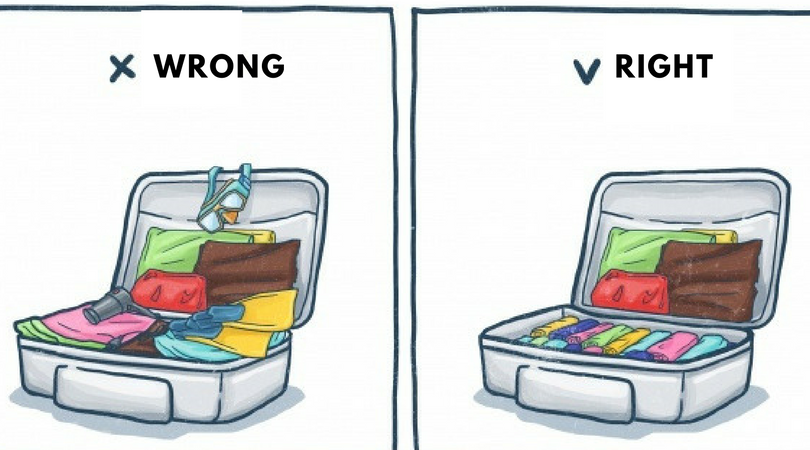 The case of laptop or camera, hair dryer and guidebooks can stay at home.
You can wrap your camera or laptop in a soft pareo or hoodie, and use electronic guidebooks.
And always remember that you can easily find diving glasses, sunscreen, children's toys and a straw hat in local markets.