Valley of Flowers National Park, India
Trek with joy, feel the charm of nature, and let yourself lost in the cradle of India's most breathtaking national park Valley of Flowers. A unique biosphere reserve in the Chamoli district of Uttarakhand, this natural wonder gives enough reasons to explore it than the mere excitement of winning height. Looks more like a painted canvas of an artist-designed with strokes of colors, this valley brings an assortment of natural attractions like river, waterfalls, snow-bed, mountain cliffs, and the most significant riots of colors.
Five-Flower Lake, China
The pristine water of Wuhua Hai, or Five-Flower Lake, is the pride of Jiuzhaigon National Park in China. The shallow lake glistens different shades of turquoise, and its floor is littered with fallen ancient tree trunks. The amazing colors make it one of the world's most beautiful lakes.
According to legend, Five-Flower Lake was created after an ancient Goddess dropped a mirror that her lover had given her, smashing it into 108 pieces.
Hitsujiyama Park, Japan
Hitsujiyama Park in Chichibu, Saitama Prefecture, is famous for its "Moss Hill" full of beautiful shibazakura (moss phlox) in spring. Shibazakura is a flower that grows thickly, covering the ground like a lawn. The shape of its pretty flower petals looks like that of sakura (cherry blossoms), and it comes in a variety of colors including different shades of pink, white, and light purple, with some petals having striped patterns.
Great Barrier Reef, Australia
One of Australia's most remarkable natural gifts, the Great Barrier Reef is blessed with the breathtaking beauty of the world's largest coral reef. The reef contains an abundance of marine life and comprises over 3000 individual reef systems and coral cays and hundreds of picturesque tropical islands with some of the world's most beautiful sun-soaked, golden beaches.
Yuanyang County, China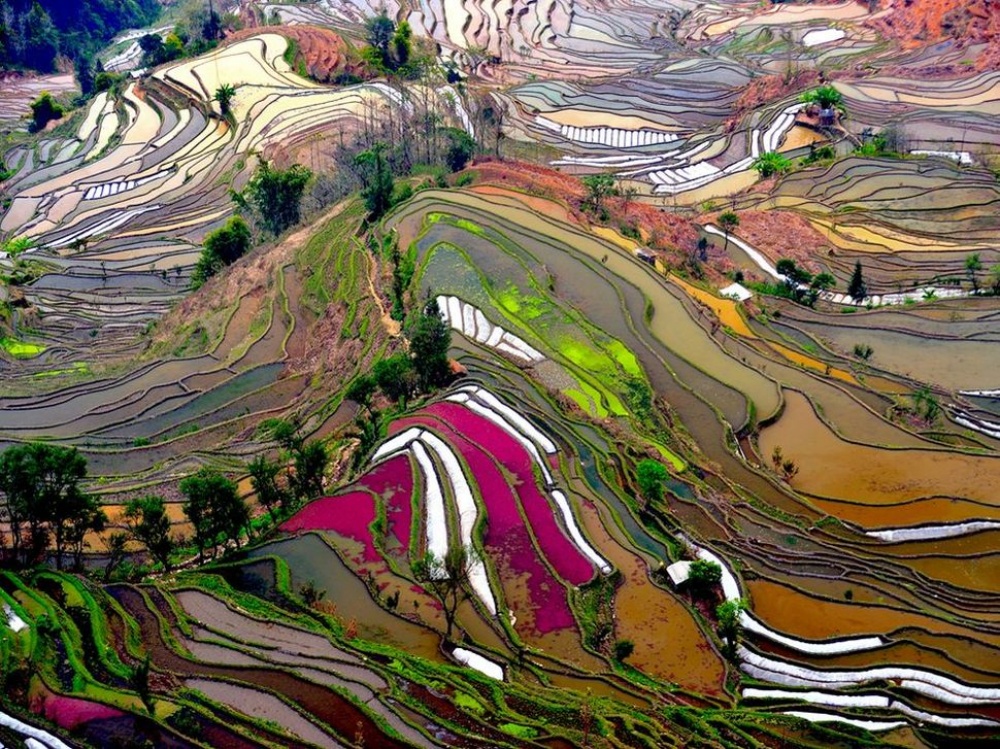 Yuanyang County is located in Honghe Prefecture in southeastern Yunnan province, China, along with the Red River. It is well known for its spectacular rice-paddy terracing. Yuanyang Rice Terraces is regarded as the largest and most spectacular in the world. Part of the area now forms the 45th World Heritage Site in China.
Lavender fields, France
Fragrant lavender fields bloom from June to August in the Luberon, around the Mont-Ventoux, in the region of Sault and that of Valréas; such amazing scenery and atmosphere make the lavender fields one of the summer Must-Sees in Provence.
This blue gold has been used for a long time to make soap and cosmetics; it is also part of the Provençal cuisine and lavender honey, and lavender sorbets are worth a taste!
Lake Hillier, Australia
From a distance, Lake Hillier of Australia's Recherche Archipelago looks like a swath of solid bubble-gum pink. Draw closer, and the color takes on a more watery, translucent quality, but remains unmistakably pink. Swimming in it is not possible since the island is used only for research purposes and tourists can admire it only from above on helicopter rides.
Tulip fields, Holland
The striking colors of the flowering tulip bulbs are a typical sight in Holland during the spring. The bright red, pink, and yellow colors are overwhelmingly beautiful and are a must-see, or should we say, a must experience! Many of the country's most famous artists have portrayed the flower fields of the Netherlands in their work, and these fields are just as spectacular when they are seen in real life.
Grand Prismatic Spring, USA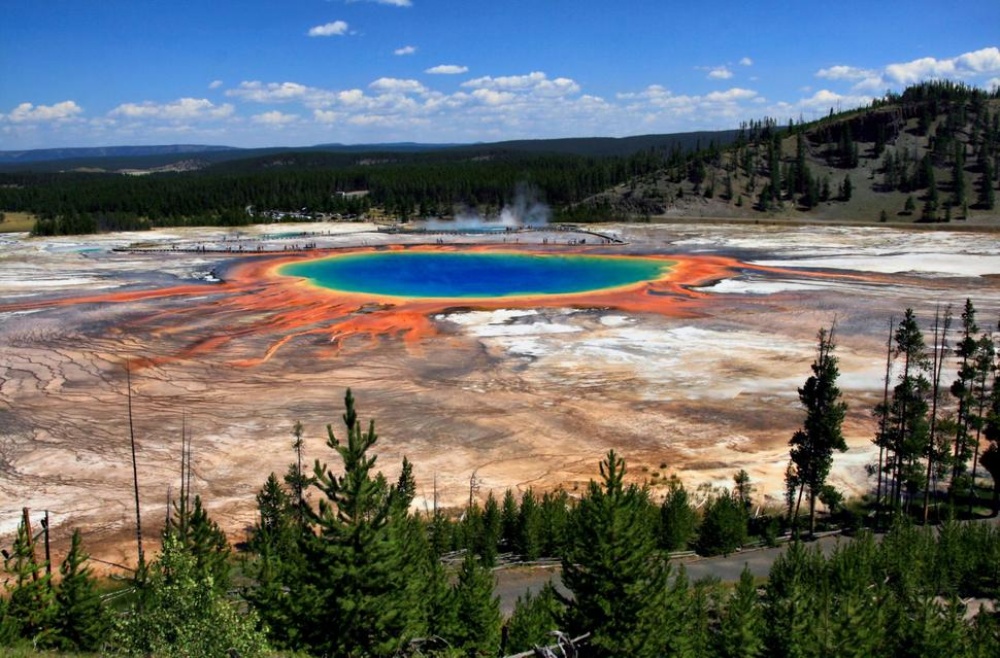 The Grand Prismatic Spring in Yellowstone National Park is the largest hot spring in the United States. It is located in the Midway Geyser Basin. But it's Grand Prismatic's rainbow waters that make this park fascinating: While the center of the pool's deep cerulean hue is pretty characteristic, the deep reds, bright yellows, and fiery oranges encircling the edges are not.
Moraine Lake, Canada
Its waters are the most amazing color, a vivid shade of turquoise that changes in intensity through the summer as the glaciers melt. Set in the rugged Valley of the Ten Peaks, Moraine Lake is surrounded by mountains, waterfalls, and rock piles, creating a scene so stunning it almost seems unreal.
Luoping County, China
The county of Luoping in eastern Yunnan is noted for its beautiful scenery in spring, when its fields of canola (also known as rapeseed) plants are in full bloom, surrounding the area's mountains with a sea of golden flowers to spectacular effect. Luoping's golden beauty lasts until late June.
Not unlike the terraced fields of Yuanyang in southern Yunnan, Luoping's canola fields attract many photographers.
Shark Bay, Australia
A wonderland of world-class natural attractions, the region of Shark Bay in Western Australia is known as the Shark Bay World Heritage Area.
Beyond white sandy beaches, rust-red sand dunes, and famous Shell Beach, an amazing variety of marine life thrives in the clear turquoise waters of Shark Bay on Australia's Coral Coast.
Kawachi Fuji Gardens, Japan
Located in the city of Kitakyushu, Japan, Kawachi Fuji Garden is home to an incredible 150 Wisteria flowering plants spanning 20 different species. The garden's main attraction is the Wisteria tunnel that allows visitors to walk down an enchanting tunnel exploding with color. The flower clusters hang down for the tip of the plant's long vines and sway beautifully in the wind.
Caño Cristales River, Colombia
Also known as the River of Five Colors, Caño Cristales is the most spectacular natural wonder in the country. Found in the mountain range of Serranía de la Macarena, the river mesmerizes with amazing colors: vivacious yellow, green, blue, black, and red shades quiver from the bottom. The river becomes colorful from July through November.
Cornwall, England
You can't get further west than the ancient Celtic kingdom of Cornwall (or Kernow, as it's known to Cornish speakers). Blessed with the southwest's wildest coastline and most breathtakingly beautiful beaches, this proudly independent peninsula has always marched to its tune.
The south coast, dubbed the Cornish Riviera, is home to picturesque harbor villages such as Fowey and Falmouth.