Have you taken a look at the Coolest Airbnbs in the United States?
As one of the biggest states in the U.S., California has a lot to offer—from redwood forests and acre after acre of vineyards in the north to beaches and stargazing in the south. And, lucky for you, there are Airbnbs just about everywhere.
And in order to make planning out your epic California vacation, we separated out these unique and cozy Airbnb stays into the following: Northern California (San Francisco and above), Central California, Southern California (Los Angeles to San Diego), and the High Desert (Big Bear, Palm Springs, and Joshua Tree).
Here, listed from north to south, our picks for the best Airbnbs in California!
This article may contain affiliate links. As an Airbnb Associate, I earn when you book through these links at no additional cost to yourself. Thank you!
 Photo credits of listed properties: Airbnb.com
Northern California
To make things easy, this section is dedicated to San Francisco and above.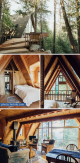 This is your dreamy A-Frame cabin escape nestled in four wooded acres overlooking Shasta Lake. Master loft and large front deck looking out over the valley with breathtaking views of mountain peaks, granite cliffs, and Hirz Bay.  Located between 3 beautiful National Parks – Lassen Volcanic, Redwood, and Crater Lake.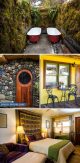 Come explore a land of ancient redwood forests, wild rivers, and secluded beaches. This cute and cozy studio is within walking distance to Arcata's Plaza with local shops, amazing restaurants, microbreweries, and more. The Front Porch offers boutique lodging and a one-of-a-kind outdoor spa experience with private soaking tubs and a custom cedar sauna.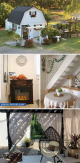 Charming Country Cottage is the perfect private getaway for a couple or 1-3 guests. The two-story Cottage house is located on a quiet country road (only 6 miles from HWY-5, close to Redding, Bethel, and Lassen Park). Enjoy the Cottage's outdoor patio with BBQ Grill and fire pit, a cozy pergola with a basket "egg chair" for relaxing with a good book, as well as a shady weeping willow tree to sit under during the day or in the evening with twinkling lights.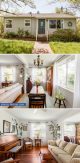 Play golden oldies on an upright piano in a home filled with antique furniture, folk art, and lots of books and games. The kitchen and bathroom also retain their vintage vibe. The dappled shade of a grape covered pergola is a wonderful place for lunch.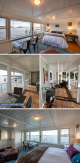 The soothing sound of waves, spectacular view of the bay, and gorgeously decorated Studio is the perfect getaway for a wonderful vacation! The scenery is amazing and the unit is spacious. It's located right on a private beach, (3 steps away!).
Central Coast California
This section is dedicated to areas from Monterey to Santa Barbara.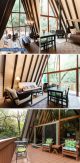 If you want to get away this is the place! A – framed cabin, which has private access to a year-round creek running thru a private backyard. Peaceful, tranquil creekside setting in the redwoods.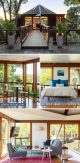 Curl up with a good read by the light streaming through floor to ceiling windows and under soaring wooden beams or tuck in for the evening by closing the sliding doors inspired by Japanese screens.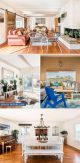 Located on an artichoke farm near the ocean, this farmhouse is so utterly charming! Watch a sunset over vast artichoke fields from the open-air lounge of this beautiful property. The house features an outdoor fireplace, a grill, an organic garden, sliding barn doors, beamed wood ceilings, and a completely modernized interior.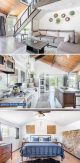 Stoke a wood-burning stove tucked into a corner where a rock wall forms an entire side of the house. This rustic aesthetic is reflected in stained timber floors and a concrete kitchen island, as well as corrugated metal used as a building material.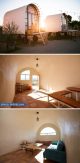 For the ultimate glamping experience, hang out in one of these huts for a few nights! The Lunette is one of 5 Shelton Huts on the Blue Sky property. Each is one of a kind and the five are circled around our main fire pit and the Khalili Cantina.
Southern California
This section is dedicated to areas from Los Angeles to San Diego.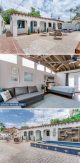 The Little Bungalow is a beautifully renovated studio guest house, with its own private small back courtyard. There is a gorgeous shared larger outdoor courtyard, with Spanish architecture and s small splash pool.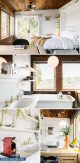 Drink in panoramic city views from Hollywood to the ocean from the freestanding bathtub at a private guest unit nestled in the wooded hillside. Wake up in the cabin-like bedroom and step out onto the sun-drenched terrace for a cup of coffee or tea.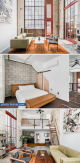 These epic 100-year-old naval train station doors do seem like have a story to tell. Salvaged and repurposed here in this only street-level loft, they bring in the light and life of downtown San Diego.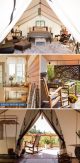 Bask in the nostalgic camping vibe of this off-grid, eco tent surrounded by South African protea flowers. Relieve your aches and pains in the solar-powered shower after a long hike, then head to the deck to cook up some magic in the outdoor kitchen.
The High Desert
This section is dedicated to Big Bear, Palm Springs, and Joshua Tree.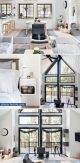 Nordik Eskape has both adventure and intimacy. Enjoy the mountains by ski, board, foot, boat, or bike. You'll want to come home to this Scandinavian Hideaway by day's end. While relaxing in the hammock, dining on the deck, or nestling by the fire you can retreat and rejuvenate. Unwind as the light of the sun setting paints the two-story window wall.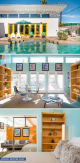 Come to Palm Springs to experience the magic at the Dream Home! Open the zesty yellow terrace doors and bring the outdoors in for a chilled breakfast at a vibrant, plant-filled hideaway.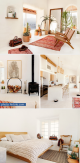 Sueño Sagrado sits on 47 acres, in the shadow of Black Lava Butte National Monument, in a pristine remote valley in the beautiful California high desert nearly a mile above sea level. Full of abundant wildlife, natural features, and rock outcroppings, the property is an oasis of serenity and quiet.
Soak in the subtle surroundings…rest, stargaze, and sip your tea as you watch the sunrise. Let the landscape inspire and recharge you.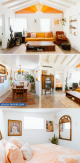 The Coyote House is a truly unique destination in the high desert. It is a cozy two-bedroom getaway at the crossroads of Pioneer Town and Joshua Tree and is furnished with nearly all vintage and one of a kind items. Listen to records on the shag rug, lounge outside on the tiki furniture, and gaze at the stars in the hot tub.
THINK THESE ARE THE COOLEST AIRBNB STAYS IN CALIFORNIA? PIN THIS POST TO SAVE IT FOR LATER