Airbnb, the peer-to-peer online holiday rental site, has unlocked the doors to some spectacular properties across America. You can find places nestled in neighborhoods and get a local's perspective while finding charming abodes with some serious design goals!
So, fusing both amazing aesthetics with dreamy destinations,  we're bringing you the coolest Airbnbs to stay in the United States!  From A-Frame cabins and retro airstream trailers to treehouse escapes, architectural gems and so much more, each has its own unique elements to gush over. These creative Airbnb stays will inspire you to think outside the box.
Related: The Coolest Treehouse Airbnbs in the USA
This article may contain affiliate links. As an Airbnb Associate, I earn when you book through these links at no additional cost to yourself. Thank you!
Photo credits of listed properties: Airbnb.com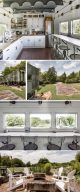 Hop inside this time capsule dating back to WWII. This amazing train car features an open-plan layout, plank wood flooring, modern furnishings and decor, an outdoor fire pit, gazebo, and BBQ. Indulge your inner history buff and get ready for an experience you will never forget!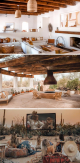 Retreat to a bohemian, desert oasis in Saguaro National Park, Arizona. Situated on 40 acres of land with a forest of Saguaro cactus, native plants, and an abundance of wildlife this is a space to reflect, reset, and create.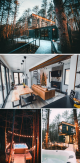 Get a different take on cabin life in this shipping container home in Ohio. Centered on 18.5 acres in Hocking Hills, The Box Hop is made out of 3 intermodal shipping containers that have been transformed into amazing home. With a gas fireplace for the winter, and an "all glass" garage door with access to the rooftop patio for summer cocktails and sunbathing, get ready for a unique experience.
 The Mazant, New Orleans, Louisiana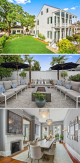 The Mazant is a historic mansion located in the heart of New Orleans' Bywater arts district. It's perfect for family reunions, wedding parties, company off-sites, and other large groups.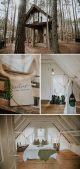 Stay in the gorgeous Treehouse for a luxury "glamping" experience! This space is perfect for an individual or couple looking for a peaceful getaway. Surrounded by towering pines and set back in a 20-acre farm estate in Concord, you feel like you are in the mountains of Asheville.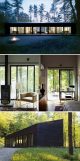 This two bedroom glass cabin in the woods is the perfect Hudson Valley retreat. Nestled in the forest with lovely western views, this warm and comfortable home is ideally located near Hudson NY, Great Barrington, and Catamount. The cabin is located up a long, steep driveway.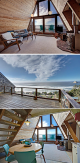 A mid-century A-frame cabin with panoramic ocean views, perched on a hillside just 2 blocks above Oceanside Village and the beach. This cozy unit has the feel of a surf shack, or the quirky summer beach cabin from your childhood.  A quintessential Oregon get-away….quasi-rustic with all the right creature comforts.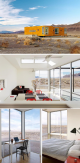 A little house deep in the desert. A wonderful design house in the middle of nowhere, 20 miles off the Death Valley National Park boundaries, with 80 acres of land and unobstructed views to the desert and the mountains.
This vacation home in the middle of an isolated stretch of high desert incorporates the vistas by visually expanding into the surrounding landscape, providing stunning views, while also making the desert part of the interiors – merging the inside with the outside.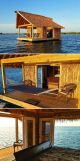 Take in the majesty and serenity of the Key West waters from this unique and truly iconic Tiki Suite! Taking the best parts of boat life and combining them with the space and comforts of home, this Tiki Suite has been designed to be the ultimate glamping experience on the water.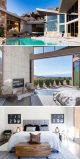 Take a refreshing dip in the pool with exceptional mountain views. This home is a stunning work of art designed by architect Guy Drier and built into the mountainside. It features a vast open living area with high floor-to-ceiling windows.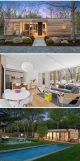 Expose yourself to nature at this modern glass house, inspired by the Glass Box of Phillip Johnson. It is quiet and private and has all the facilities one would want for a relaxing holiday.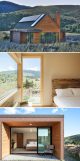 Get off the grid at this Montana home outside Yellowstone National Park. The Cargill-Earl Guesthouse at Erik's Ranch is privately situated on 230 acres of land, with 360-degree, unobstructed panoramic views. Luxuriate in peace, solitude, and privacy where the sunrise and sunset guide your days.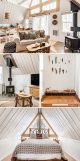 Rekindle a childlike sense of discovery in the loft bedroom nestled under a peaked roof. A grownup treehouse vibe continues downstairs with woodsy furniture, folk art details, and a wood stove. Relax outdoors on the swing overlooking a rushing creek, or open all the windows to let in the mountain breeze while you relax with the novel you've been waiting to read. Let your heart find some peace here.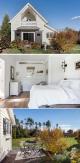 Catch a glimpse of the deer eating apples from a second-floor antique bed before a morning walk on the nature trail. Grey-painted wooden stairs that wind up to a white day bed is just one of the many personality traits of this charm-infused home.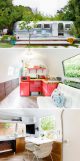 Capture the spirit of 1960s American wanderlust in a gleaming Airstream trailer. The curvaceous interior has been painstakingly restored with period-correct decor.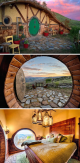 This inspired dwelling nestled right into the breathtaking Columbia River Gorge mountainside. Reverently framed by the iconic round doorway, the wondrous views will entrance your imagination and inspire an unforgettable journey. Every nook of this little habitation will warm your sole, every cranny will charm your expedition of repose.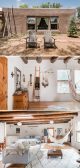 Go Boho at this amazing abobe studio apartment. Sway in an indoor hammock in a wide open, light-filled space. This period adobe was originally the dance studio of renowned flamenco artist, Maria Benitez. Today it's been reimagined as a semi-rustic, romantic getaway in a private park-like setting.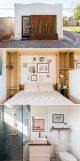 Explore downtown Phoenix from this thoughtfully designed casita. This unique suite boasts architectural design finishes and details, a copper barn door, custom birch casework, and a luxury brass shower with floor-to-ceiling hand-made penny tiles. Rest easy knowing the core focus of the home is sustainability.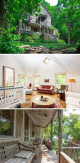 Enjoy your time at a victorian house among the trees. This house has a great garden, huge stone steps, and amazing  furniture retaining a great historic feel while adding a lot of charm and style. It's perfect for artists and couples wishing a romantic getaway from the city.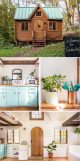 Discover the charm of a tiny house in a magical setting. Every inch is put to good use in a delightful mix of old and new. Repurposed vintage cabinets and a claw-foot tub share this clever space with modern appliances and air conditioning.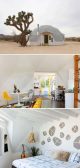 Re-energize in solace under the desert sky in this modern-bohemian dome, featuring many personally designed and handcrafted items. Stimulate your mind and spirit with natural wood and stone elements, and enjoy antique books and games while you take in sprawling mountain views by day and twinkling stars by night.
THINK THESE ARE THE COOLEST AIRBNB STAYS IN THE UNITED STATES? PIN THIS POST TO SAVE IT FOR LATER