Dreaming of living in a treehouse nestled among the branches? Now that dream can easily become a reality-just rent one of these impressive treehouse rentals in the United States where you can live out your childhood dreams. Make no mistake though, these seriously awesome grown-up treehouses include lavish perks such as outdoor decks, fireplaces, and floor-to-ceiling windows – all while being nestled in forest and woodland landscapes.
When you're planning your getaways, add these breathtaking accommodations to your itinerary.
You can check out our other round-ups of cool Glasshouse Airbnbs in the USA.
This article may contain affiliate links. I earn a small commission when you book through these links at no additional cost to you.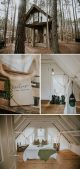 Stay in the gorgeous Treehouse for a luxury "glamping" experience! This space is perfect for an individual or couple looking for a peaceful getaway. Surrounded by towering pines and set back in a 20-acre farm estate in Concord, you feel like you are in the mountains of Asheville.

This place is perfect for a quiet writer retreat, honeymoon, or a romantic getaway with your own wooded acreage, or an unforgettable family trip to Montana. Just 30 minutes from outdoor adventures in Glacier National Park and minutes from Whitefish Mountain Ski Resort, you'll find easy access to outdoor adventures. Climb the spiral staircase and discover a 500-square-feet living space with two outside deck areas, a common area, and a full kitchen.

Think Tarzan with all the rustic charm complete with amenities. You want to re -live your childhood dream-this is the place. This amazing treehouse offers a magical experience with two lofts boasting stunning Silicon Valley views. Perfect for traveling friends or families, it can sleep up to four guests, while it's garden/patio area is the ideal spot to catch sunset views.

This whimsical treehouse in South Carolina features two connecting treehouse decks with modern perks such as a fireplace outdoor shower, spacious deck, and swing. Many flocks from around the world to experience its peaceful surroundings on 40 acres of untouched forest, where you'll discover thoughtful touches such as organic, locally roasted coffee and a VIP package with "luxury s'mores" and fun activities. Nearby, you'll find miles of scenic trails.

You can't get more peaceful than the surroundings of this secluded willow treehouse in New York, as its nestled amongst the trees and overlooking a small swimmable pond. The cozy nook is perfect for solo adventurers or couples who want to spend their time reading, hanging out, or cooking dinner. For the ultimate in relaxation, enjoy a soak in the hot tub heated with firewood.

This beautiful peaceful gem is located 8 miles to the Hawai'i Volcanoes National Park. The house is secluded off the road for privacy and to be as close to nature as possible. It's a perfect retreat for adventurous travelers who love hiking to beaches, forests, and volcanoes. The house is elevated 15 feet but the bed elevates you 20 feet off the ground. It is quite a unique experience.

The Flying Squirrel is a beautiful, brand new, treehouse. It is an off-the-grid, peaceful place for adventurous nature lovers. Hike up the trail for 10 minutes and arrive at your room in the trees in the heart of the red river gorge. Become part of the forest for a while, sitting quietly in your sheltered nest.

This impressive treehouse in Atlanta is like a fairytale. Just minutes from downtown, this secluded property is an urban retreat like no other. The treehouse provides an intimate, simple, and restful retreat for 2 people.
Featured on the Today Show, Architectural Digest, and even Travel + Leisure, the treehouse is noted for the bed with wheels, so you can choose to sleep inside or on the outdoor platform. Best of all, the treehouse has a Southern nature – gracious, calming, and comfortable.

Embark on a California adventure in this amazing Airbnb near Santa Cruz, which boasts panoramic ocean and forest views from a hammock. Inside the chic treehouse, you'll discover mid-century furniture and architectural details made of stone and wood. Curl up with a good read by the light streaming through floor to ceiling windows and under soaring wooden beams or tuck in for the evening by closing the sliding doors inspired by Japanese screens.

You will feel the stresses of life wash away as you sway in the trees and listen to the sounds of the beautiful stream just feet from the treehouse deck. You'll never want to leave! Enjoy a bit of solitude or some special alone time with a loved one. It's within easy access to hiking, boating, and local breweries and distilleries, while a cozy hammock is available for those who prefer some secluded time.

The Pleasant Bay Lookout is nestled in a forest overlooking the Salish Sea. Its stunning beauty and simplicity have been showcased widely, including on Airbnb's Instagram, in local magazines, and on many websites. The one-bedroom abode's biggest highlight is the glass wall. It leads out to a deck and offers a beautiful view of the woods and the bay. Enjoy thoughtful touches such as a branching tree as a coat hanger, live-edge coffee table, and hand-picked artwork.

Take in the rustic, fairy tale vibe of this custom-made treehouse in the midst of towering white oaks. Recline in a rocking chair and watch the sunset over the mountains, or try your hand at some stargazing from the comfort of the deluxe double bed. You're only 10 minutes from activities in downtown Asheville, and within easy distance of restaurants, grocery stores, and a local visitor center.

Built on giant Douglas Fir trees, our treehouse is located on Lago Lomita Vineyards with a view of the entire Monterey Bay. The ladder/staircase leads to a 400 sq. ft. platform with a queen bed, electricity/WiFi in a tent! Located high atop the Santa Cruz Mountains, you're close to San Jose, Capitola Beach, and Silicon Valley.

Red cinder leads you through the dense jungle to your secluded bamboo treehouse. Nestled on top of stilts 15′ up in the canopy of the local flora, ascend to your retreat via the trapdoor or begin your adventure in Volcano National Park 10 miles away. Enjoy your personal paradise with perks such as a hanging bed, bamboo fixtures and a wrap-around lanai with panoramic views of the jungle. The unique bathroom has floor-to-ceiling windows, while natural lighting and solar power means you can enjoy an eco-friendly getaway.

One of the most popular treehouses on Airbnb, this peaceful accommodation is located in Tiller, Oregon. Modeled after the Fire Lookout Towers built by the US Forest Service in the 1900s, this modern abode has hot and cold running water, a propane stove, refrigerator, fire pit, vegetable garden, hammock tree, and best of all – a secluded wood-fired, spring-fed hot tub. Get off-the-grid and enjoy day trips to nearby Crater Lake, South Umpqua Falls, or even Seven Feathers Casino in Canyonville.

Fulfill your dream of staying in a treehouse! For safety reasons, this venue is for adults only. The Treehouse has a tree trunk elevator, private shower, air-conditioning, and a real toilet. This 18-foot yurt has accent lighting to create the mood of living in the trees on a starry night.

A magical Redwood Treehouse located it the beautiful Santa Cruz Mountains. There is a live tree growing right through the main living area and another in the bathroom! It is simply incredible. It has a delicious high-bed, a kitchen with a small stove and refrigerator, a hot-tub at about 103 degrees ready for your soak before bed, or a morning treat. Offering the best of both worlds, it's also just a short drive from the famous Pacific Coast Highway that leads to Monterey, Carmel-by-the-Sea, and Big Sur.

The host of this spacious, finely crafted treehouse is a permaculture farmer whose Little Haiti property is populated by goats, emus, honeybees, and more fauna. Nestled into a giant pithecellobium tree, the tri-level treehouse features wraparound balconies and an outdoor shower. Common areas include an outdoor kitchen, a volleyball court, and coin-operated laundry.

Designed to be the most romantic getaway tucked deep in the woods of Tennessee. Come to experience Sulfur Ridge, Tennessee's first luxury treehouse rental. Perched 15 feet above the forest floor, the treehouse offers a private, intimate space to relax. From entering through the front door dated 1848 to the 100-year-old stain glass window repurposed in the bathroom you will discover many interesting stories.
Dance the night away to your favorite songs on the jukebox or spend your evening underneath the stars sitting at the fire pit.
This treehouse is located at the summit of Kilauea, just five minutes from Hawaiʻi Volcanoes National Park. The custom-designed treehouse is accessed by a 100-foot path through the rainforest, where two levels of living space include a comfy living room with a flat-screen TV, an outdoor shower, an indoor fireplace, and French doors that lead onto the lanai. Enjoy a soak in the cedar hot tub or dine al fresco on the teak table. When you're ready to explore, there's plenty of scenic hiking trails nearby.
THINK THESE ARE THE COOLEST AIRBNB TREEHOUSES IN THE UNITED STATES? PIN THIS POST TO SAVE IT FOR LATER