Eating Thai food is a huge part of your holiday in Thailand. Thanks to its exotic flavors and fragrances, Thai cuisine is popular worldwide. A walk through the city's alleyways often results in a stop at a food stall, where you can enjoy skewered meats, fried rice, and noodles, as well as spicy soups at rather affordable prices.
The list of traditional Thai food in Thailand is probably longer than this, but the following foods are incredibly delicious and worth trying should you visit Thailand. They are also popular to imply that you will find them in most of the eateries around the country. However, there are many more yummy meals you need to discover in Thailand, and the best way to do that is simply to plan a visit to this magical land.
Here is a look at some of the top 10 traditional Thai food you must try.
1. Tom Yum Goong (spicy shrimp soup)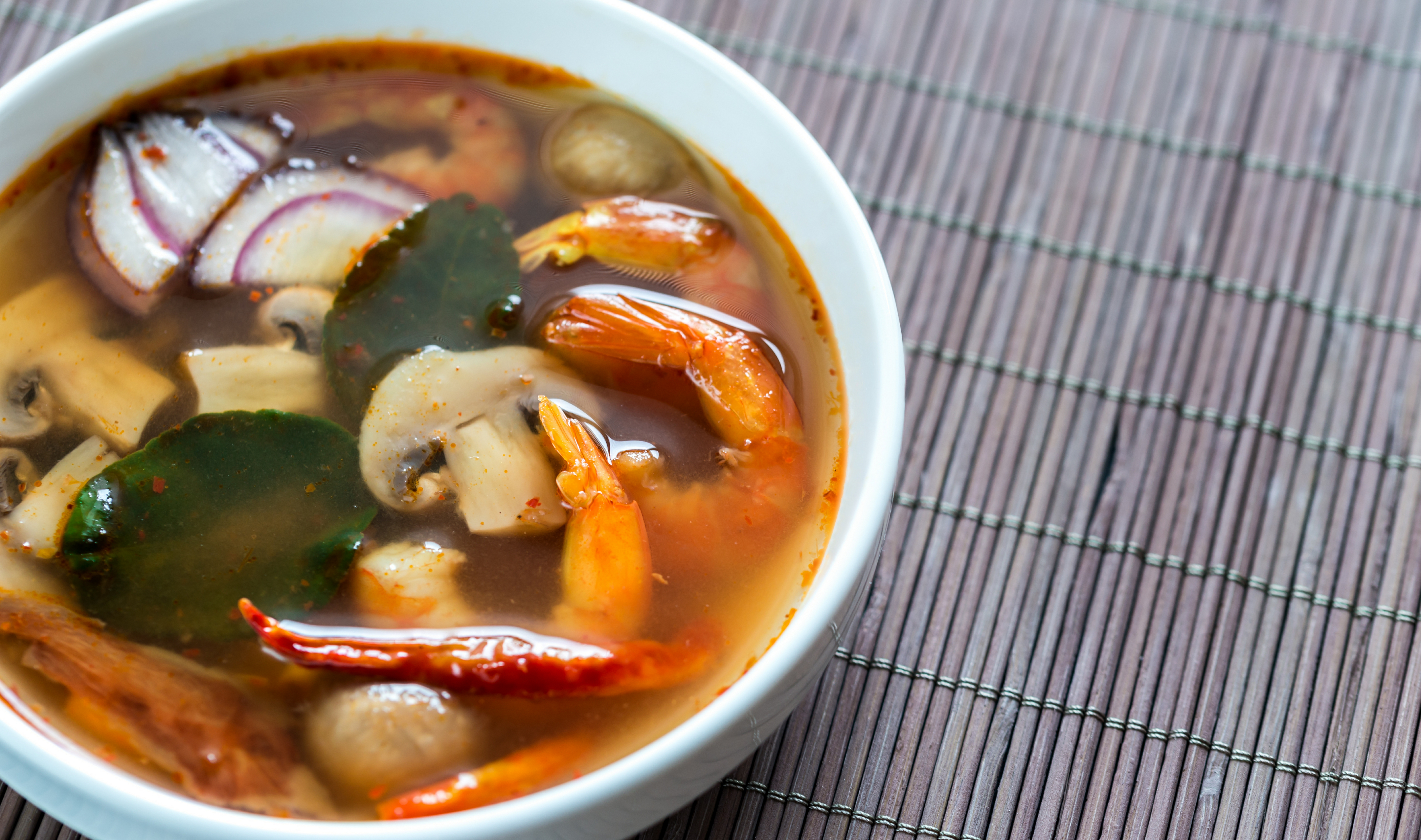 This is, without a doubt, the most famous dish in Thailand. Tom yum goong is a bold, refreshing blend of fragrant lemongrass, chili, galangal, kaffir lime leaves, shallots, lime juice, and fish sauce. Containing succulent river shrimps and straw mushrooms, this spicy and sour soup is best paired with steamed white rice.
The cost of the Tom Yum soup in cafes and restaurants – from 80 Baht ($2.64)
2. Pad Thai (Thai-style fried noodles)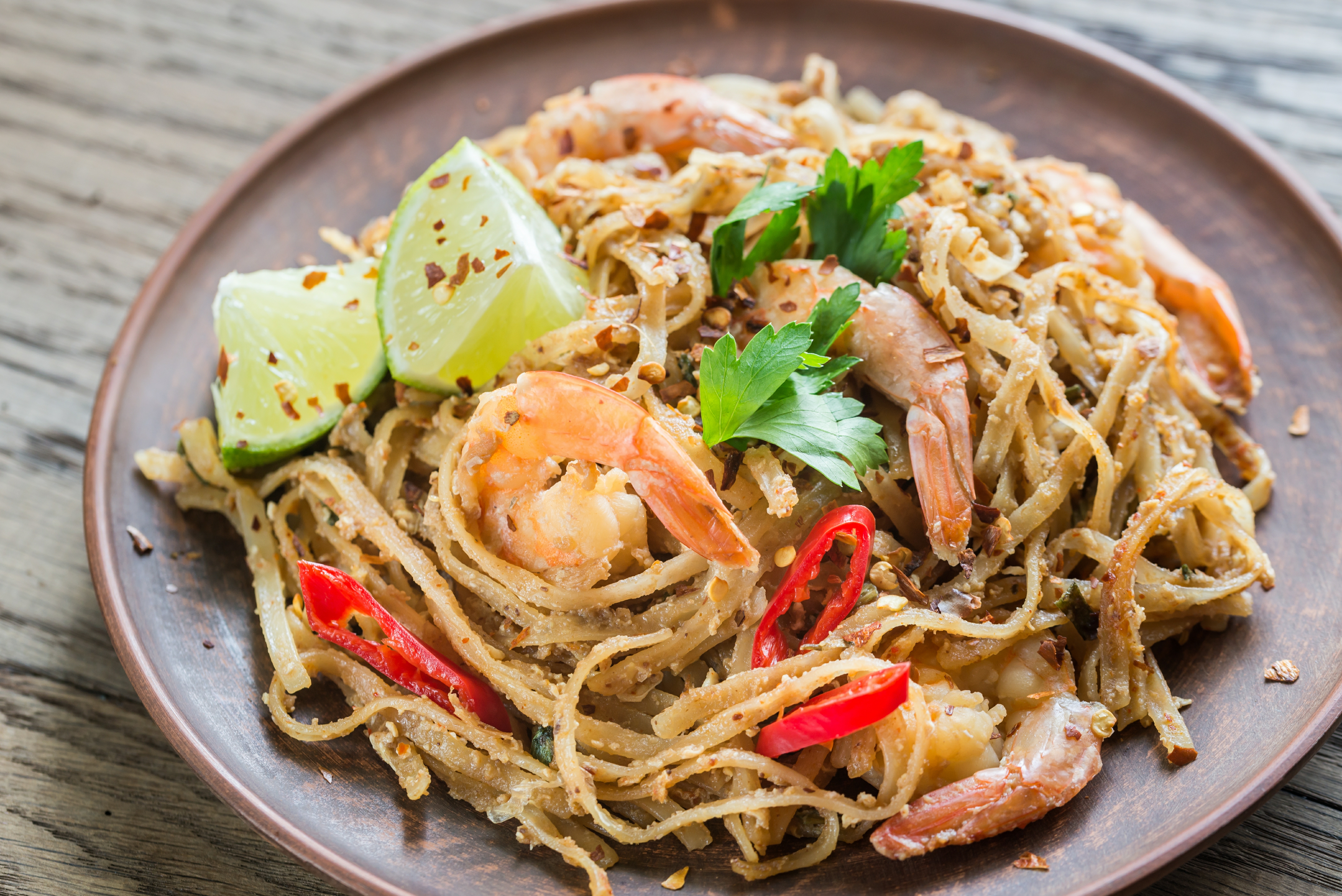 Pad thai is one of Thailand's most recognized dishes. Fistfuls of small, thin, or wide noodles, along with crunchy beansprouts, onion, and egg, are stir-fried in a searing hot wok. The dish is also flavored with condiments such as fish sauce, dried shrimp, garlic or shallots, red chili, and palm sugar. Pad thai usually contains seafood – especially fresh shrimp, crab, or squid – but some places serve it with chicken, beef, or pork. The stir-fried noodles are often plated with a slice of lime wedge, crushed roasted peanuts, bean sprouts, and fresh herbs.
The cost of the Pad Thai in cafes and restaurants – from 40 to 250 Baht ($1.32-$ 8.24).
3. Som Tum (spicy green papaya salad)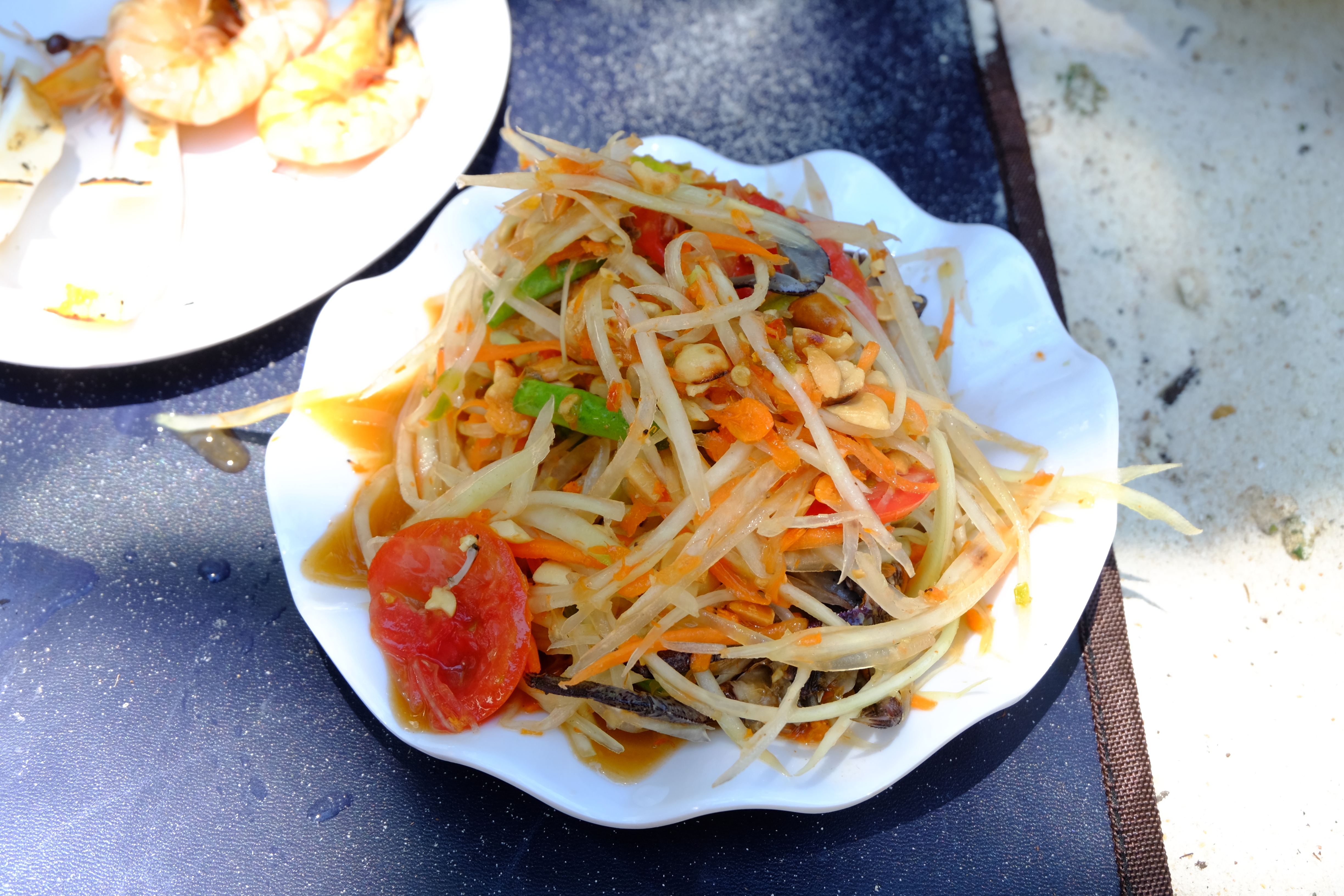 Som tum, or spicy green papaya salad, comes from Thailand's north-eastern state of Isaan. Garlic, chilies, green beans, cherry tomatoes, and shredded raw papaya are pounded in a pestle and mortar, releasing a sweet-sour-spicy flavor that's quite distinctive. Regional variations include peanuts, dry shrimp, or salted crab into the mix. This dish can be polarizing; some can't get enough of its taste, while others simply can't handle the spice.
The cost of Som Tum salad in cafes and restaurants – from 60 Baht ($2).
4. Mango Sticky Rice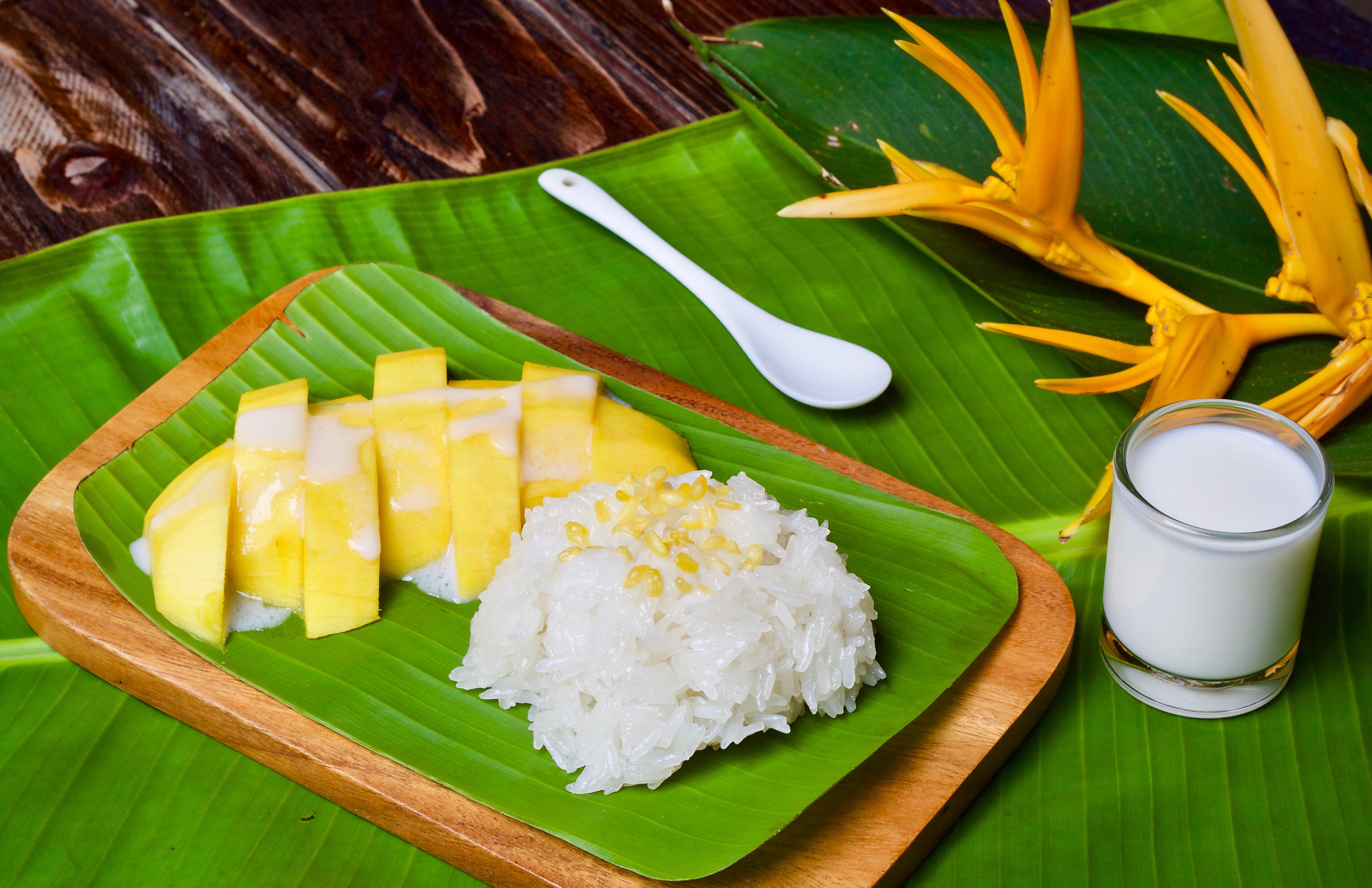 Mango sticky rice is a traditional Thai dessert made with glutinous rice, fresh mango, and coconut milk, and eaten with a spoon or sometimes the hands. The mangos are peeled and sliced. To serve the dish, the rice is scooped onto a plate, a few mango slices are placed on top or to the side, and the remaining coconut milk is drizzled on top. Sometimes the sticky rice is topped with crispy yellow mung beans.
The cost of Mango sticky rice – from 60 Baht ($2).
5. Tom Kha Kai (chicken in coconut soup)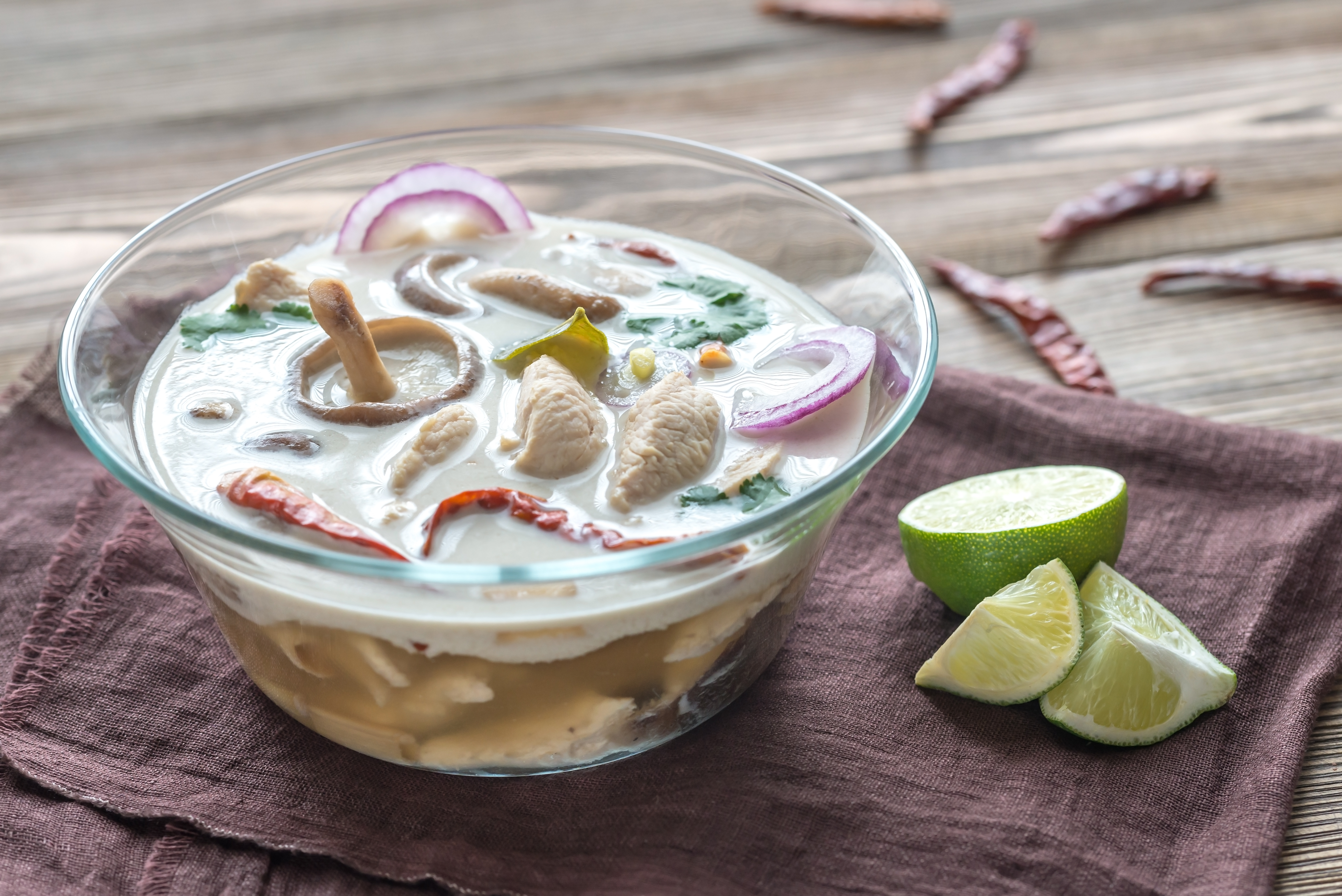 A mild, tamer twist on tom yum, tom kha kai infuses fiery chilies, thinly sliced young galangal, crushed shallots, stalks of lemongrass, and tender strips of chicken. The dish also includes coconut milk to reduce the spiciness, before topping it off with fresh lime leaves. Like most Thai-style soups, you can pair your bowl of creamy tom kha kai with steamed rice.
The cost of Tom Kha Kai in cafes and restaurants – between 90-212Baht ( $3 – $7).
6. Gaeng Daeng (red curry)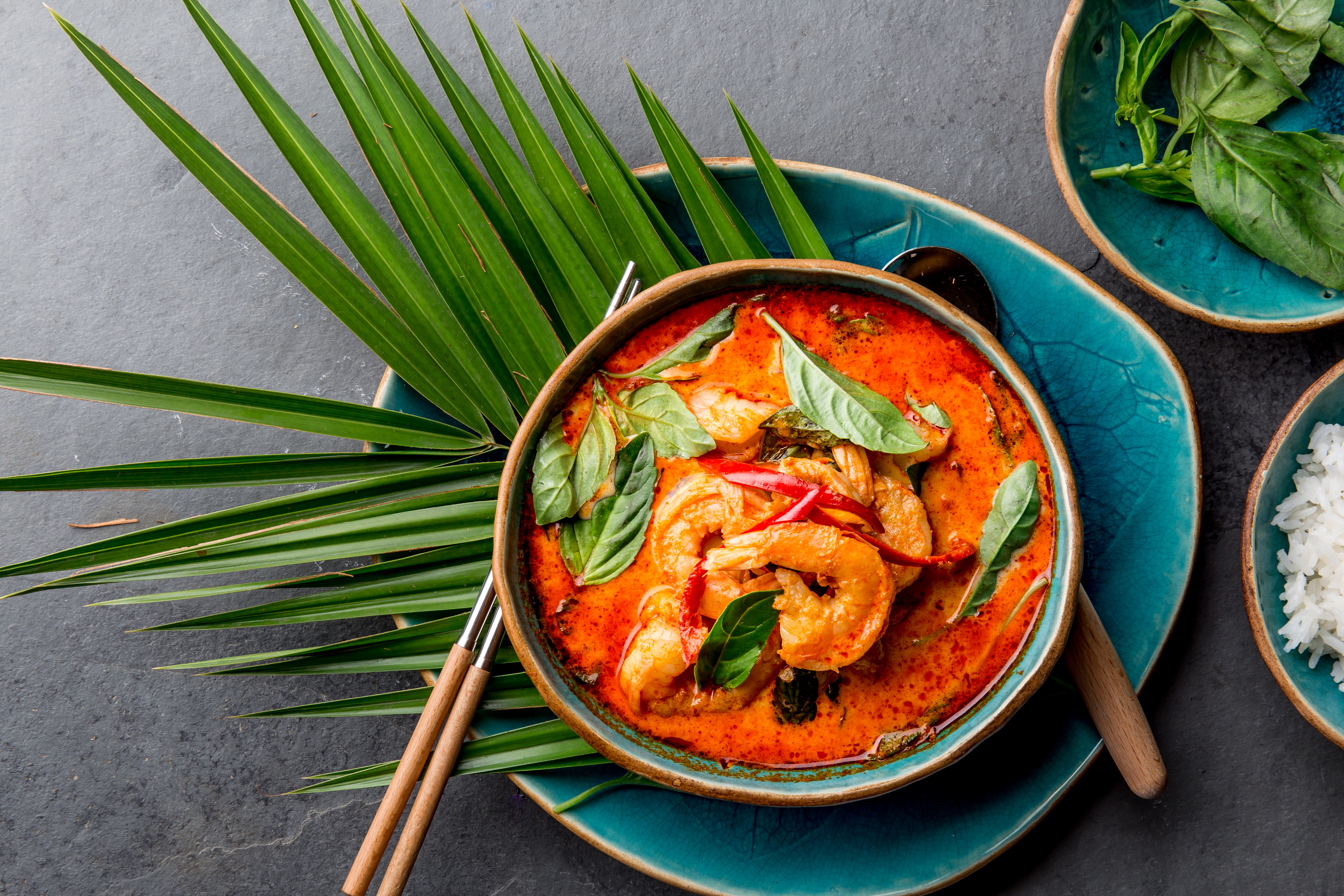 Gaeng daeng is an aromatic red curry made with meat, red curry paste, smooth coconut milk, and topped off with a sprinkling of sliced kaffir lime leaves. Despite its striking color, gaeng daeng is quite mild though you can request for fresh chili if you're in the mood for spicy foods. Vegetarians or vegans can still enjoy this curry by asking the chef to replace the meat with tofu.
The cost of Gaeng Daeng in cafes and restaurants – from 40 to 300 Baht ($1.32-$9.8).
7. Khao Phat (Thai fried rice)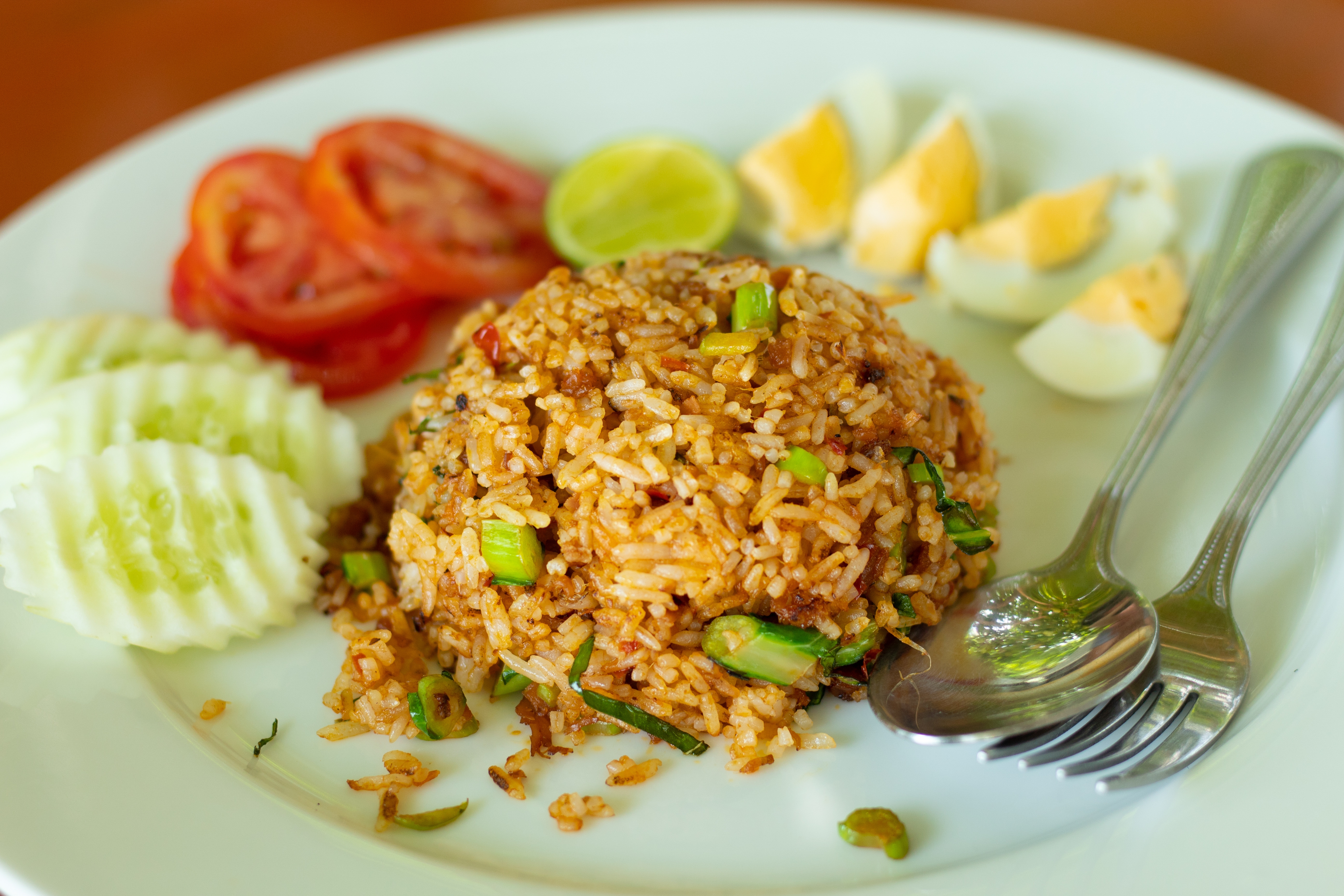 Not too fond of spicy food? Then, grab a plate or bowl of Thailand's sumptuous fried rice dish – Khao Phat. A staple at seafood restaurants across Thailand, Khao Phat is a simple yet delicious fried rice variety with a great choice of additional ingredients, such as crab, prawn, pork, and chicken. Originally from central Thailand, the basic ingredients of this sought-after Thai delight include sugar, salt, soy sauce, oyster sauce, garlic, egg, and jasmine rice. All of these ingredients are stir-fried in a wok and served with accompaniments like tomato slices, lime, salad, and cucumber slices.
The cost of Khao Phat in cafes and restaurants – from 30 to 150 Baht ($1-$5).
8. Gaeng Keow Wan Kai (green chicken curry)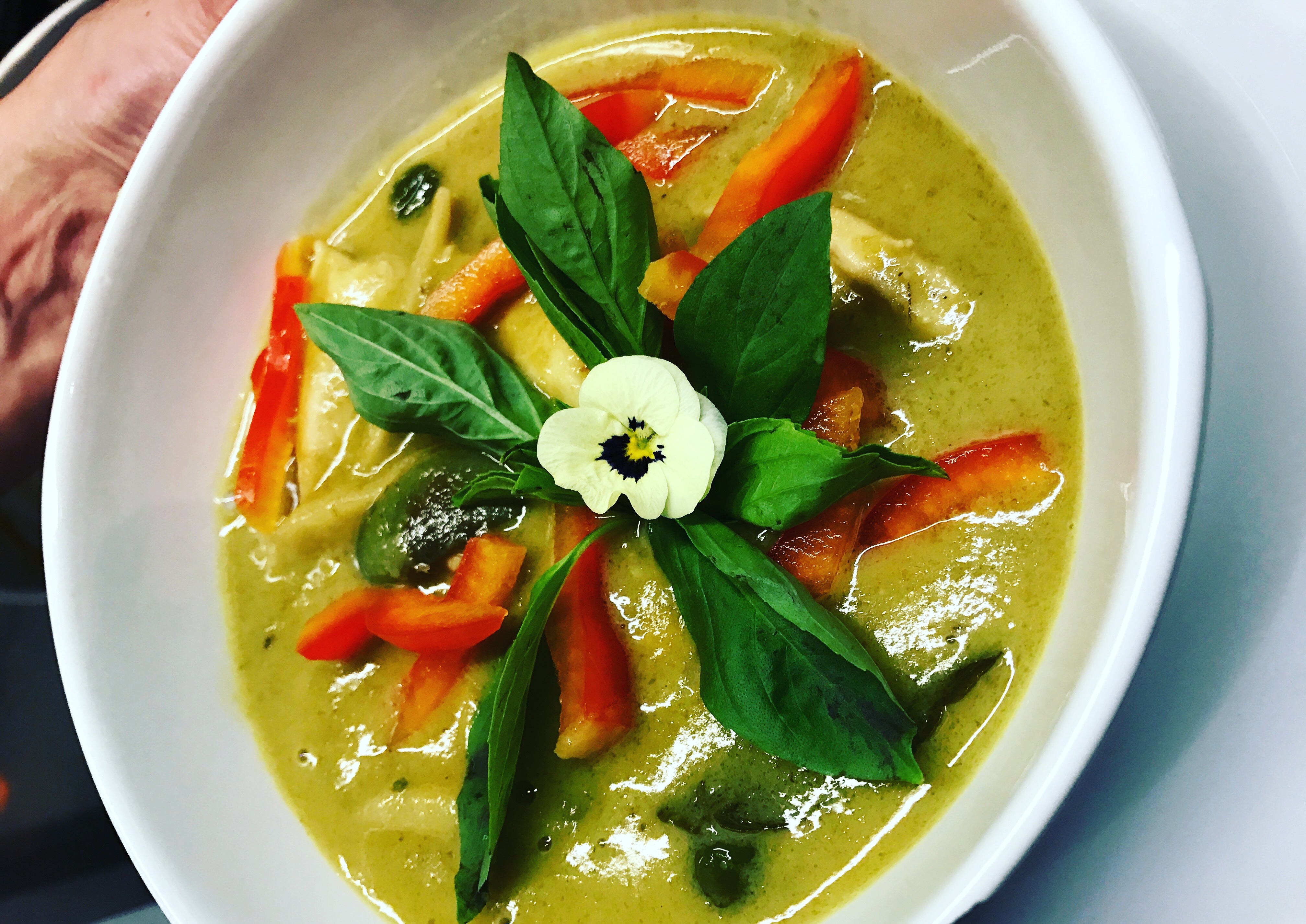 Gaeng keow wan kai gets its unique color from green chilies, though ingredients used are like most Thai curries. Green chicken curry contains coconut milk, cherry-sized eggplants, bamboo shoots, galangal, lemongrass, coriander, and sweet basil. It tastes richer and sweeter than tom yum, and pairs well with flatbread or steamed rice.
The cost of Gaeng Keow Wan Kai in cafes and restaurants – 40 to 100 Baht ($1.32 to $3.29).
9. Pad Grapao ( minced pork with Thai basil and fried eggs)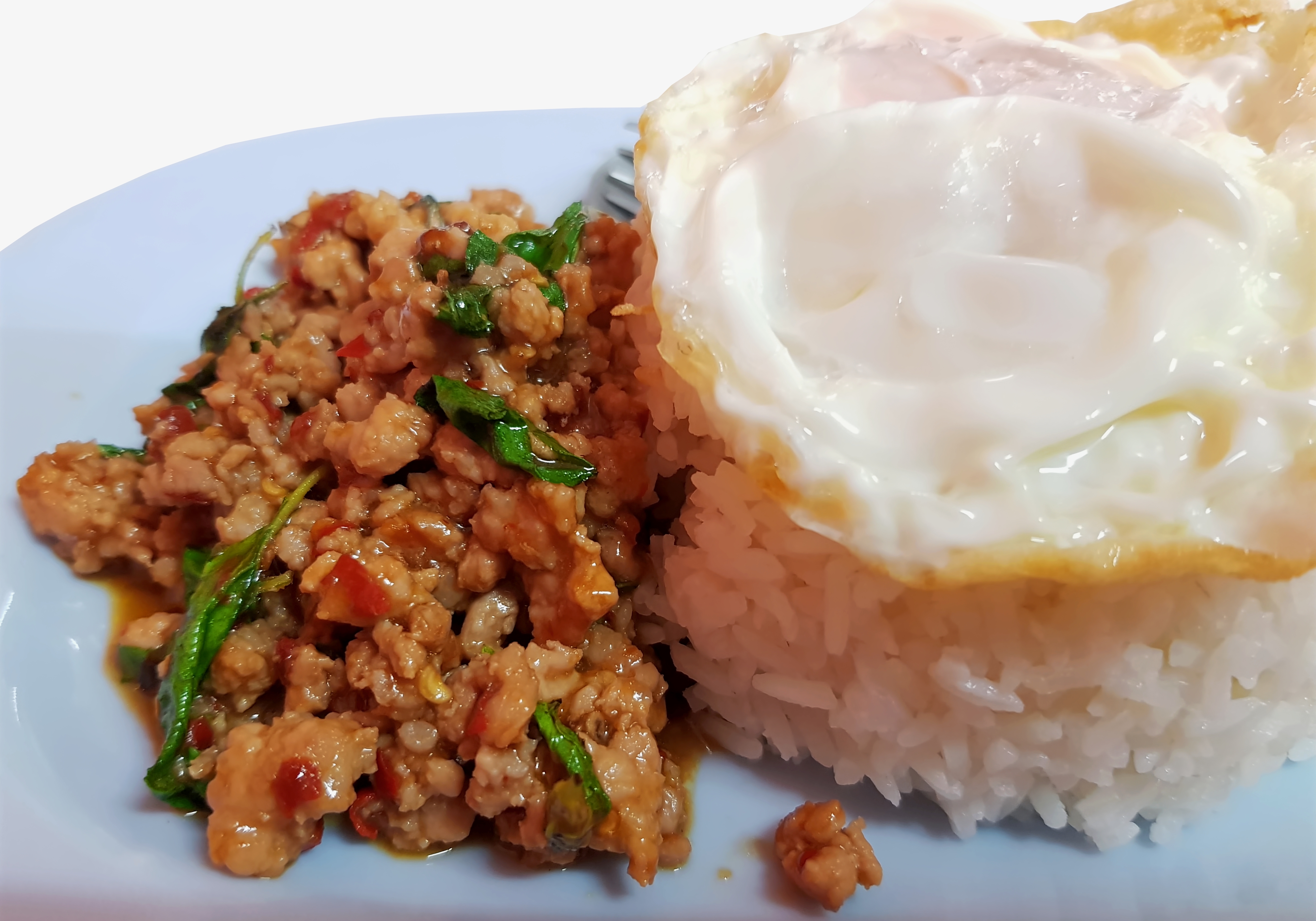 Minced pork with Thai basil is like a staple food in Thailand, and it is a dish you will never miss in most, if not all, of the Thai eateries. The dish is prepared by cooking the minced pork in a hot pan together with the Thai basil leaves, soy sauce, oyster sauce, garlic, and chilies. The food is normally served over rice, with eggs making the cherry on the very top.
The cost of Pad Grapao in cafes and restaurants – from 30 ($1) to 40 ($1.32) Baht with a small extra charge of around 5-7 Baht if you would like a fried egg on top.
10. Kai Med Ma Muang (stir-fried chicken with cashew nuts)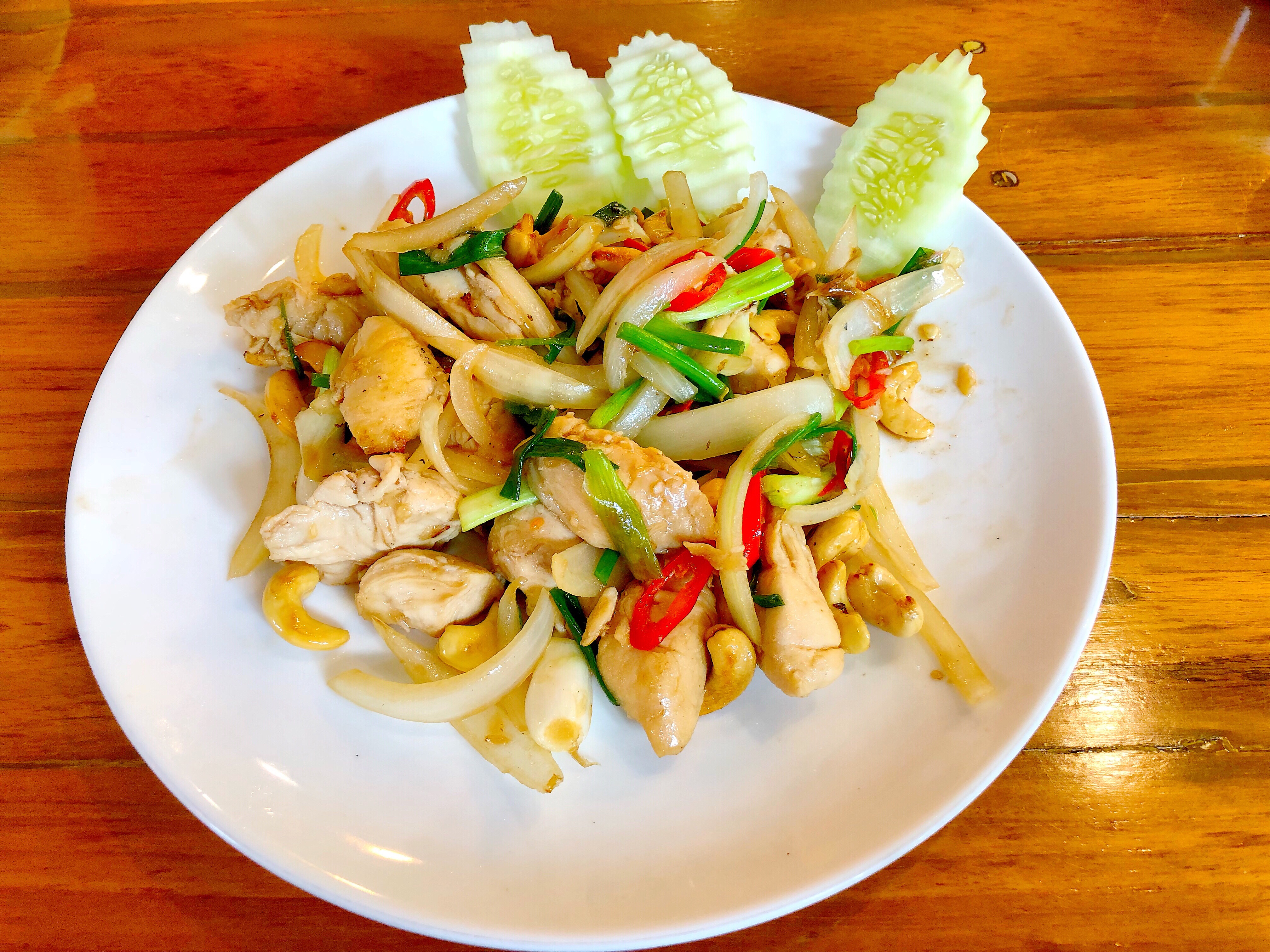 Kai med ma muang is basically stir-fried chicken with cashew nuts. This dish also contains soy sauce, honey, onions, chilies, and pepper, as well as a variety of vegetables (usually chopped bell peppers or carrots). Unlike most Thai dishes, it doesn't have chili, so it'll be suitable for children or those who can't handle spicy foods.
The cost of Kai Med Ma Muang in cafes and restaurants – from 40 to 100 baht ($1.32 to $ 3.29).