Have you ever slept in all Glass House? No drywall between you and Mother Nature. Here are the most gorgeous Airbnb glasshouses in the United States for uninterrupted views. Many of these amazing glasshouse Airbnb stays are also secluded, offer private access to lakes, forests, and rivers where you can admire the view.
Related: The coolest Treehouse Airbnbs in the USA
This article may contain affiliate links. As an Airbnb Associate, I earn when you book through these links at no additional cost to yourself. Thank you!
 Photo credits of listed properties: Airbnb.com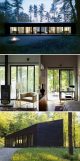 This two bedroom glass cabin in the woods is the perfect Hudson Valley retreat. Nestled in the forest with lovely western views, this warm and comfortable home is ideally located near Hudson NY, Great Barrington, and Catamount. The cabin is located up a long, steep driveway.

The Off-grid house brings together raw industrial aesthetics with the tactics of green design to forge a new home in the sunbaked wilds of the California high desert. This popular rental house is 100 percent off the grid. That means it's powered by solar panels for energy and hot water and there isn't a TV or fast WiFi. The setting of the house is remote and serene, a quiet refuge from everything, free from distractions. Amazing views and vistas in all directions.

Sleep underneath the stars in the Texas Hill Country. This Glass House is a magical getaway. Just an hour from San Antonio, yet a world away. 72 acres of rolling hills give privacy and seclusion. Glass walls open up to endless views of the stars, nature, and wildlife. You can also wheel the bed onto the patio for a night en plein air. Come relax and renew your spirit in the beautiful Texas Hill Country.

Sleep staring at the stars and feel the stress melt away in this glass-enclosed tiny house retreat, just 90 minutes from NYC, but a world's away. 30 acres of rolling hills give total privacy & isolation as glass walls open up onto endless views of vineyards, orchards, & wildlife (don't be surprised if you see coyotes, families of deer, and every type of bird you could imagine–not to mention more butterflies than you've ever seen, depending on the season), But despite its small size and isolated location, it is surprisingly luxurious on the inside.

No drywall between you and Mother Nature. Lay in bed and see the animals stroll on by or watch an amazing lightning storm with no barriers! In addition to the views, this glass cabin offers two acres of land to roam including a nearby river with a gorgeous fire pit and seating area next to it. A fancy outdoor shower means you're never without a view.

The Glass Cabin is perfect for a special occasion or a relaxing escape. Enjoy the serenity, fresh air, flowers and fauna of the mountains by taking a stroll/run on half mile path, practice yoga, have a picnic at several scenic spots and relax at sandy beach by the creek The outdoor kitchen means you can sip coffee with the birds in the morning and cook over the fire pit at night.

You can't get more peaceful than the surroundings of this secluded willow treehouse in New York, as its nestled amongst the trees and overlooking a small swimmable pond. The cozy nook is perfect for solo adventurers or couples who want to spend their time reading, hanging out, or cooking dinner. For the ultimate in relaxation, enjoy a soak in the hot tub heated with firewood.

Designed with tranquility and relaxation in mind, this amazing place is a minimal organic modern hideaway fusing natural simplicity with contemporary luxuries. It's intended for slow living, providing an escape from the noise and stress of urban life. The home sits at the end of a very small and peaceful residential neighborhood in south Joshua Tree. It's great for those seeking a still quiet, but not completely isolated location from civilization. At night, the fire pit and saltwater hot tub offer an unparalleled stargazing experience.

Architectural Digest recently chose this modern, minimalist abode as the most beautiful Airbnb in North Carolina. Set in the serene and beautiful Riceville Valley, the house offers gorgeous design and stunning views from every room.

This award-winning glass house sits on eight secluded acres of forest near Tahoe National Forest. Nestled in the Sierras the glass walls of this contemporary home completely open to the forest and magnificent lake views. The house even has its own private lake trail with canoes for guests.
THINK THESE ARE THE COOLEST TREEHOUSE AIRBNB STAYS IN THE UNITED STATES? PIN THIS POST TO SAVE IT FOR LATER