Three perfect coral islands – Gili Trawangan, Gili Meno, and Gili Air – fringed with white sands and swaying palm trees, lay in the sparkling ocean just off the north-west coast of Lombok. This archipelago of three small coral isles is rapidly becoming one of the most popular destinations for visitors to Bali and Lombok.
All three Gilis are a vision of paradise, and each island has a distinct personality. Find the one that matches yours. Keep reading or you might end up at the wrong one!
Gili Trawangan: the party island
Gili Trawangan (generally referred to as Gili T) is the most well-known and popular of the three Gilis. It is the largest island of the three and the furthest from the mainland but easily reached in less than two hours from Bali and only 10 minutes by speedboat from Lombok.
Gili T is both a vibrant party island and laid-back tropical getaway, alluring an exciting mix of crowds to its shores. This island knows how to throw parties that rave on well until early morning. Gili T has a very friendly vibe and is full of people keen to get to know one another. Each night of the week, a different club or dive center bar hosts a party.
You can, however, still enjoy spending time on Gili T even if you're not into partying – the scuba trips, free-diving classes, and sunbathing spots are more than enough to keep most people here, and the party atmosphere isn't too overbearing for open-minded families, particularly the further away you travel from the public boat landing.
While Gili T still hosts backpackers and budget travelers, these days, they are joined by singles, couples, and families from all walks of life and all around the world. People flock here to sunbathe on white-sand beaches and swim in clear blue waters, to dive the fabulous reefs, and to bask in the hedonistic pleasure of a tropical paradise.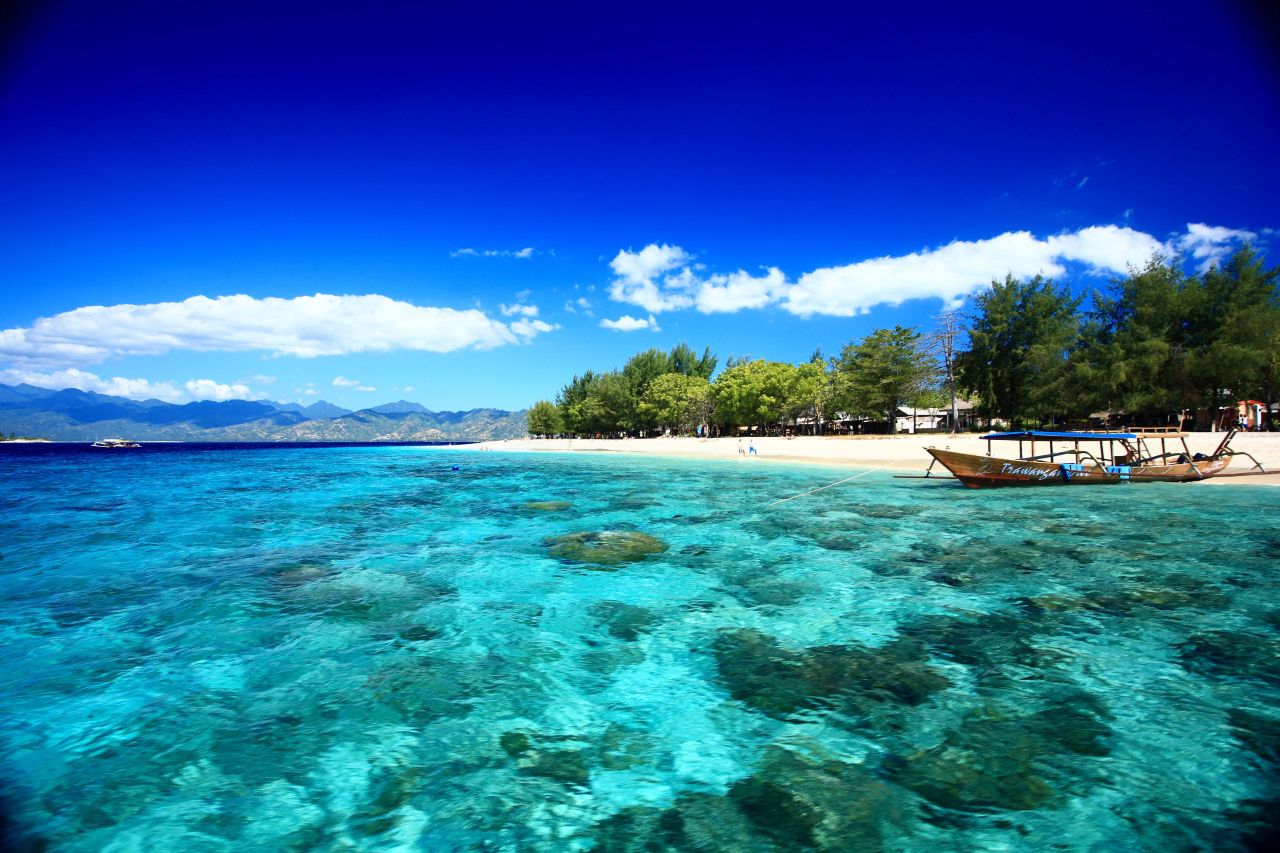 The island itself is around 3km long and 2km wide, so walking is easy, and you can cycle around the island in around 1 hour (but will need to get off and push your bike through sandy sections in the north). There's no motorized transport on Gili T, or any of the Gili Islands. You get around by cidomo (horse and carriage) – there's a debate about how ethical these are so you might want to cycle around or walk.
Accommodations on Gili T ranges from basic homestays to luxury resorts and villas. The old-style bungalows have mostly disappeared, to be replaced by simple hotels to suit the budget crowd. It's highly recommended to book your accommodation Gili Trawangan in advance during the peak season (Jul-Sep) to ensure you don't end up sleeping on the beach!
The north coast has a quieter vibe and offers peaceful alternatives to the central area where the views are beautiful, and snorkeling from the beach is good; plus the location makes it easy to access the dining and nightlife options only minutes away.
Likewise, the south and west coast are popular with travelers seeking a place away from the crowds and are dotted with small hotels, private villas, and a couple of larger resorts. Although the beaches aren't as nice as those on the east, the sunsets across the sea to Bali are magical.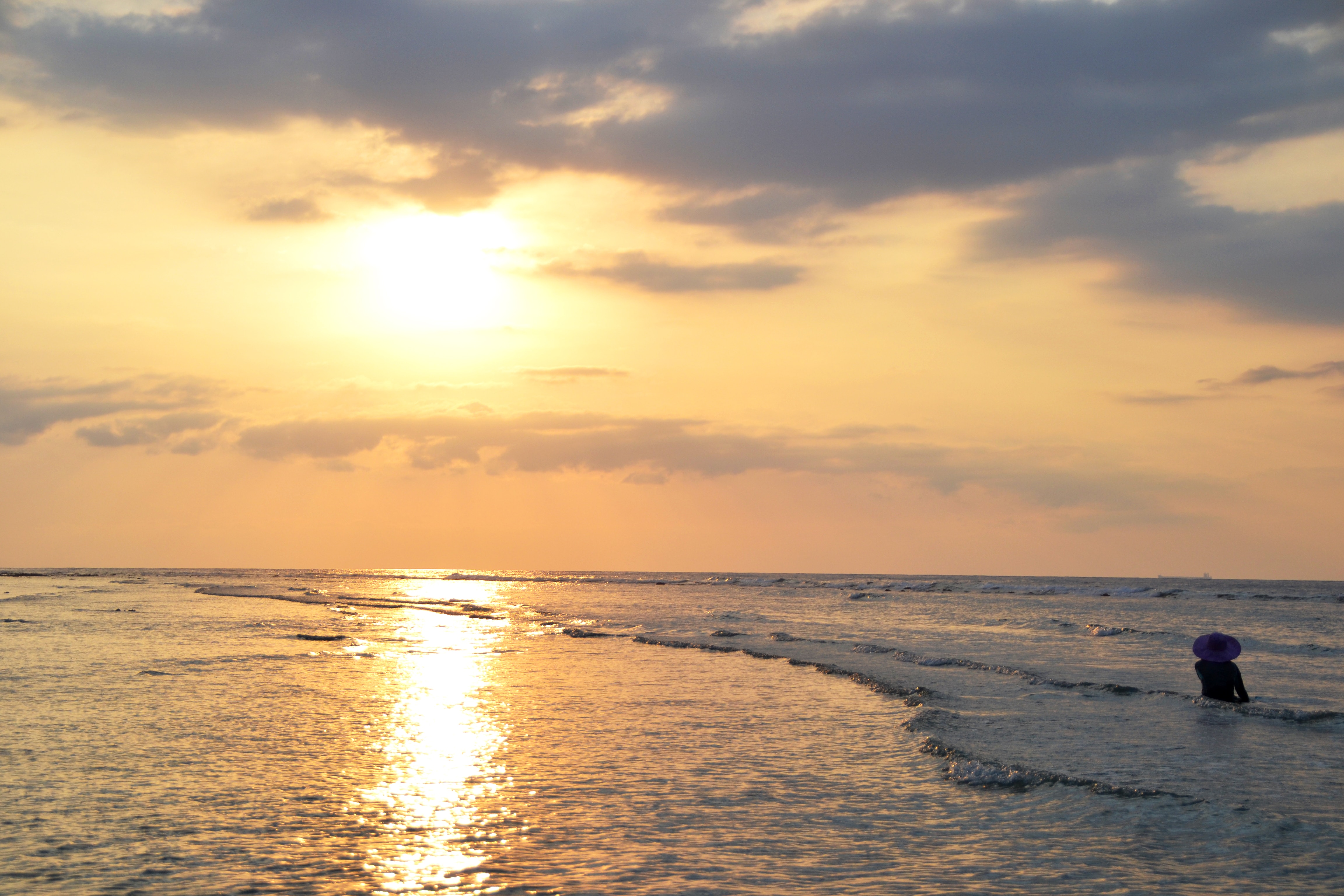 There's a wide variety of restaurants along the beachfront, offering everything from local street-food to high-quality international cuisine, along with some of the freshest seafood BBQs around. And at the end of the day – when you're done soaking up the sun or diving to new depths – there are plenty of bars to quench your thirst, with weekly party nights to keep you dancing to the early hours.
There is a good surf break on the south coast near The Trawangan Resort with a fast-hander that pumps in the right conditions. Local surfers will happily lead the way and rent you a surf board.
The best snorkeling on the island starts on the northern end of the east coast, where you can wade to the reef just offshore.
The water is calm, and there is a drift from north to south, making it easy to lie on the surface and float down the coral outcrops. Although much of the coral is damaged, there is a variety of tropical fish species to enjoy.
Further, offshore, the island is famed for its vast gardens of coral and is one of the best dive spots in Lombok, which is why thousands of divers visit Gili T every year. It is also one of the safest and easiest places to learn to scuba dive, with warm water temperatures, calm seas, and excellent visibility almost all year round. There is a very good selection of professional western-operated dive shops and a range of dive locations suitable for beginners through to thrill-seekers.
All in all, Gili T is a solid choice – there's heaps to do, accommodation to suit all budgets, good nightlife, and some world-class beaches. It is a great choice if you're traveling alone and looking to mingle while you log a few dives, or if you're with friends and keen for a few memorable nights out.
Gili Air: the chill-out spot
Gili Air, although closest to mainland Lombok, lays somewhere between the tranquillity of Gili Meno and the bustle of Gili Trawangan – making it a great option for backpackers and families wanting to get away from the tourist crowds and immerse themselves in the local culture. This island can be reached in around 20 minutes by a local boat or five minutes by speedboat.
Being the closest of the Gilis to the mainland, Gili Air has the largest local population of the three islands, combining the charm of a tropical island with access to the people and unique culture. The island's main appeal is its low-key and clean nature…and that's why so many people love it.
Gili Air was originally spelled as "Ayer", with the word "Air" meaning water; thus, Gili Air is the water island. This paradise island is the perfect blend of the other two Gilis. While it has similar facilities as Gili T – with a few of the same restaurant and diving school franchises – it's almost as peaceful as Gili Meno. Gili Air is also the only Gili where you can gaze across the sea for uninterrupted views of Lombok's mountainous northern coast.
As in the case on all the Gilis, there are no cars or motorbikes allowed on the island; thus there is no pollution to spoil the clean air and the peaceful atmosphere. Gili Air is so small that within 30 minutes, you can explore the entire island by bicycle.
There is a good variety of restaurants and beachside cafes on the island, offering everything from traditional Indonesian dishes to up-market international fare. The beach barbecues with freshly caught fish are particularly good.
In terms of nightlife, there's more of laidback, chill-out-over-a-Bintang-style bar culture, and though there are places you can go dancing, clubbing is not a priority for Gili Air-goers. The bar scene can get pretty lively in the evenings, and, during high season, the island kicks into high gear with Full Moon parties on the beach.
Like all the Gilis, the best swimming beaches are on the east coast, and most development runs along the beaches here down to the south.
The views from all points of the island are stunning, but the east coast, facing Lombok, is probably the most fantastic-looking back at the big island with its white beaches and green mountains dominated by Indonesia's second-largest volcano, Mt Rinjani.
There's a surprisingly wide range of accommodation on the island to suit every taste and budget, whether it be on the beach or set back in the coconut groves. Dining options are also quite varied, with inexpensive local food available inland to grilled fish and international cuisine being offered at the many beachside restaurants.
Accommodation on Gili Air ranges from simple back-packer bungalows to luxurious air-conditioned rooms with hot water and swimming pools.
Activities include walking and cycling around the island, sunbathing, and swimming, snorkeling and diving, as well as yoga and meditation, and relaxing massages and body treatments. Also, don't forget to have a swing at one of the many swings around Gili Air. They are owned by the beach clubs, and It is free to swing.
For exploring, there is a path running parallel to the beach, and it takes around 90 minutes to circle the whole island. The interior is crisscrossed with a maze of tracks that can get confusing, but all lead back to the beach. Other activities include kite surfing, glass-bottom boat trips, kayaking, stand up paddleboarding, and surfing.
There is a good surf break with a barreling right-hander known as "Play Gili" off the south coast that attracts crowds when it is pumping. It breaks over sharp coral, so check with local surfers about conditions and board hire.
The calm waters and good visibility make Gili Air an ideal place to learn to dive or to upgrade diving skills. There are a number of popular dive sites that attract divers from the other Gilis, including Air Wall off the west coast, Hans Reef, and Frogfish Point off the north coast.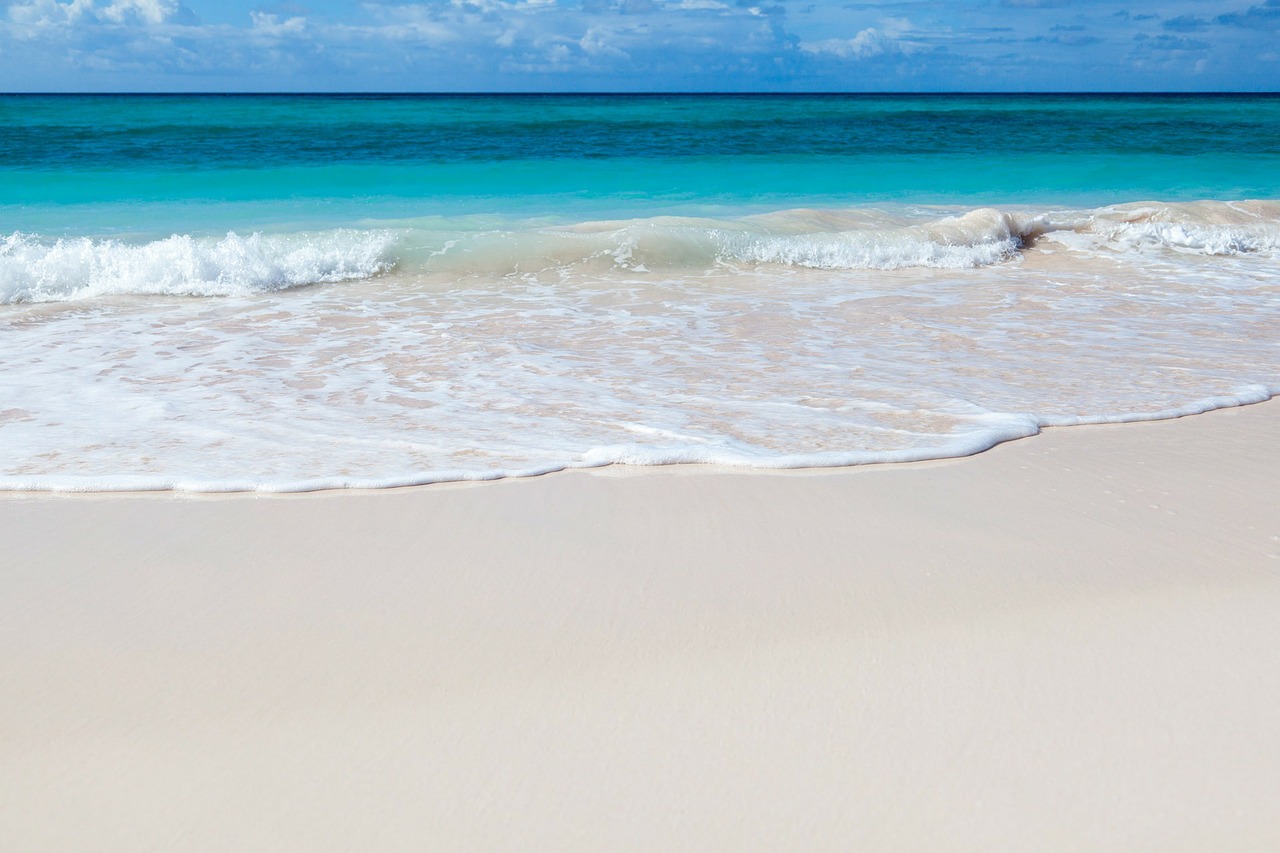 The water surrounding the island is a clear, translucent aquamarine, made even purer by the sparkling white sand beneath.
Gili Air still boasts living reefs off much of its coast, and there is wonderful snorkeling directly from the shore, particularly from the east and northeast beaches.
The coral starts within meters of the beach, making it easily accessible to anyone – even novices who have never snorkeled before. Because the island is protected by reefs, there are few waves, and the ocean is usually gentle, allowing snorkeling to drift in a dreamy daze amongst this panorama of aquatic shapes and colors.
For those who have never had the pleasure of viewing the magical world under the ocean, Gili Air offers a superb opportunity to do so in safety and comfort. For those of us who are already addicted to the silence and beauty of the depths, this is an island where days could melt into weeks, quite happily drifting with the current and immersing oneself in the wonders of the underwater landscape.
Gili Air is a great choice if you're looking for somewhere to relax and for a more local experience, yet still, want to enjoy a similar choice of facilities as Gili T.
Gili Meno: the romantic escape
Gili Meno is the smallest and probably the least known of the Gili Islands. Located between Gili Air and Gili T, Meno has the lowest population of the three Gilis and the least number of visitors. Its stunning beaches and laid-back charm provide a great escape for honeymooners looking for seclusion or those just wanting to get away from it all! Meno is a heaven for those seeking an unspoiled island escape.
There's a definite honeymoon atmosphere that you can sense as soon as you step off the boat and see couples canoodling on the beach. It's not a bad place to go for solo travelers either though as long as you're okay with the slow pace of things.
Meno's popularity has soared over the past five years as travelers discover this "quieter Gili" with its beautiful undeveloped beaches and laid back charm – all within easy reach of the diving and activities that have made the Gilis famous. There's also plenty of bird and turtle sanctuaries to visit.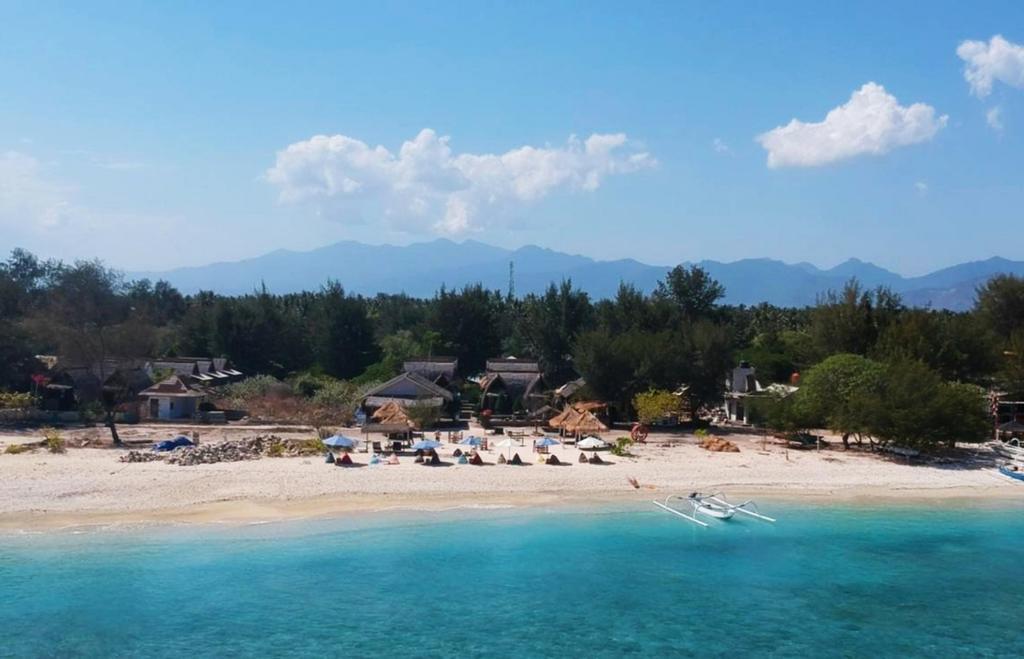 Like all the Gilis, the best swimming beaches and the most tourist facilities (including the boat harbor) are located along the east coast. Many of the hotels and restaurants are located along the south-eastern coast, with beautiful views over Gili Air and to Mt. Rinjani in the east.
It is possible to walk around the whole island on a small beachside track in around 90 minutes. Those who seeking total tranquility head to the north and west coast, where more development has been quietly taking place over the past years.
The water surrounding the island is clear turquoise, and the beaches are covered in brilliant white sand, fringed with coconut palms and sea pines. The north coast boasts some beautiful quiet beaches and quality accommodation. Small hotels and basic bungalows provide accommodation for those seeking a peaceful place in the sun with un-crowded beaches, clean waters, and peaceful nights under the star-filled skies. There is no rowdy bar scene or noisy, full moon parties here.
There are still some top-end hotels and resorts on Gili Meno, just not as many. The fancy resorts are mostly located on or close to the beaches while the interior of the island has the cheaper places to stay and eat. Nightlife is pretty much non-existent outside of resort bars and restaurants, so if that's important to you, Gili Meno isn't the best Gili Island for you.
There is good snorkeling along the northwest coast and it is often possible to see Green, Leatherback and Hawksbill turtles. To swim with these huge creatures – that are so awkward and ungainly on land but move through their natural element with grace – is perhaps the most special underwater experience of all, and a major reason for visiting Gili Meno.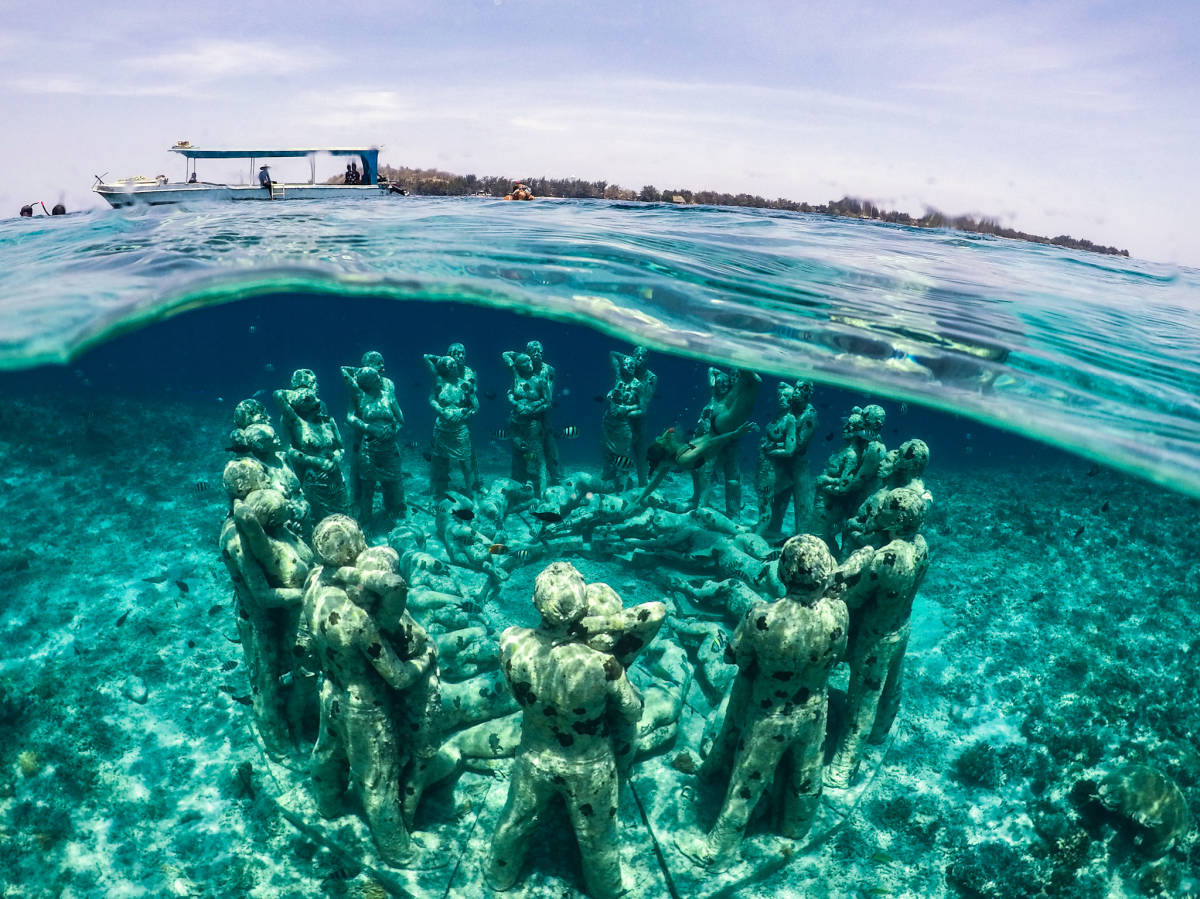 There are three dive schools to choose from on island and some spectacular sites just offshore. These include the Bounty – a sunken pier, which is really fun to explore – and Meno Wall, a top pick for macro lovers. Selfie-taking snorkelers put on waterproof phone cases and head out to Nest, an underwater sculpture from British artist Jason deCaires Taylor with 48 life-sized human figures.
Locals hiring out snorkeling gear and bicycles can be found on the main strip on the island's east coast – just be sure to check that the equipment is in good condition before you walk away with it.
Gili Meno is a great choice if you come for romantic escapes and a chance to rejuvenate on the island's deserted beaches. This beautiful island is mainly about rest and relaxation, so if you get bored easily, it may be best to limit your visit to one day.