The Gili Islands are a group of 3 tiny islands – Gili Trawangan, Gili Meno, and Gili Air – in Indonesia, near the coast of northwest Lombok Island. This archipelago of three small coral isles are known for their laid-back beachy vibe, and rapidly becoming one of the most popular destinations for visitors to Bali and Lombok.
This ultimate travel guide to the Gili Islands will reveal everything you need to know to get the best out of this amazing archipelago.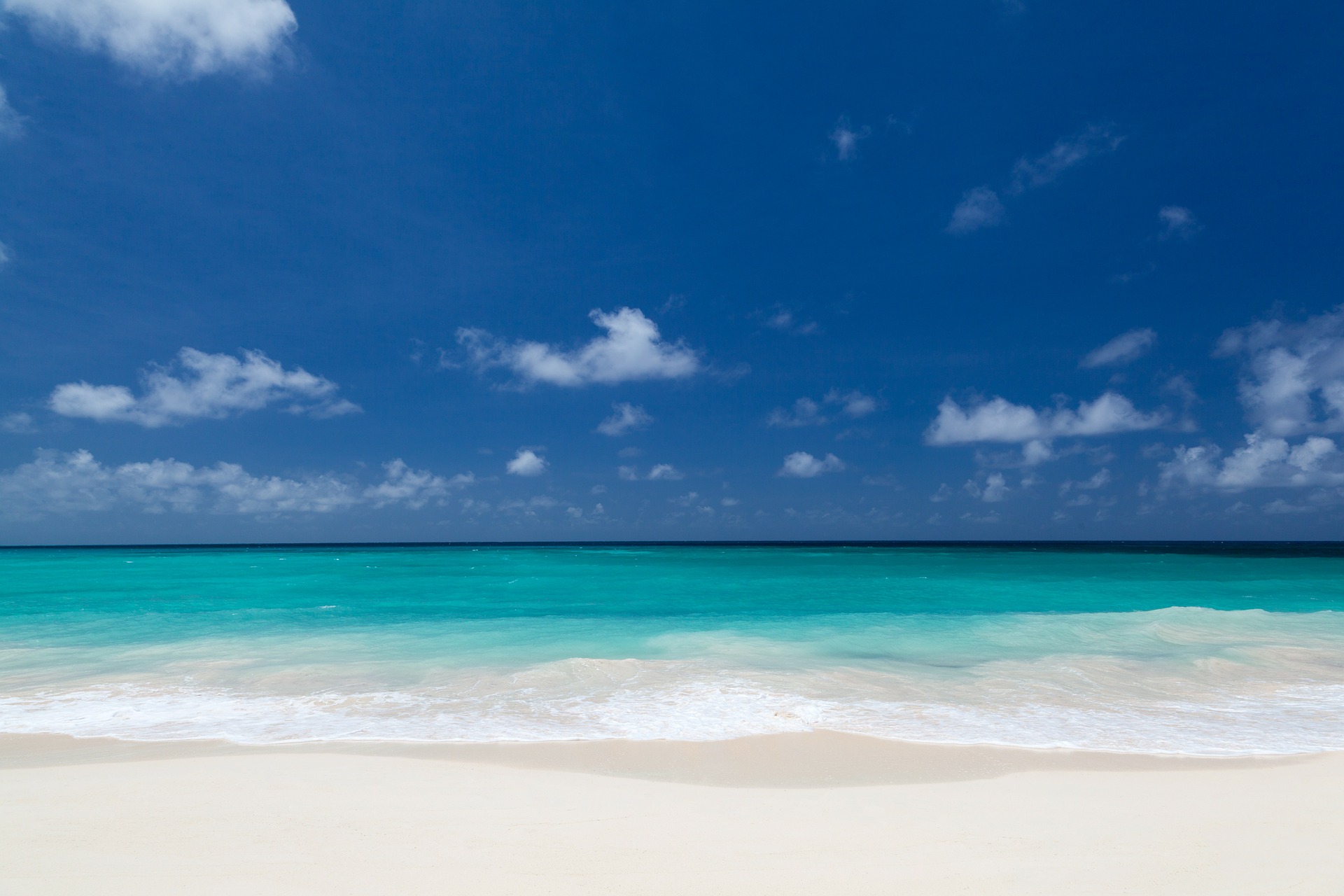 Every year the Gilis attract tens of thousands of visitors from around the world for their pristine waters, great diving and snorkeling opportunities, and laid-back charm.
In local Sasak language, Gili means "small islands", and so these islands have come to be known as "Gilis" by travelers.
Although previously popular mainly with backpackers, the Gilis now attract a diverse range of visitors-serious diving enthusiasts, sun-seekers looking for the perfect beach getaway, singles, families, and couples of all ages find something to attract them to Gili.
Each island has its own unique appeal. Gili Trawangan (aka Gili T) is the most cosmopolitan, with a raucous party scene and plenty of upscale dining and accommodation. Gili Air has an appealing mix of buzz and bliss, while little Gili Meno has the strongest local character.
There is a good selection of accommodations, restaurants, and bars on all three islands, with the biggest range on Gili Trawangan.
While nobody comes to the Gilis for shopping, each island has many small shops selling essentials such as sunscreen, mosquito repellent, toiletries, cold drinks, snacks, and more. In addition, there are cheap clothing and t-shirts, sarongs, and local handcrafts stalls.
Activities include walking, riding bikes, horse riding and kayaking on Gili T, yoga, massage and beauty treatments, glass-bottom boat trips and island hopping, live-abroad dive trips, and cruises to nearby islands, fishing, sailing, surfing and all kinds of water-based activities.
The islands provide ample opportunities for visitors to swim, relax, sunbathe, explore, snorkel, or scuba dive with the many internationally accredited dive operators based in Lombok.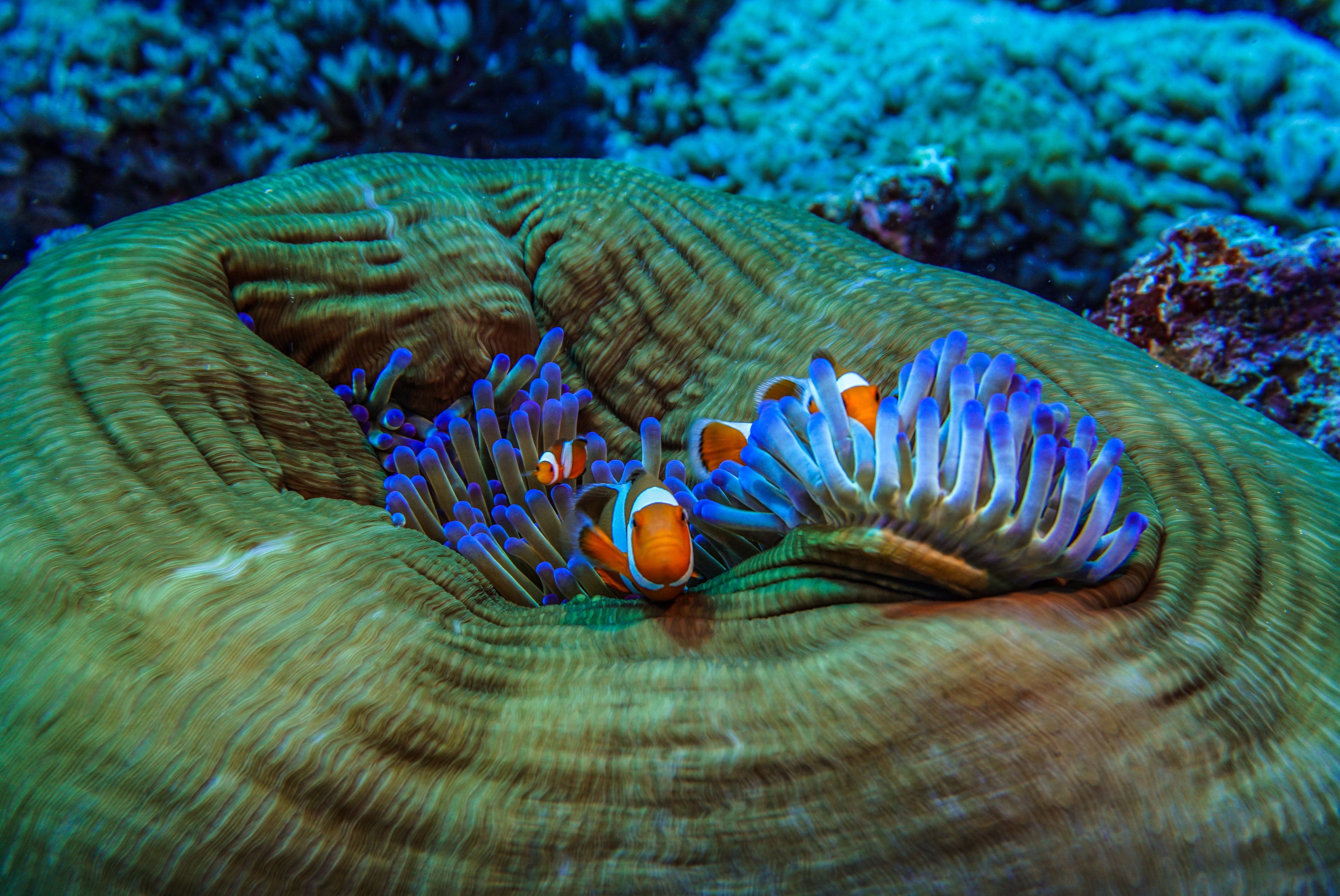 Snorkeling is easy in the calm waters directly off the beaches, with plenty of colorful fish to see.
At greater depths and at specific dive locations around the three islands, the pristine waters are home to an abundant variety of corals, aquatic life, and thousands of species of tropical fish.
An impressive array of sea life can be seen, including green and hawksbill turtles, morays, barracuda, reef sharks, occasionally leopard sharks and manta rays, and much more.
Visibility is very good and commonly in the 15-30 m range, and water temperatures average 23 °C (73 °F) to 29 °C (84 °F).
Currents around the islands can be quite strong, and drift diving is the norm.
Each Gili has developed independently and at different paces, giving each a different "personality" or style, and catering to different types of holidaymakers and travelers.
This means that travelers have a good choice, depending on their individual tastes and what type of island escape they prefer.
Gili Trawangan is the most developed and popular of the three, with the greatest range of facilities and activities, while Gili Air has a relaxed, laid-back style and is popular with couples and families.
Gili Meno is the quietest of the three, perfect for really getting away from it all.
Choose the island that suits you most, or it's easy to combine an island-hopping holiday to sample the best of all three!
How to get there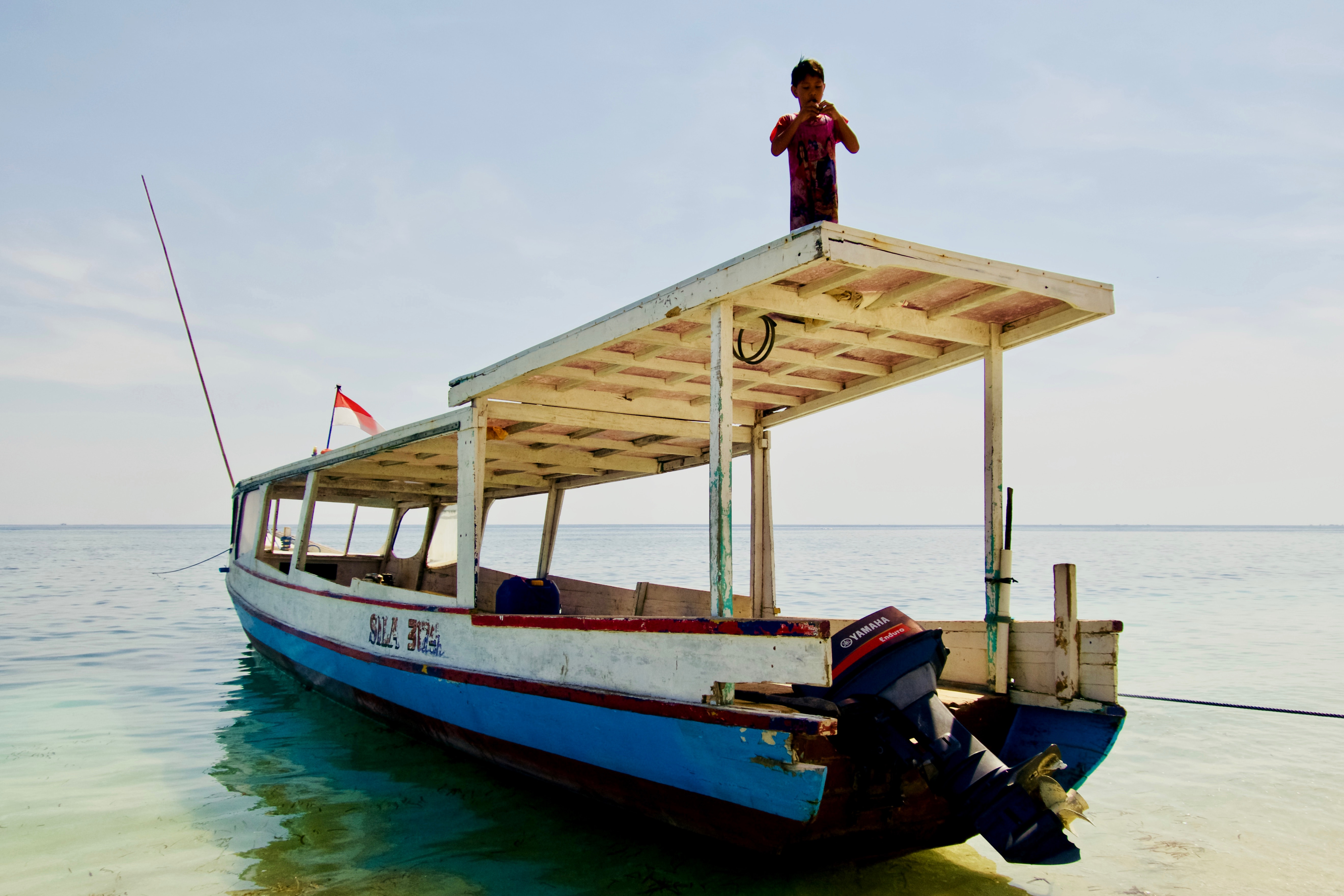 Getting to the Gili Islands is easy from either Bali or Lombok. Fast boat tickets from Bali to the Gili Islands will get you to Gili Trawangan or Gili Air.  A few companies also now service Gili Meno directly but as services are limited you may need to catch a local boat from the jetty in Gili T or Air when you arrive. From Bali, travelers can catch a fast boat at Sanur Beach or Serangan Harbour. The trip takes less than one hour from either point.
There are three main departure points from Lombok: Teluk Kodek and Teluk Nare offer premium services like private speed boats, while Bangsal provides a much cheaper alternative with public traditional boats that charge less than $2 USD for one trip to the Gili of your choice.
Gili Air, Meno, and Trawangan are grouped together off the northwest coast of Lombok, and only a short distance apart, so it is easy to move between the three islands. There is a fixed schedule for public boats, charging less than $2 USD to get from one island to another. Chartered boats are also available for a more expensive fee. You may want to explore each island for a couple of days or base yourself on one and take day trips to the other islands.
Public boats leave from the harbors on each island with transfers to the other islands available every morning and afternoon, e.g.: Gili Air to Gili Meno or Gili Air to Gili Trawangan. Prices are reasonable. Check at the ticket office at the harbor of whichever island you are staying on for transfer times and prices.
It is possible to charter perahu (local outrigger boats), speed boats, and even glass-bottom boats for exploring the islands. Bargain hard!
Getting around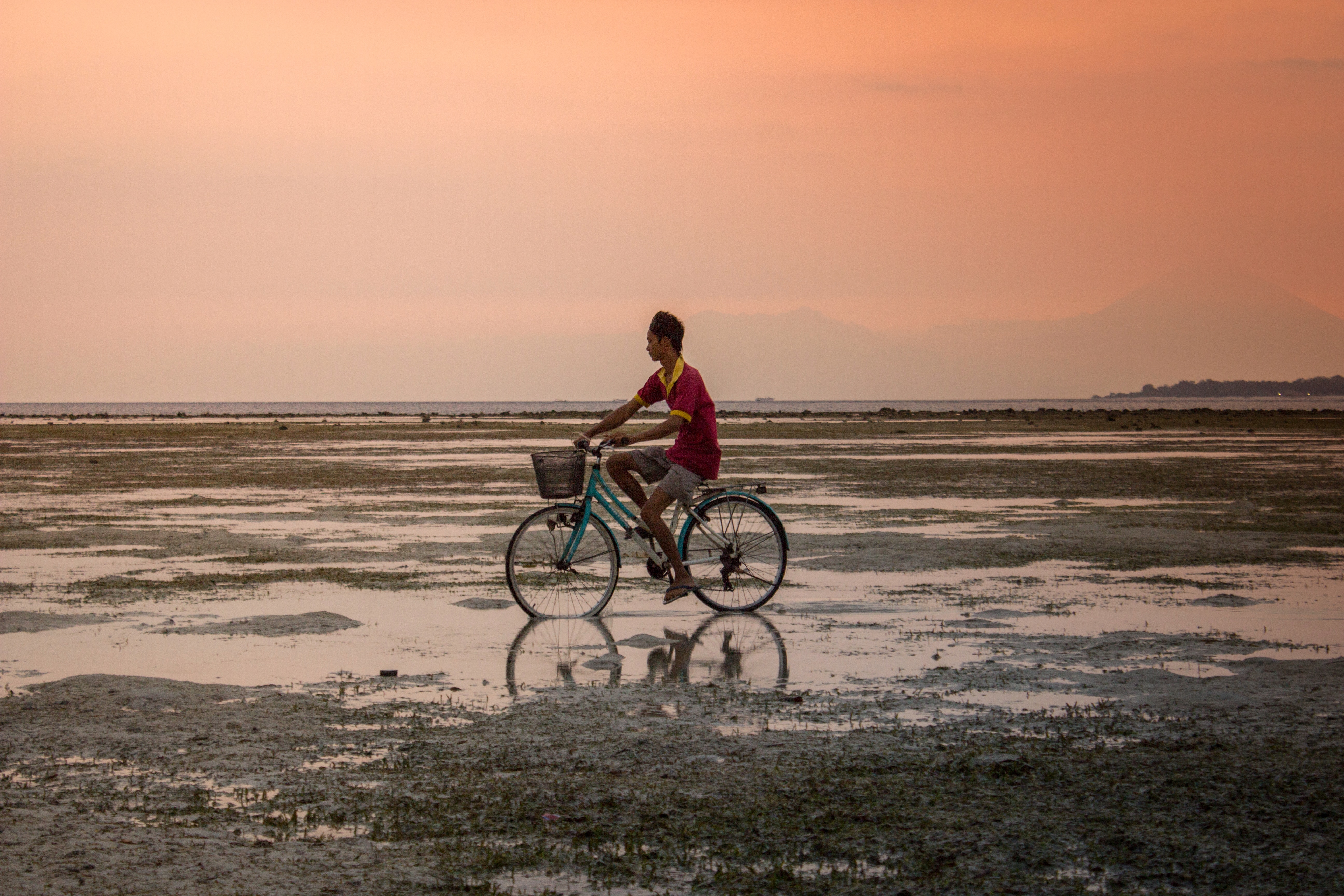 There is no motorized transport on any of the islands. Walk, ride a bicycle, or catch a cidomo (local horse cart). None of the islands is very large, so walking is an easy option. It takes less than two hours to walk around Gili Trawangan, the biggest of the three Gilis.
Bicycles can be hired for around Rp 50,000 ($3,5 USD) per day, depending on the type and condition of the bike. Some hotels provide bikes free of charge for guests.
Cidomo fares are generally expensive, and rates are fixed by the koperasi on each island. On Gili T, rates are displayed in the front of the cart.
Generally, short distances will cost around Rp 50,000-100,000 ($ 3,5-7 USD) depending on your bargaining skills. Walking or riding a bike is a nicer option.
Gili Islands Fast Facts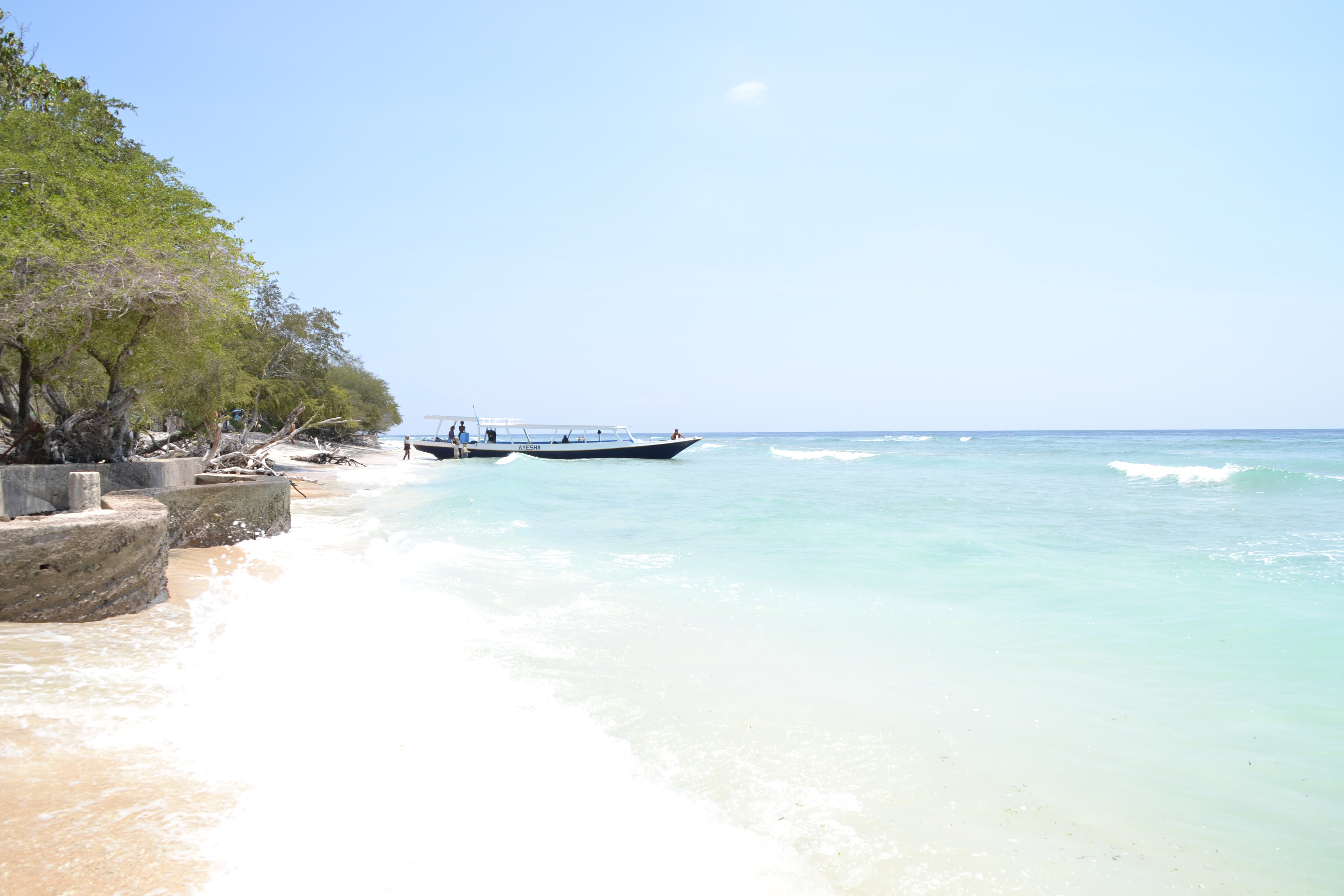 Electricity is fairly stable on all three Gilis, although blackouts are sometimes a problem. Most places have their own emergency generators for back-up power, but smaller businesses may rely on candles and lanterns when the power goes out.
Water is a scarce resource on the islands and is supplied by desalination plants and groundwater wells. Your awareness in conserving this finite recourse is appreciated; take short showers and opt to reuse bedding and towels. The tap water on all the islands is not suitable for drinking, but bottled water is cheap and readily available.
The Internet is available on all three Gilis at most hotels and restaurants. Connections can be intermittent, and speeds are generally slow.
ATM machines are available on Gili Trawangan and Gili Air. Credit cards are accepted at most dive shops and larger hotels and restaurants. Money changers are available on all the islands, although the rate is lower than on Lombok.
Health services on the islands are improving. There are around a dozen clinics on Gili T, including a 24-hour Clinic at Hotel Vila Ombak. Gili Air also has several clinics, and there are local clinics on Gili Meno. Dive shop staff have emergency first aid training and basic medical supplies, but for anything serious, get to the mainland as fast as possible.
Weather is generally hotter on the islands than mainland Lombok. Make sure you drink plenty of water to stay hydrated and use sun protection, even on cloudy days.
Dress is casual on the islands, and it is normal to see tourists walking around in swimsuits, sarongs, and shorts. Remember that the islands' residents are Muslim, and nude or topless sunbathing is frowned upon. Please respect island sensibilities and keep your clothes on!
Mosquitoes can sometimes be a problem, especially during the rainy season. DEET repellents are the best protection, and local products such as "Autan" and "OFF" are relatively cheap and readily available in the shops. Staying covered around sunrise and sunset and using repellents (DEET 50%) throughout the day and night will ensure your stay isn't an itchy one.
Alcohol and the risk of methanol poisoning have been in the spotlight since 2009, and there have been a significant number of deaths from contaminated alcohol in Bali, Lombok, and the Gilis. Avoid bars and places that serve Arak or other local spirits, including cocktails such as "Jungle Juice" and "Arak Attack". With imported alcohol heavily taxed in Indonesia, "Welcome drinks", "Two for one" cocktails and cheap shots should all be viewed with suspicion. If it seems too cheap to be the real deal, it probably is. Large hotels and restaurants generally serve imported alcohol, otherwise, stick to beer and steer clear of places that put profits before your safety.
A brief introduction to the Gili Islands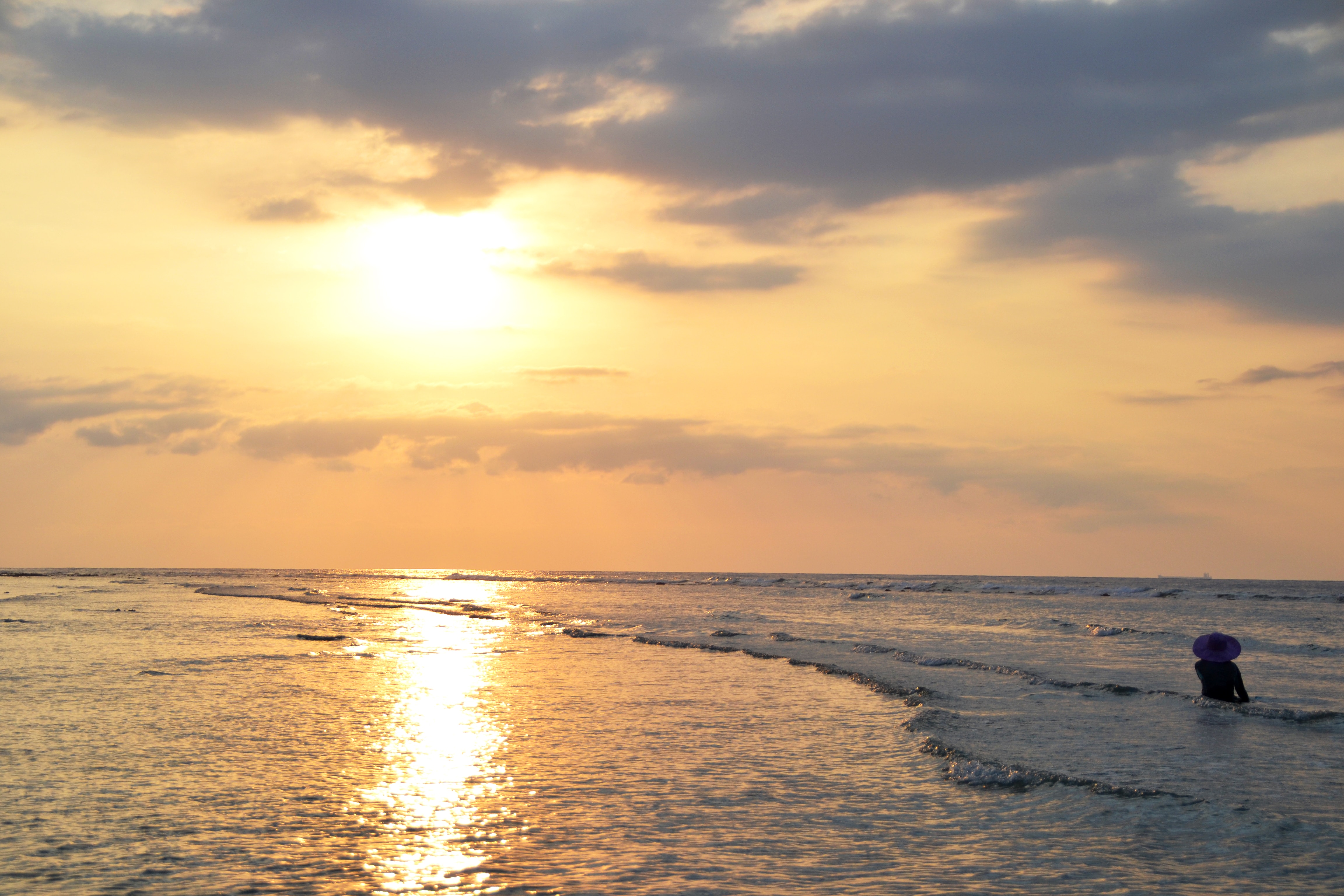 Although each island has its own particular charm they all boast powdery white sand beaches, crystal clear waters and some of the best diving and snorkeling opportunities in the region; so no matter which island you choose, whether it be to party or just to relax (or a bit of both!), you'll always be rewarded with the key elements that make the Gili Islands an unforgettable tropical paradise.
Gili Trawangan
Gili Trawangan is the biggest and most visited of the three and has earned the title of 'Party Island' amongst the world's travelers. This island knows how to throw parties that rave on well until early morning when the baton is passed on to dive instructors, market vendors, and café owners. There's a wide variety of restaurants along the beachfront, offering everything from local street-food to high-quality international cuisine, along with some of the freshest seafood BBQs around. And at the end of the day – when you're done soaking up the sun or diving to new depths – there are plenty of bars to quench your thirst, with weekly party nights to keep you dancing to the early hours.
Gili Air
Gili Air, although closest to mainland Lombok, lays somewhere between the tranquillity of Gili Meno and the bustle of Gili Trawangan – making it a great option for backpackers and families wanting to get away from the tourist crowds and immerse themselves in the local culture. This is where you'll find the most authentic villages and traditional huts, which also sell locally produced goods and crafts.
As with Meno, the pace of life is slow and endearing, but like Trawangan, there's plenty to keep you entertained – with diving, snorkeling, and even some surfing by day, to live music and socializing at night.
Gili Meno
Gili Meno is the smallest and quietest of the three islands, but it's as close as you'll get to a true tropical island getaway. Sandwiched between Gili Trawangan and Gili Air, its stunning beaches and laid-back charm provide a great escape for honeymooners looking for seclusion or those just wanting to get away from it all! Gili Meno also houses the turtle sanctuary that, in turn, has bestowed a thriving population of sea turtles to keep divers company.
Things to remember
– Don't try to swim between the islands. They may not look that far apart but the currents that run in the channels between the islands can be very strong and unpredictable. There are plenty of cheap local boats to get you across.
-Never sunbathe nude or topless, and cover up away from the beach (no bikinis). Although it may feel like Bali, the locals are Muslims so it's good to show some respect.
-When snorkeling or diving you should avoid touching the coral or any other marine life…..take only pictures, leave only bubbles!
– Avoid locally distilled spirits such as Arak, as well as cocktails containing local spirits. Stick to beer and wine.