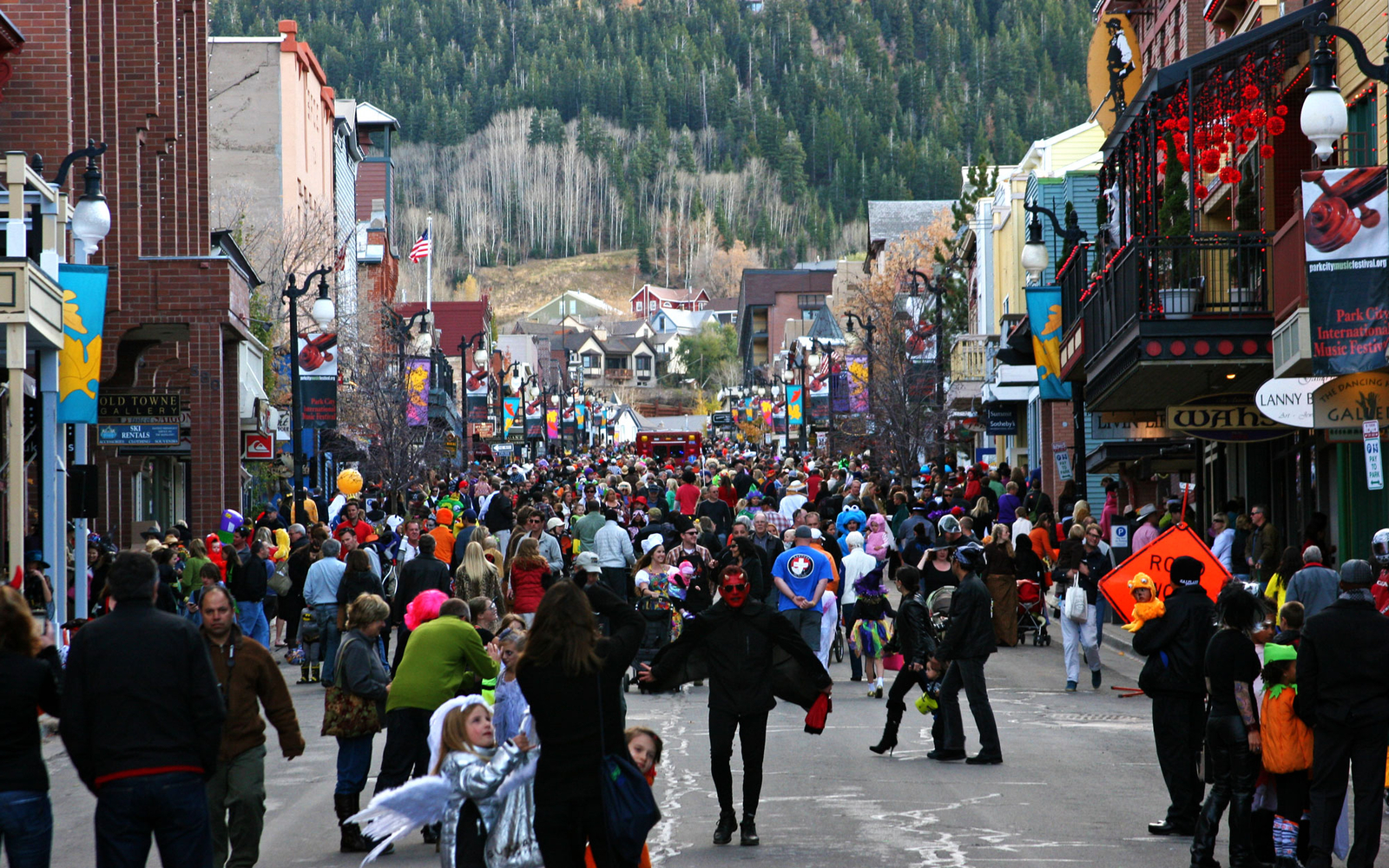 The United States has always had a fascination with Halloween, and wherever you are in the U.S., trick-or-treating is one of the most fun experiences for everyone all year long! But if you're looking for the coolest Halloween towns in the United States, you're in for a treat.
Many towns boast some amazing Halloween festivities, including pub crawls, pumpkin beer on tap, and late-night shows. Others take a more low-key, kid-friendly approach, hosting costume competitions for pets or autumn festivals with corn mazes and apple wine tastings.
Head to these cities to experience the best possible trick-or-treating this year!
Check out our round-up of The Most Haunted Hotels in the USA to book for Halloween!
This article contains affiliate links. I may earn a small commission if you book through the links, at no extra cost to you. This commission helps support the operation of this website. Thank you!
Aspen, Colorado
Halloween is as good an excuse as any to party in this resort town, which counts about 80 bars in a six-block area and claims the survey's second-place title for attractive residents. It's the one night that the private Caribou Club opens its doors to all comers—at least those in costume. Or you could spend the night out with Aspen Walking Tours, which offers Walk with the Dead and Ghosts, Murder & Mayhem tours.
Check out the best hotels in Aspen, Colorado.
Snowmass Village, Colorado
Skeletons and bones litter this Rocky Mountain town, specifically, the 150,000-year-old bones, teeth, and tusks from mastodon and mammoth fossils on view at the Ice Age Discovery Center. As you stroll down Divide Road, listen for the howls of wolves—or, more likely, the sound of 250 mixed-breed huskies and malamutes employed by Krabloonik, a restaurant that offers dogsled rides.
Check out the best hotels in Snowmass Village, Colorado
St. Augustine, Florida
Whether you believe in ghosts or not, St. Augustine has a long and rich history of celebrating the paranormal year-round. As the oldest city in the country, it's seen more than a fair share of violent battles throughout its rich history, which only adds to the excitement when it comes to spirits running amuck.
It's crawling with creepies, especially at the St. Augustine Alligator Farm Zoological Park, where alligators with glowing eyes are the main attraction of the Creatures of the Night event.
Lighthouse Dark of the Moon ghost tours fill visitors' heads with tales of the paranormal while they wander out into the darkness by the sea. Practical-joking ghosts supposedly wedged a man under a bed at one of St. Augustine's historic inns.
Check out the best hotels in St. Augustine, Florida
New Hope, Pennsylvania
New Hope is located along the Delaware River and is known as an artsy town. One of the most popular attractions at Halloween is the town's annual Rocky Horror Show at The Bucks County Playhouse. Local businesses across the town bask in the Halloween festivities and make for a great trick-or-treat to the environment.
The best things to do in New Hope, Pennsylvania
Traverse City, Michigan
Fall is a spectacular time of year in Northern Michigan. But when Michiganders seem to really dive in and embrace the season, it is at the end of October, with the arrival of Halloween.
Traverse City gets accolades for its daylight Halloween Walk, starring cute kids in costumes trick-or-treating at stores downtown. The Zombie Run ups the ante with its motto of "the more blood and guts, the better!" Costumed participants in the race have included beauty pageant contestants, Elvis, and Village People zombies. And with vineyards, breweries, and beaches close to this hip lake town, there's plenty to do long after the zombies have beaten their retreat.
The best things to do in Traverse City, Michigan
Princeton, New Jersey
Where do you prefer to meet ghosts: on an ivy-draped university campus, in a historic neighborhood, on a battlefield, or in a cemetery? Whether you're from Princeton or you're simply visiting this Halloween Season, there is plenty of festive fun to enjoy this Halloween Season. If you're looking for a day of family fun in a pumpkin patch or spending the evening Haunt hunting with friends is more your speed, Princeton has plenty of exciting Autumn activities to enjoy this October. Halloween comes around but once a year, so if you're passing through Princeton this Fall, make sure not to miss out on the thrills, chills, and scares this year!
Check out the best hotels in Princeton, New Jersey
Ludlow, Vermont
In 1788, the Golden Stage Inn was a stagecoach stop; once it was converted into an inn, owners spotted a ghost in the attic—a ghost that didn't want to leave. The current owners have noticed lights, televisions, and stove burners going on and off, and contractors and housekeepers say they've heard ghostly footsteps. To stay in the spirit, ahem, of the season, the innkeepers decorate the B&B as a friendly haunted house. It makes a convenient base for skiing at Okemo Mountain or picking up some 18th-century-like skills at the Fletcher Farm School for the Arts and Crafts.
Check out the best hotels in Ludlow, Vermont
Chatham, Massachusetts
Pumpkin People in the Park turn up to haunt Kate Gould Park each October. Look for pumpkin heads and bodies dressed as lobsters, knights, scarecrows, pigs, pilgrims, and brides.
The Saturday before Halloween, musicians join them for an Oktoberfest event complete with donuts, pumpkin bowling, and apple bobbing. When you head back to one of Chatham's B&Bs—a favorite amongst travelers—just be sure to check under your bed before turning out the lights.
The best things to do in Chatham, Massachusetts
Park City, Utah
Halloween on Main Street has become a favorite event for Park City locals!
It is that spooky time of year again, and Halloween is almost here! In Park City, Halloween is sometimes a fall holiday and sometimes a winter holiday…it all depends on the weather served up that day. But no matter what nature hands us, Halloween on Main Street is not to be missed.
Every year, the merchants on Main Street open up their doors to ghosts, ghouls, and goblins galore….along with princesses, batmen/girls, teenage mutant ninja turtles, and anything else topping the popular costume lists this year. The street is packed (and closed to cars for the afternoon) with kids and parents trick-or-treating at the local businesses from 3:00 p.m. – 5:00 p.m. So head up to Historic Main Street with your best costumes and join the fun.
Check out the best hotels in Park City, Utah.
Bar Harbor, Maine
The history and charm of Bar Harbor make it a fun place to spend Halloween. The town is famous for its ghost stories, and the white shapes of eight missionaries who were killed in 1613 are said to haunt the city. Even Bar Harbor's pets get into the Halloween spirit as the town hosts a Veterinary Halloween Party with prizes for the best-costumed cats and dogs.
Check out the best hotels in Bar Harbor, Maine
Winter Park, Florida
With a bustling Main Street, Winter Park is one of central Florida's most historic towns. It embraces Halloween with events like Pumpkins and Munchkins in Shady Park, with bounce houses, games, a costume contest, and a Trick-or-Treat Trail. Rollins College holds an annual Halloween Howl featuring haunted houses, carnival games, arts and crafts activities, and, of course, a costume contest. But the real howling may be at the Park Avenue Pet Costume Contest, with both large- and small-dog categories.
Check out the best things to do in Winter Park, Florida
Related post: Top 20 The Coolest All-Inclusive Resorts In The USA