If you're thinking about treating your significant other to a romantic getaway, you might want to consider planning it around one of these amazing Airbnbs in the USA.
Whether you're looking for a luxurious escape in your own city or a cozy space to get away from it all, here are the top 20 most romantic Airbnb rentals in The United States that are perfect for couples. Just be sure to book quickly as these Airbnb rentals will be especially popular around Valentine's Day.
You can check out our other round-ups of Romantic Treehouse Airbnbs in the USA, or Impressive Glasshouse Airbnbs in the USA, and the rest of The United States, too!
This article may contain affiliate links. As an Airbnb Associate, I earn a small commission when you book through these links which help run this blog at no additional cost to you. 
Photo credits of listed properties: Airbnb.com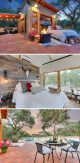 Sleep underneath the stars in the Texas Hill Country. This Glass House is a magical getaway. Just an hour from San Antonio, yet a world away. 72 acres of rolling hills give privacy and seclusion. Glass walls open up to endless views of the stars, nature, and wildlife. You can also wheel the bed onto the patio for a romantic night. Come relax and renew your spirit in the beautiful Texas Hill Country.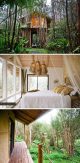 Located just a short drive from Volcano National Park, this beautiful, secluded bamboo treehouse is set in the jungle on top of 15-foot-high stilts. At the ground level is a romantic hanging bed, and by continuing up the staircase you'll discover a trap door that provides access to a lanai that's surrounded by the canopy of trees. One of the most wish-listed Airbnbs in the world, it features natural lighting, solar power, and rainwater catchment that, as your host notes, makes it "almost like a living organism itself."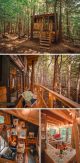 You will feel the stresses of life wash away as you sway in the trees and listen to the sounds of the beautiful stream just feet from the treehouse deck. You'll never want to leave! Enjoy a bit of solitude or some special alone time with a loved one. It's within easy access to hiking, boating, and local breweries and distilleries, while a cozy hammock is available for those who prefer some secluded time.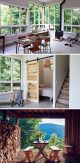 This cozy two-bedroom cabin has a wood-burning stove, stunning vintage claw-foot tub, floor-to-ceiling windows with views of the surrounding valley, and an outdoor fire pit for s'mores and stargazing. It also offers ultimate privacy, with 23 acres of woodlands just to itself.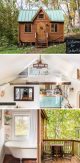 Discover the charm of a tiny house in a magical setting. Every inch is put to good use in a delightful mix of old and new. Repurposed vintage cabinets and a claw-foot tub share this clever space with modern appliances and air conditioning.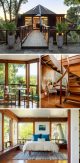 Embark on a California adventure in this amazing Airbnb near Santa Cruz, which boasts panoramic ocean and forest views from a hammock. Inside the chic treehouse, you'll discover mid-century furniture and architectural details made of stone and wood. Curl up with a good read by the light streaming through floor to ceiling windows and under soaring wooden beams or tuck in for the evening by closing the sliding doors inspired by Japanese screens.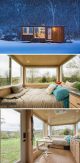 Sleep staring at the stars and feel the stress melt away in this glass-enclosed tiny house retreat, just 90 minutes from NYC, but a world's away. 30 acres of rolling hills give total privacy & isolation as glass walls open up onto endless views of vineyards, orchards, & wildlife (don't be surprised if you see coyotes, families of deer, and every type of bird you could imagine–not to mention more butterflies than you've ever seen, depending on the season), But despite its small size and isolated location, it is surprisingly luxurious on the inside.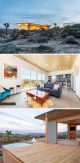 Enjoy 2.5 acres of the Mojave Desert all to yourself, just a short drive from Joshua Tree National Park. You'll be just minutes from miles and miles of scenic hiking trails that wind through the bizarre Joshua trees and unique rock formations, and after dark, you'll be able to gaze up at one of the most spectacularly star-studded night skies. Enjoy the "cowboy tub" pool, a three-person custom swing set, and a lounging deck. But it doesn't end there, it includes an outdoor shower, propane BBQ, and built-in outdoor fireplace along with a fully-equipped modern kitchen. In-house massages can be booked, too.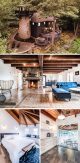 The absolute serenity and perched high in the clouds, the modern hand-crafted Stone Tower House located in Woodstock has the privacy and proximity to town you crave. This stunning home offers panoramic views of the Catskill Mountains and the Berkshires. Beyond the views and serenity, you'll find nooks throughout the home and property.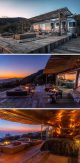 A dreamy airstream above the clouds with a breathtaking panoramic view of the Pacific Ocean. This eco-space is perched on 12 acres of untouched sprawling nature, and redesigned by a nature-lover himself into a large studio with two warm and cozy queen beds fit for four.
The three large frameless glass panels of the airstream slide open to reveal a huge deck with cozy pillows and a private stunning view of the Santa Monica Mountains. You'll also find a lounge area gathered around a fire pit that's flanked by a projection screen and a standing piano.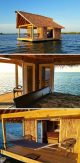 Take in the majesty and serenity of the Key West waters from this unique and truly iconic Tiki Suite! Taking the best parts of boat life and combining them with the space and comforts of home, this Tiki Suite has been designed to be the ultimate glamping experience on the water.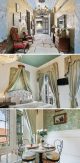 For the ultimate stay in New Orleans, this Airbnb set within a French Quarter mansion that dates back to 1820 features a private balcony overlooking Bourbon and Dumaine Streets. Look forward to total opulence, including complimentary champagne, 14-foot-high ceilings with a five-foot hanging chandelier, floor-to-ceiling Victorian silk curtains, and a canopy bed. It would be hard to find something more romantic – you'll even be able to sip your morning coffee at one of the café tables in a private leafy courtyard. Robes, slippers, and toiletries are included.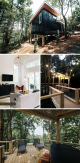 This cozy treehouse-style rental sits on 15 acres, offering stunning views of nearby Pigeon Mountain. The treehouse has a contemporary style blended with a gracious southern charm; creating a most unique, calming, and comfortable place to relax and enjoy this perfect environment. Enjoy the scenery from lounge chairs on the deck, or from the outdoor cedar soaking tub.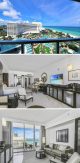 Enjoy all the perks of this storied resort without any of the crowds you might encounter in the lobby or other highly trafficked areas. This private residence is located in a separate tower than the hotel, though the views and the amenities are the same–if not better. Guests of the junior suite will receive complimentary valet parking and two passes to the spa.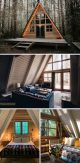 Conveniently located near a ski resort and popular hiking trails, this a-frame house is the perfect escape for a couple that loves the outdoors. Cozy up after a day spent taking in your natural surroundings by the fireplace or in the hot tub. Whether you're skiing in the winter or hiking/mountain biking/fishing in the summer, this cabin is right where you want to be.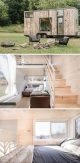 A magically private escape. Wake up in a lofted bedroom wrapped in windows and descend a knotty wood staircase into the open layout of this radiant tiny home. Step outside onto the vineyard and apple orchard surrounds, and there is a slate fire pit to linger by and mountain views to gaze at.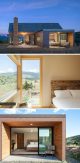 Get off the grid at this Montana home outside Yellowstone National Park. The Cargill-Earl Guesthouse at Erik's Ranch is privately situated on 230 acres of land, with 360-degree, unobstructed panoramic views. Luxuriate in peace, solitude, and privacy where the sunrise and sunset guide your days.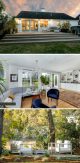 High-end completely renovated marsh front cottage with large, private backyard, sunfilled deck, and shady patio in downtown Charleston. Bright and beautiful with Thermador appliances, fireplace, and three bedrooms which include an office set-up. Located in the highly desirable Wagener Terrace neighborhood, you can enjoy space and privacy while also being super close to Charleston's best restaurants, historic Hampton Park, sunset view on the Ashley River, and King Street.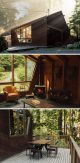 Perched high on a granite ledge, you will find this cabin overlooking a rushing river that weaves its way through the dense, lush forest of the North Cascade mountains. The unique asymmetrical A-frame structure is both unexpected and familiar, with its wood-clad walls, exposed beams, and large geometric windows. Special, cozy touches include a hammock that swings across a tiny loft and a skylight above the bedroom loft. This cabin also offers a hot tub and a wood stove. Romantic hikes in the area include the Gothic Basin, Big Four Ice Caves, Mt. Pilchuck Fire Lookout, Lake Twenty-Two, and Heather Lake.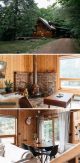 Sometimes, the kids just have to come with you on your romantic weekend away. So pack up and head for the slopes of Vermont—more specifically this three-bedroom smack in between the Mount Snow and Stratton ski resorts. It'll mean plenty of outdoor activities, like skiing and hiking, to keep the literal cabin fever at bay. But the cabin itself has plenty to explore, including a cozy, upstairs queen-size master for you, plus a room with bunk beds for the youngest and a double bedroom for the teen downstairs. In the living area, there's a wood-burning fireplace, smart TV stocked up with Netflix, and a dining room with space for the whole family.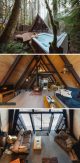 This A-frame cabin is not only adorable, but it's also just a 15-minute drive from the slopes and some of the best hikes in the Pacific North West. The cozy loft has four beds, a fully-equipped kitchen, and a gas fireplace, which is controlled by a wall-mounted thermostat. Need to unwind after a day of adventure? Have a soak in the hot tub that sits right outside your front door.
THINK THESE ARE THE MOST ROMANTIC AIRBNBS IN THE UNITED STATES? PIN THIS POST TO SAVE IT FOR LATER