Due to its otherworldly desert landscape and close proximity to Los Angeles, Joshua Tree has become one of the top destinations for people looking to escape the city and get a dose of nature.
If you've ever dreamed of a Joshua Tree getaway, there's a good chance it involved a hot tub, a night gazing at the stars, and likely a place with seriously cool desert vibes to call home for a couple of days. Check out these stylish Airbnbs in Joshua Tree that offer up Southwestern vibes in a sprawling, desert landscape.
You can check out our other round-ups of Romantic Treehouse Airbnbs in the USA, or Impressive Glasshouse Airbnbs in the USA, and the rest of The United States, too!
This article may contain affiliate links. As an Airbnb Associate, I earn a small commission when you book through these links which help run this blog at no additional cost to you. 
 Photo credits of listed properties: Airbnb.com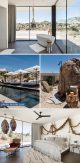 Admire rugged boulders and exotic cacti from the window walls wrapping this private High Desert home. Smooth surfaces and warm accents set a contemporary tone. The modern oasis is complete with a saltwater pool and spa, along with an outdoor shower and fire pit.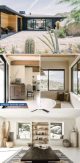 Villa Kuro was designed with ultimate tranquility and relaxation in mind. The minimal and modern hideaway focuses on natural elements complemented by contemporary luxury. It's great for those seeking a still quiet, but not completely isolated location from civilization. At night, the fire pit and saltwater hot tub offer an unparalleled stargazing experience.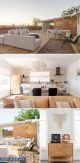 Veneer Retreat is a private desert cabin conveniently located on the Yucca Valley Mesa, minutes from both Joshua Tree National Park and the retail & food amenities of downtown Yucca Valley. Quaint rustic touches like the vintage metal kitchen cabinets and the decorative Franklin stove remain.  Outside, a new backyard deck with a lounge area, fire pit, dining area, and bar makes for the perfect sanctuary to enjoy the rugged landscape.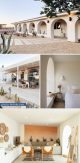 Sitting on 2.5 acres of sprawling desert this fully renovated Spanish-style home is the perfect desert escape. This stylish place has been decorated with interesting pieces from all over the world, like Morocco, Mexico City, and Oaxaca.
Enjoy outdoor movies, the jacuzzi, the dipping pool and BBQ, and all the starry nights. The horse corral on the property includes a variety of outdoor games: corn hole, horseshoe toss, croquet, and the addicting hook & ring game.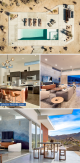 SkyHouse features all the comforts of city living while retaining a deep connection to the surrounding desert and all its natural beauty. This signature architectural and inspirational hideaway is perched on 8 private acres in the heart of Joshua Tree, with a luxury pool and direct walking access to miles of national park trails.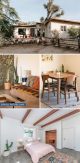 A bright mid-century ranch home surrounded by old-growth Joshua Trees, cactuses, and a 100 ft fir tree on 2.5 acres of land. Just 5 minutes from downtown Yucca, it's the ideal place to retreat yet close to all the cool happenings. Plus the hill it's perched on offers panoramic views of the mountains, perfect for starry nights.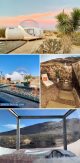 There is no better feeling than lying in a warm, cozy bedroom while enjoying the twinkling and dazzling nighttime skies above the heated mattress inside the bubble. The basking rays of the sun as it rises and warms the world around you in the Morning.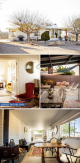 Between Pioneertown and Joshua Tree National Park, this midcentury compound offers nearly 360-degree views along with a 40-foot saltwater pool, Jacuzzi, and fire pit. Inside, old-school charm flows through the space with vintage decor and airy nooks.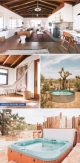 This amazing place was built in 1949. With over 100 Joshua Trees on the property, the views from the house are magical. This is a place for dreamers to reset, reflect, and create. Designed with a 'slow' pace in mind, so that you enjoy every part of your stay.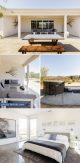 Ease your aches and pains in the hot tub as you gaze across the infinite desert sands, then fire up the BBQ and dine under the stars. This stunning architectural gem features a curated art collection, designer furnishings, and cathedral ceilings. Rooms and living spaces are fresh and airy, while soft rugs underfoot add a sense of coziness to concrete floors.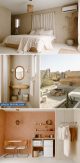 Nestled among the boulders, Earth House is a peaceful retreat space renovated using natural materials including earthen plasters, linen bedding, hand-built furniture as well as thrift and vintage goods. The property has its own private entrance with a king-size bed, kitchenette, full bathroom, and outdoor fire pit/lounge area.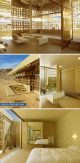 Featuring glass walls and private atriums flush with ocotillos, Acido Dorado is a mesmerizing, minimalist retreat. The main area is made up of glass walls on three sides, with a full kitchen and large dining table, all in a milky palette. A sunken area holds built-in seating, a fire pit, and a barbecue. It's no wonder this house has been used for numerous photoshoots over the years.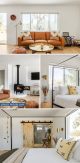 The Habibi House is an enchanting desert ranch featuring locally sourced furnishings with handcrafted pieces from Morocco. Watch the sunrise from the sunroom and spend the evening sitting around the fire pit under the stars.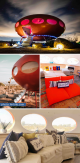 An original Futuro House restored for the ultimate Glamping experience! This off-grid glamping experience is made for disconnecting and is a very unique experience. The idea is to disconnect, kick back on the queen size daybed, and enjoy, but still have those perks of having some connected amenities when needed.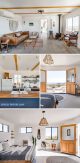 Situated on five acres outside of town, the property offers uninterrupted panoramas of the desert. The cabin maintains elements of a bucolic dwelling with exposed beams, wood countertops, vintage furnishings and decor, and an outdoor shower. From the bedroom, two large double doors open up to a large deck and an expansive view of the landscape.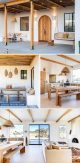 This two bed, two bath oasis with a pool and a hot tub is a dreamy getaway in Joshua Tree. Enjoy a sunrise coffee or sunset wine on the porch in the hanging chair or cook a fabulous meal in the seriously cool kitchen. There's an indoor projector screen for movie nights next to the fireplace, too!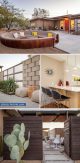 Unique to this space is the indoor heated pool—a rare find in the high desert. With developed landscaping and concrete floors, this cozy home offers a touch of city living in Joshua Tree. Outside three lounge areas offer cozy spaces to enjoy the sun or the stars, including a larger sunken sitting circle with a fire pit.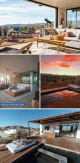 Find your escape in this high-desert hidden gem, perched on the brink of untouched wilderness amidst enchantingly weathered boulders, ancient juniper, pinón, and desert oak trees. Abundant wildlife sighting opportunities. Take in the fiery sunsets on the wrap-around deck, take a dip in the pool and warm up in the jacuzzi.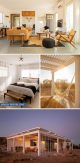 Perched above Yucca Valley with views stretching from east to west, this mid-century homestead that sits on 2.5 acres was recently renovated for the modern traveler. This home was designed as a retreat from daily life where you can relax, recharge, and refocus. If you love the boho meets desert aesthetic, a lovely hot tub to soak in, and a place to relax — this may be the spot for you.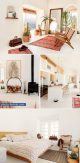 At Sueno Sagrado, you can meditate on the thunderous silence, soak up desert colors and forever vistas, wonder at the millions of stars in the nighttime sky, and surrender to a profound sense of time as the desert recalibrates your internal clock. Let the landscape inspire and recharge you!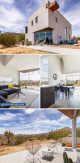 Located in the upper Friendly Hills area of Joshua Tree, the five-acre Spirit Wind compound holds an array of amenities for the creative at heart including a vintage mid-'70s Dual turntable, hot tub, and hammock circle. It's an epic place to spend quality time with friends and family.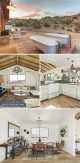 La Luna Cabin is where rustic meets modern getaway sitting on 5 untouched acres of wild California high desert complete with dozens of Joshua Trees, desert tortoises, roadrunners, jackrabbits, and more! Surrounded by native flora and fauna, this jewel box is the perfect place to unwind and explore the magic and majesty of the high desert. Enjoy the wild outdoors or relax in the casual-chic indoors, a bath under the stars, or any of the other treats this unique property has to offer.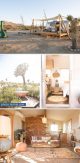 Do you dream of staying in an Airstream? Joshua tree acres is a great way to enjoy a slightly more outdoors experience for non-outdoorsy people. This mid-century modern Airstream has been fitted with chic Moroccan touches and is a cozy spot to unwind.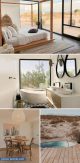 Moonset Villa is a vast 2.5-acre property. The newly built one-bedroom house w/ pool + spa. This is a place for dreamers to reset, reflect, and create. Enjoy stargazing and sunsets from the glass walls or private deck.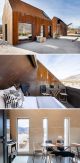 Sleep in a comfy bed under the stars in an open-air room in a minimalist corten steel structure.  This tiny home is best suited for 2 guests but can sleep up to 6. One indoor bed, pull out couch, and one outdoor bed. Plus there are also large hammocks outside for some extra vitamin D or stargazing.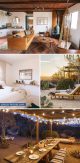 Looking to go remote? The Casita is located 20 minutes from the west entrance of Joshua Tree National Park. Perfect for a weekend getaway — you can make local coffee by drip in the morning, put a record on as the sun sets, or relax in the hot tub throughout the evening.
THINK THESE ARE THE COOLEST AIRBNB STAYS IN JOSHUA TREE? PIN THIS POST TO SAVE IT FOR LATER